7. They Nailed It
This young couple went to Disney World and took a photo in a "not so unique" pose and posted it on social media.
So, the parents of the young man responded in the coolest way possible. Yes, they knew how to hit high notes of elegance with their picture and they nailed it. Bravo!
8. Paw Patrol On The Roll
When the person who uploaded this photo complained to his dad that his apartment lost power for two days, his dad sent this photo with a text: "they're on the case."
The swag level of these doggos is super sweet and funny. The dad certainly has a great sense of humor.
9. Over Protective Father
Before we say how caring and overprotective this father is, we have to point out the carelessness of the person who took this photo while driving.
And hey we noticed that it seems like the dad is okay with 140 MPH. We have no idea why he is okay with it.
10. Is That Batman's Penguin?
Well, this is Marilyn Manson's dad surprising him at his photo shoot with Terry Richardson.
This is proof that only fathers know how to embarrass their children in the world and they are pretty good at it.
11. Coolest Gynecologist?
This dad is a gynecologist and when he was on-call for Christmas, this is how he went to round on patients that morning.
It is so hilarious. He is so cool that other dads look lesser cool in front of him.
12. Don't Underestimate The Dads
These young ladies challenged their dads to take a photo in this difficult pose and they accepted it.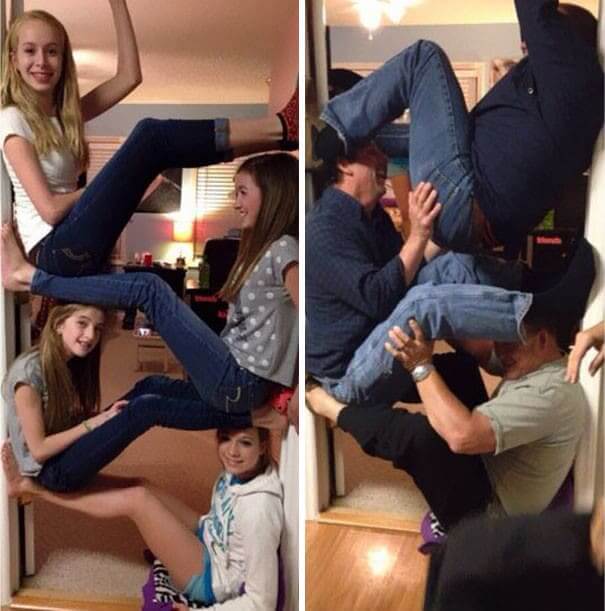 We have to say that the results are thousands of times better than what anyone expected. There is one dad missing because he is taking the photo.