Sometimes we get into a situation in which there is no need to go to extreme means when a mild passive aggressive approach can do wonders. After all, a well-used passive aggressive note can help find a solution to many problems. So, here is a list of 78 people who used passive aggression to solve some issues and the results are simply hilarious. So, grab your popcorns and let's start it.
1. The War We Don't Mind Seeing
No war is good for us, but this one is an exception. As it seems like a whole bunch of people live close by and have their Wi-Fi connections, two neighbors used the opportunity to send passive-aggressive messages to each other.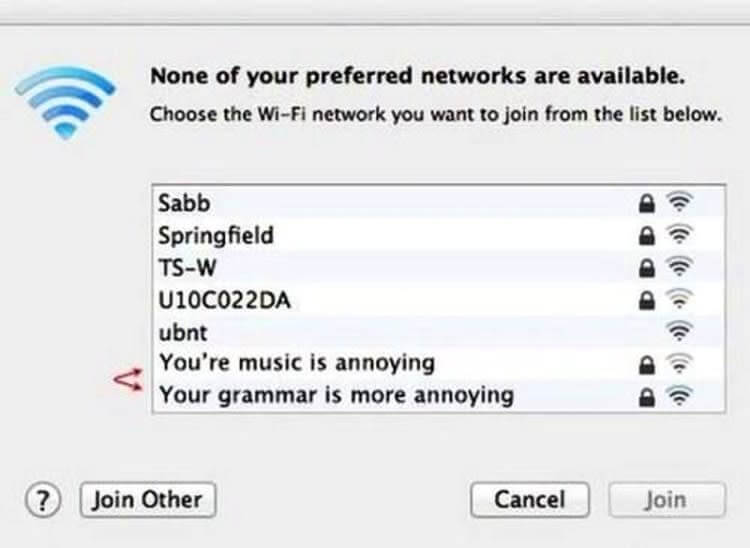 This is a perfect example of how to master passive aggressive comeback. One neighbor wasn't happy with the loud music and the other one didn't like the grammar of the complaining neighbor.
2. The Best of The Best
It can be really annoying for some people to see others getting to the bottom of the toilet roll and not throwing it straight in the trash. Some people just like to leave it there because they think that it will disappear into thin air.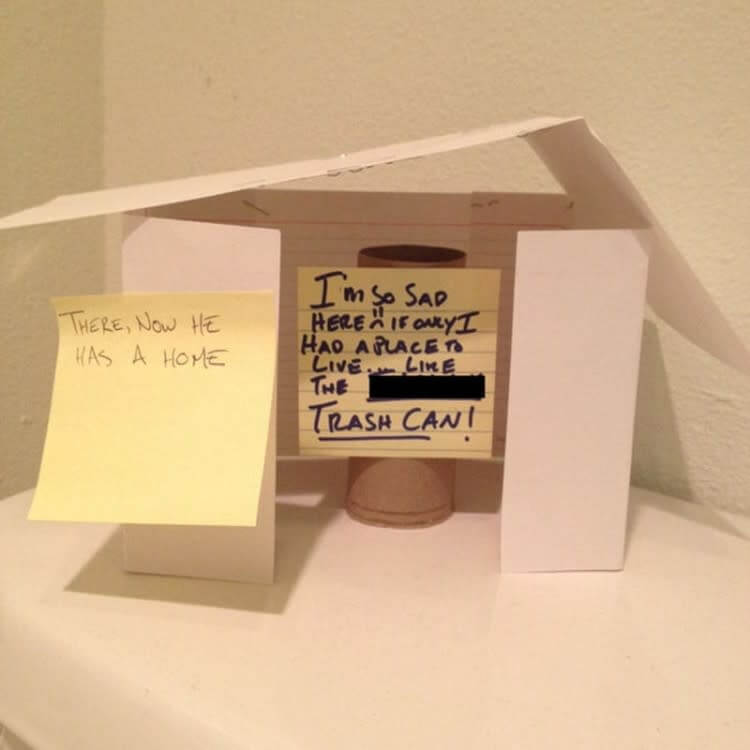 This person was fed up of no one throwing the roll into the trashcan and left a note on the item that needed trashing. He/she must've thought that someone will throw the roll in the trash, but someone came up with the hilarious passive aggressive answer.
3. Putting Out Fire with Gasoline
When you work in an office, you have to understand that the confined environment of the office can trap the smells inside and make it difficult for others to breathe.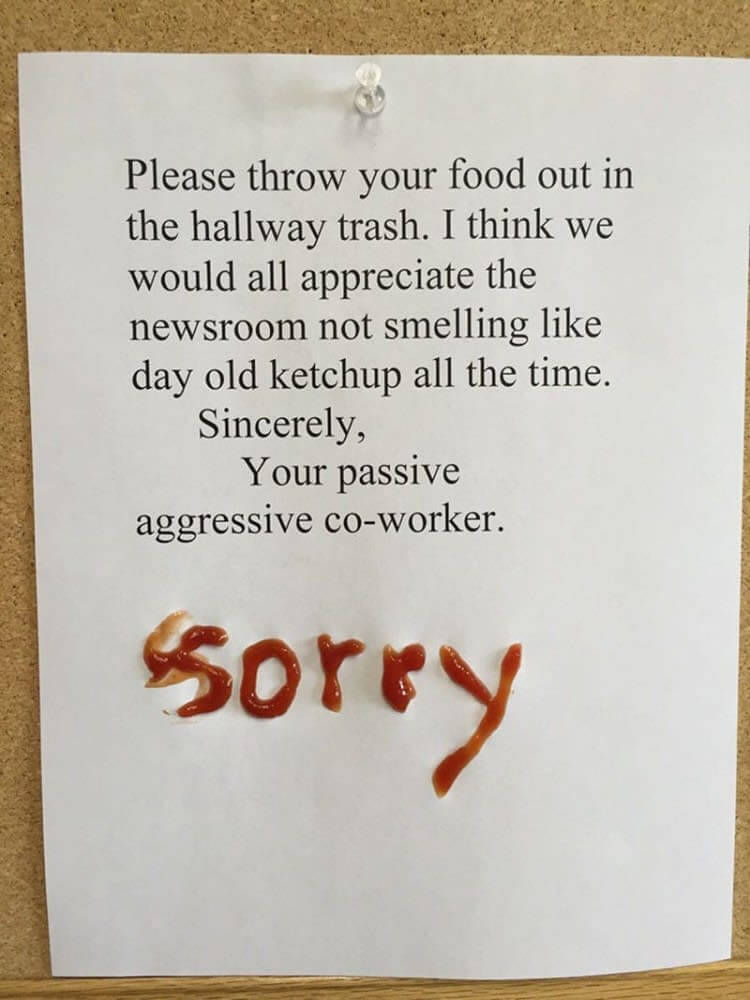 As these people are allowed to eat at their desks, someone brought a hot food that started to stink out the entire newsroom after it was thrown into the bin. The smell lingered the entire newsroom and someone who couldn't take enough of it decided to leave a note on the notice board. Naturally, someone passively-aggressively responded with ketchup.
4. Start Working!!!
One of the house chores no one likes to do is to wash the dishes. Although it is not the worst of the house chores, it is still something that can give nightmares to some people. That won't be the case if you are like Monica Geller from hit American sitcom Friends.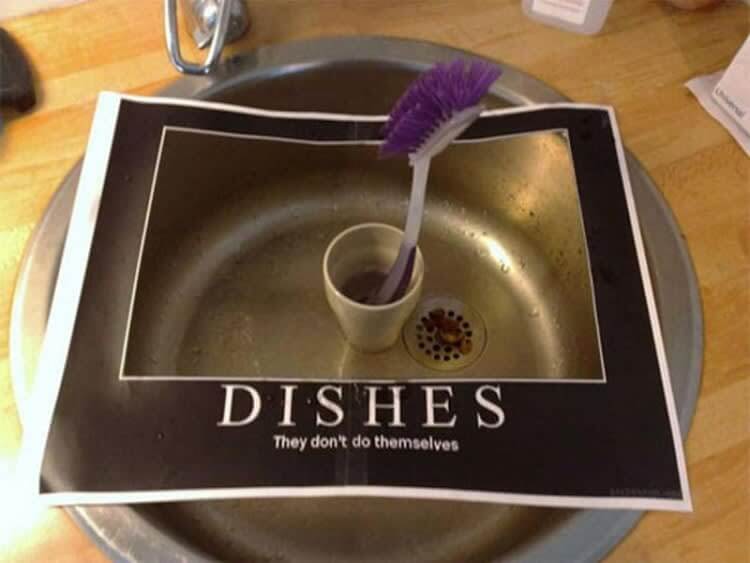 But given that cleaning dishes is a necessary part of everyday life, this person came up with a hilarious way to send the message.
5. That's A Shitty Proposal
As we have seen in movies, TV shows, novels and real-life that people come up with some ingenious proposal ideas. Most of those ideas are so unique that they'd made anyone say "Yes." And then there comes an idea like this one that is unique and quite funny.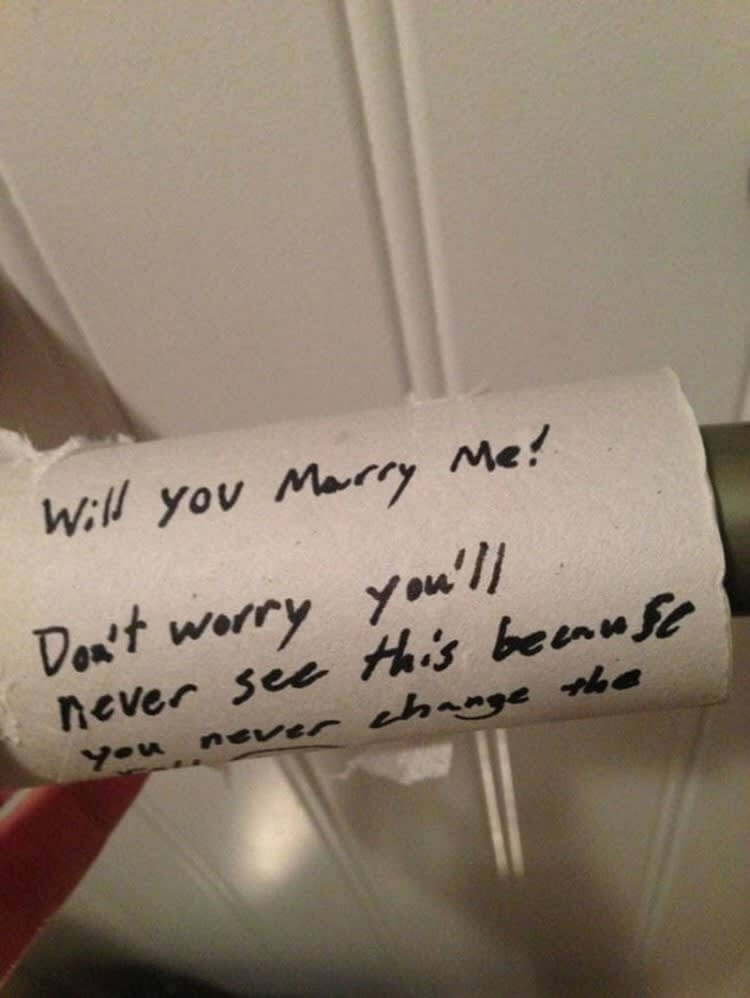 There's one thing we know for sure that whoever came up with this proposal idea has no plans of getting married soon as he/she knows very well the other partner isn't going to throw the used toilet paper roll into the trash can. This passive-aggressive proposal is smart and we just hope that the person said yes after throwing the roll into the trashcan.
6. The Irresistible Temptation
Some people don't like to share their stuff and they can be quite blunt in letting everyone know about it. There are people who can go to any measure just to ensure no one touches their stuff; the common one is hiding their everyday use items. This person didn't hide their mug with reindeers on it and they just informed everyone not to touch it at all.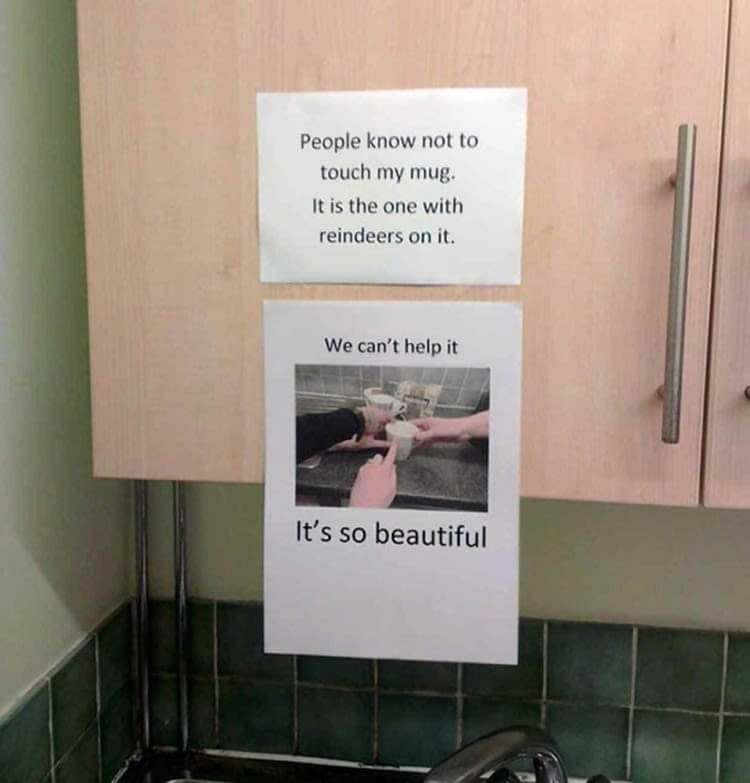 The rest of the office saw the note and knew what they had to do. They used the power of their collective sense of humor to take a picture which is so beautiful. It is so beautiful we have tears in our eyes...tears of happiness.
7. Romantic Night
Just imagine that you come home and see these pink petals leading you straight into your bedroom. You must think that your partner is in a romantic mood and you're going to have some fun tonight. But your excitement quickly jumps out of the window when you discover this message waiting for you on the bed.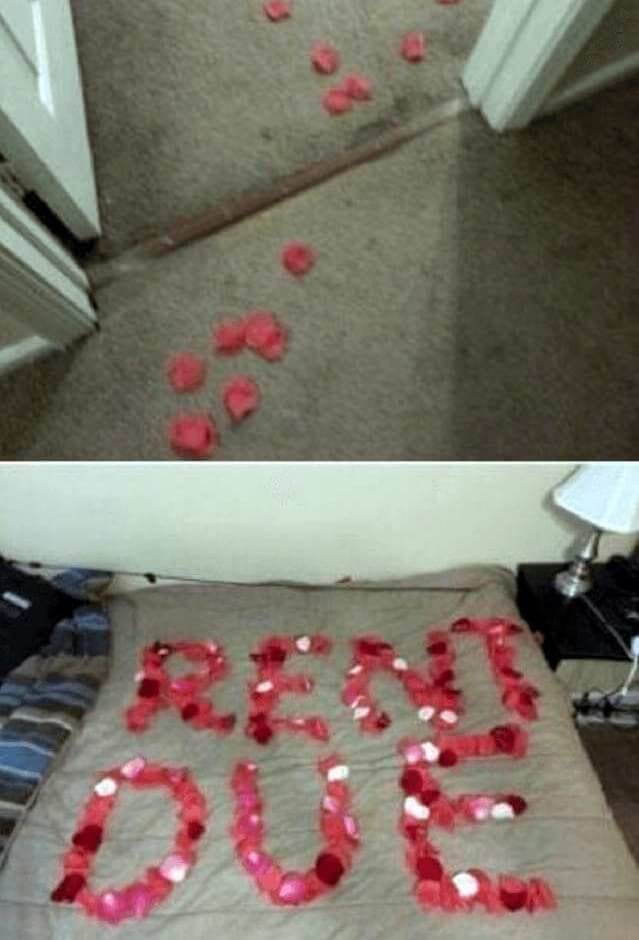 We don't know whether this person went out of the house to pay the rent or took care of some matters in the house first before heading out (wink wink).
8. Fighting Fire with Fire
One thing that really bothers homeowners is when their neighbors do not clean up after their dogs. It is because you don't have the proof which of your neighbors didn't clean up their dog's poop. So, this family installed a camera that recorded everything and now they have proof.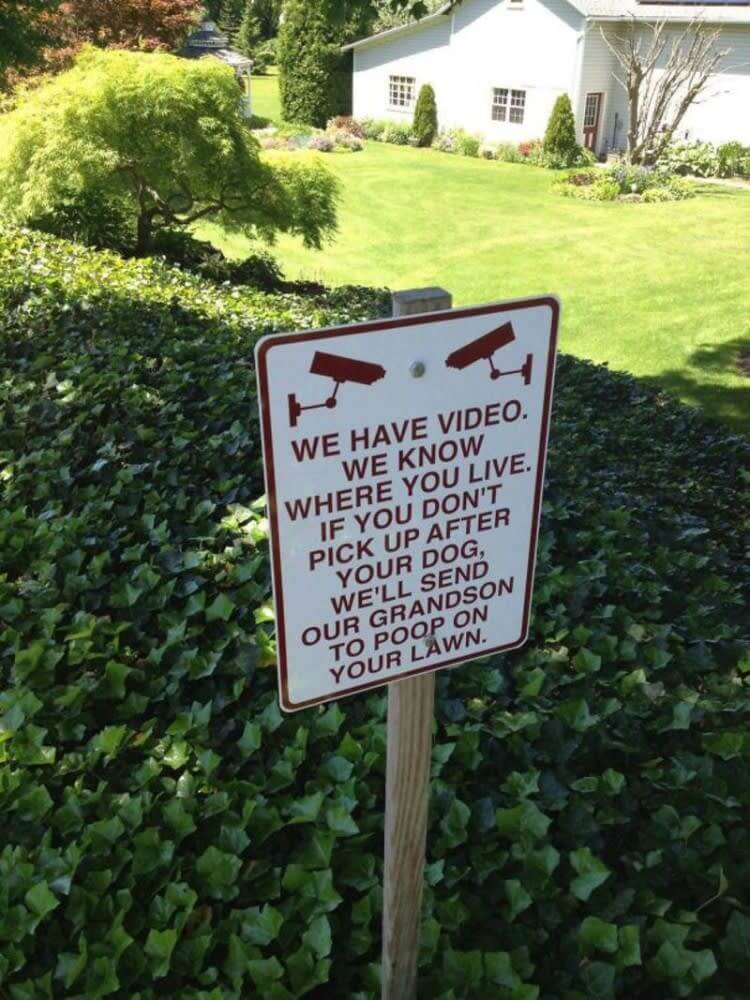 The good thing is that they have given a warning to the neighbors with dogs and they are also ready to fight fire with fire. They have warned their neighbors that they will go to the extreme end if they don't clean up after their dogs. It seems quite fair, right?
9. Why Bring Poor Flamingos Into This War?
We don't exactly know why someone decided to call the cops just because of flamingos. Although there are a lot of flamingos, we can't find anything seeding on the lawn.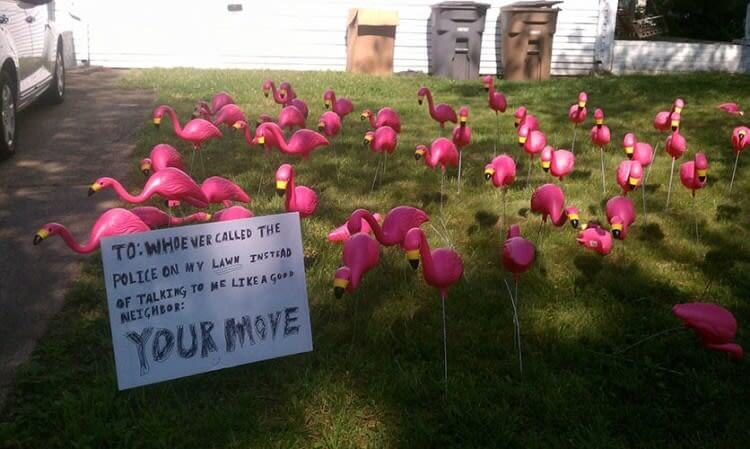 As the neighbor did act like a good neighbor, he has to make the next move now. We really, really want to know what happened next.
10. That's How You Use Song Lyrics
Sometimes, talking isn't enough and you have to look for other options that can be more impactful. So, this person who seems like a fan of singer Carly Rae Jepson used the lyrics of her song "Call Me Maybe" to explain to someone what they think of them.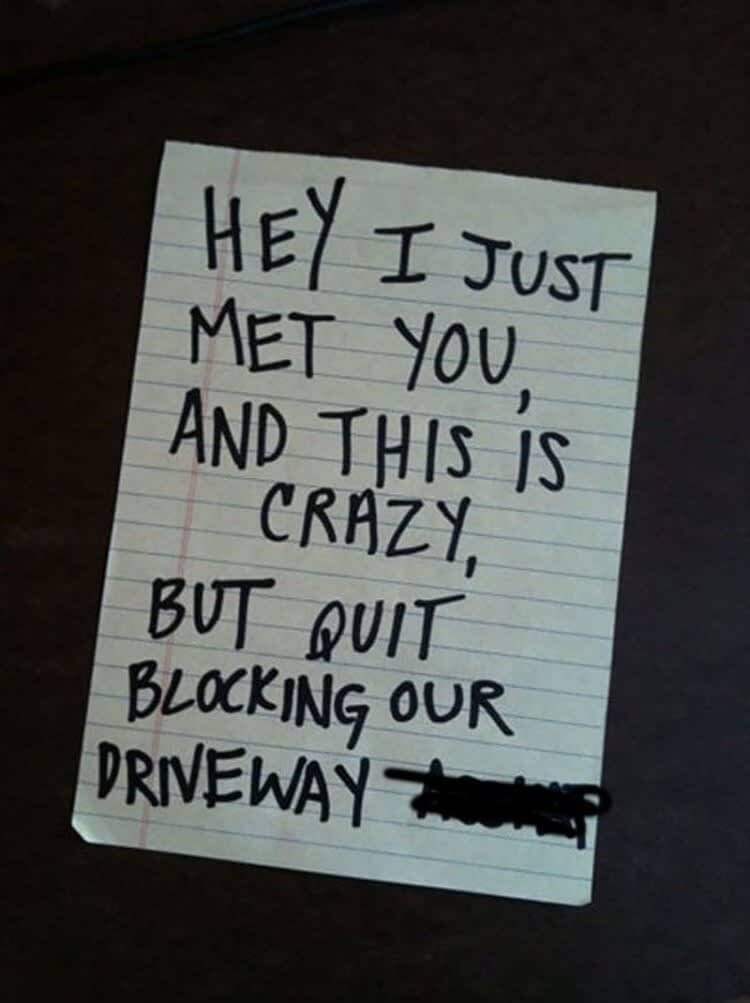 We kind of like this person's way of sending a message because it can be really frustrating to find that someone is blocking your driveway.
11. "Baby, You Wanted Me To Do It"
You ask someone not to do one particular thing and even though you request them multiple times they never listen to you. So, what should you do next to make them realize their mistake? Well, it seems like this person repeatedly pointed out his partner to remove the hair on the floor after taking a bath.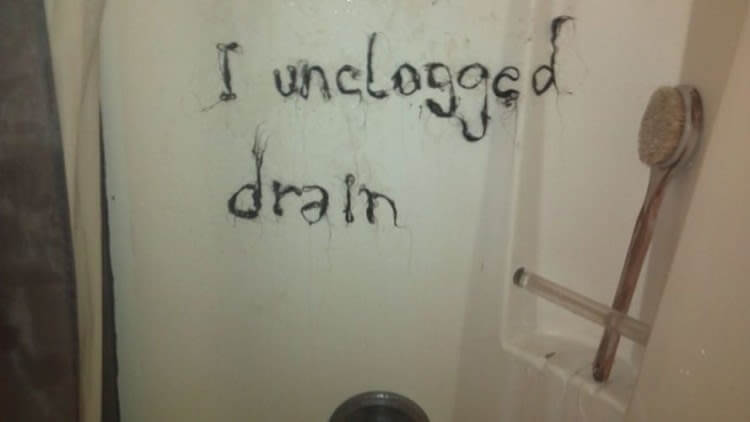 So, when he had to clean the drain, he found a lot of hair and it is quite disgusting and horrifying to clean someone else's hair. Well, the person took a deep breath, unclogged the drain and made a point using then hair of his partner. We are quite sure this act sent the message pretty clearly.
12. "Anything Else You Want Me To Do, Bob!"
You move to a neighborhood where everything is peaceful and the view is beautiful. You work on the exterior of your house to make it look well-maintained and appealing. But it doesn't mean that it is going to be the priority of everyone living there.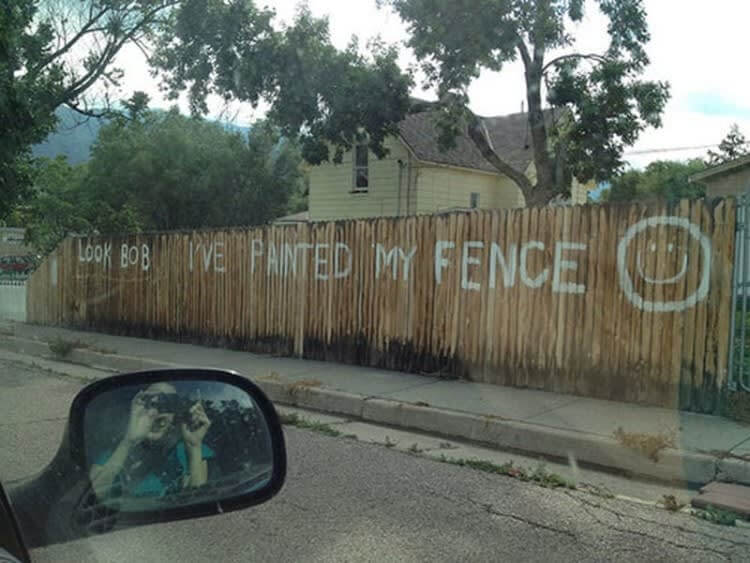 So, it seems like Bob wanted his neighbor to paint his fence. The neighbor was clearly offended by it and this is how he responded. Technically, he did paint the fence...but with a sassy message.
13. That Sends A Clear Message
For people who serve food, it can be really frustrating when the customer changes their order, but the same goes for customers as well. Especially if the customer is allergic to something or they don't like something in specific.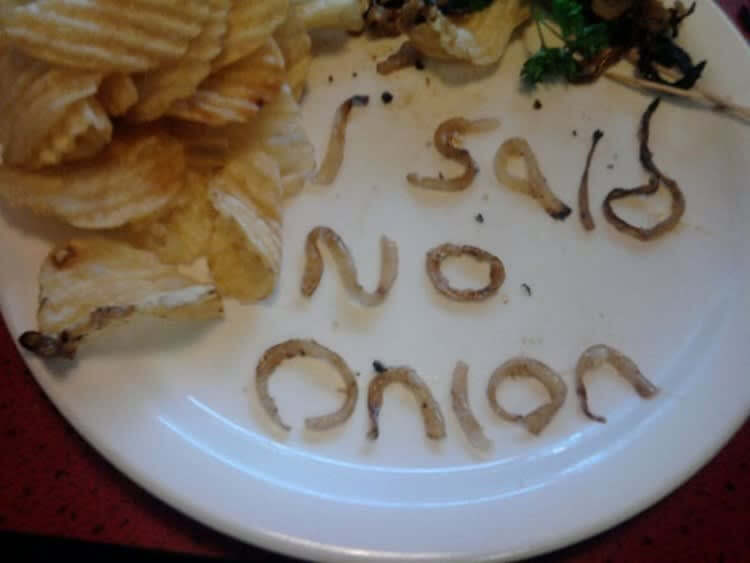 This customer specifically said they don't want onions in their food, but it was an honest mistake by the cook because the kitchen can get really busy. So, the frustrated customer decided to send a message in a passive-aggressive way. We just hope that it resolved the issue and everyone went home happy.
14. Entitlement Reminder
Some people can't wait for their turn at public bathrooms and use the disabled ones just because they are too lazy. But their laziness doesn't make them entitled to use a bathroom for the people with disabilities.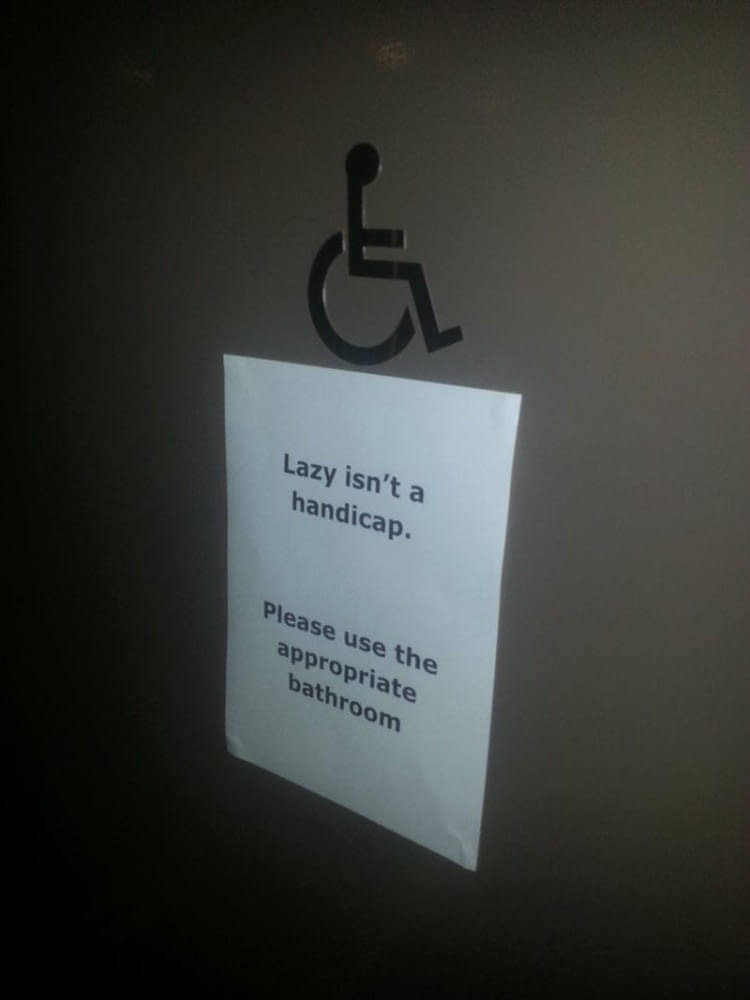 So, someone came up with a note to give them a reminder that their laziness doesn't make them disabled; it only makes them jerks. We are so glad someone put up this note.
15. A Passive-Aggressive Reminder
It can be really frustrating to see that someone goes through your stuff almost every other day. No one wants to hide their stuff in their own house.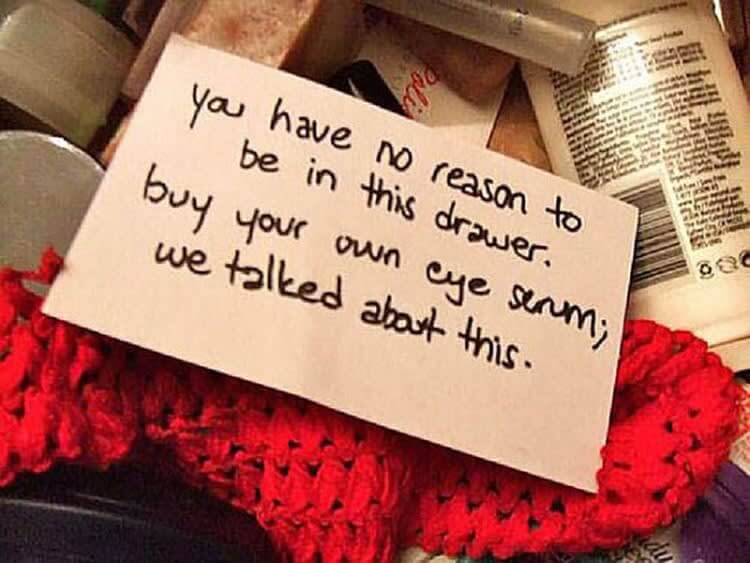 But it seems like someone was still going in and out of this person's drawer and so they decided to leave a passive-aggressive note for them. The message is loud and clear and we hope that pre-empting them worked as planned.
16. Dave Didn't Do Anything Wrong
Technically, Dave wasn't on the wrong side here. We can understand that these kinds of things tend to happen when there's a shared fridge in the office and that's why people abel their food.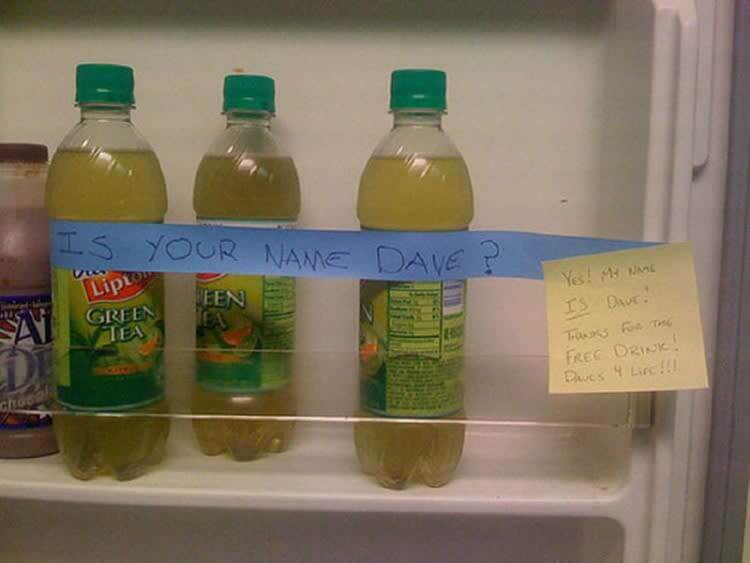 So, the person left a sassy note to make it super clear that the drink was only for "Dave." But he didn't take into account that there is someone else in the office named Dave who really liked the drink.
17. Doo Doo Target Practice
It is so frustrating to see some people leaving their dog's mess on the street and it can be infuriating if you step on the doo doo. Some people are kind enough to pick up the poop, but it is still quite gross.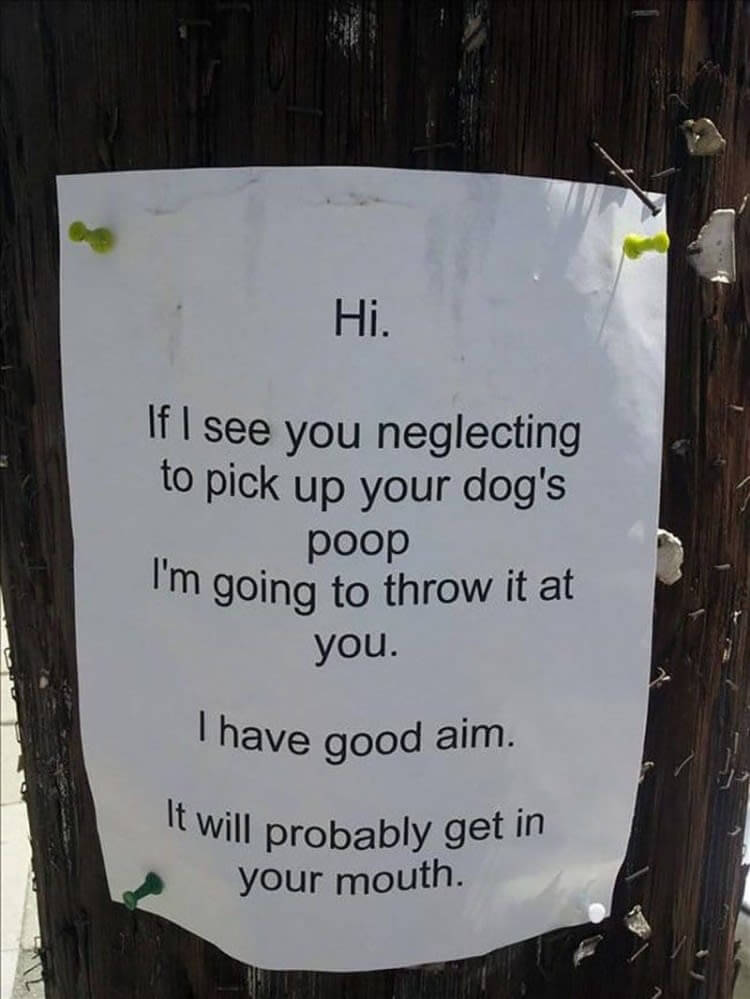 This person was tired of picking up the poop and decided to give a warning that if the dog owner doesn't pick it up the next time, they would throw the poop at them and it might get in their mouth. We hope the message was well received.
18. Go Ahead, Get Offended By It
When you live in a multi-level complex, one of the worst things you experience is when the upstairs neighbors make too much noise. The other unbearable thing is the noise they make while walking. That's why this note makes a lot of sense.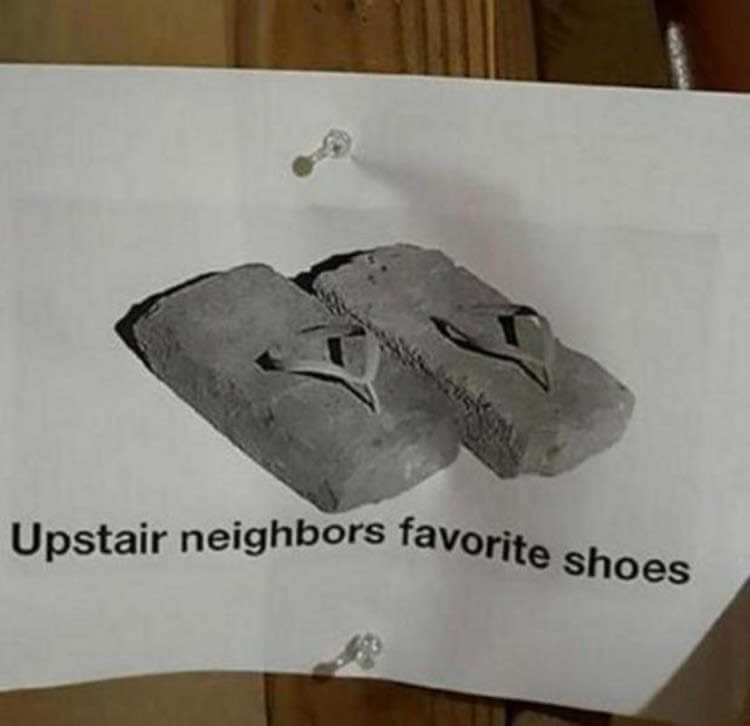 This downstairs neighbor was tired of all the noise their upstairs neighbor was creating and decided to come up with a passive aggressive note that indicates the person upstairs likes to wear indoor slippers made out of concrete and that's why they make so much noise. If you ask us, it is quite badass.
19. Putting a Smile On Kevin's Face
People who work in big offices often bring in their food and label it with their name so that nobody else eats it. Most of us would agree that it is a good tactic because it often works.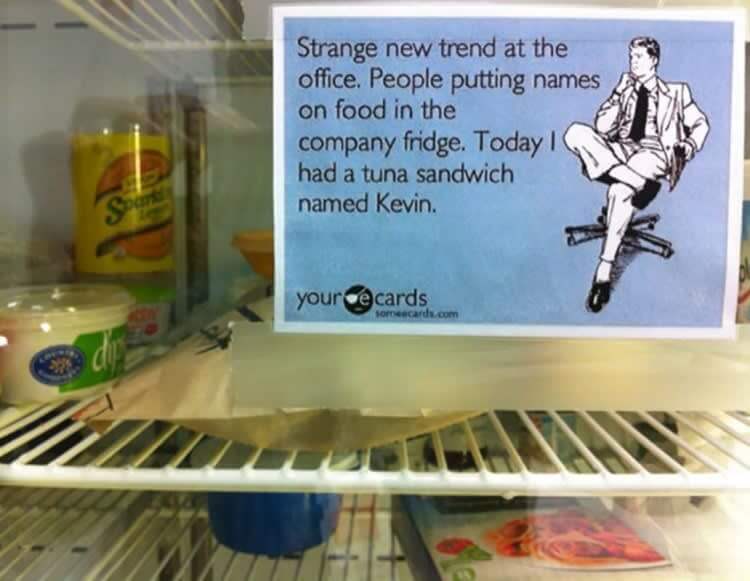 But then there are some individuals such as this one who knew very well that the tuna sandwich belonged to Kevin and still they ate it. The funny part is that this person came up with a hilarious meme to justify their actions. This is pure gold.
20. Go Ahead, Don't Be Afraid
Getting complaints from your existing or past customers can be a big drag. This person didn't want to take any risk and made sure that no one comes forward with a complaint.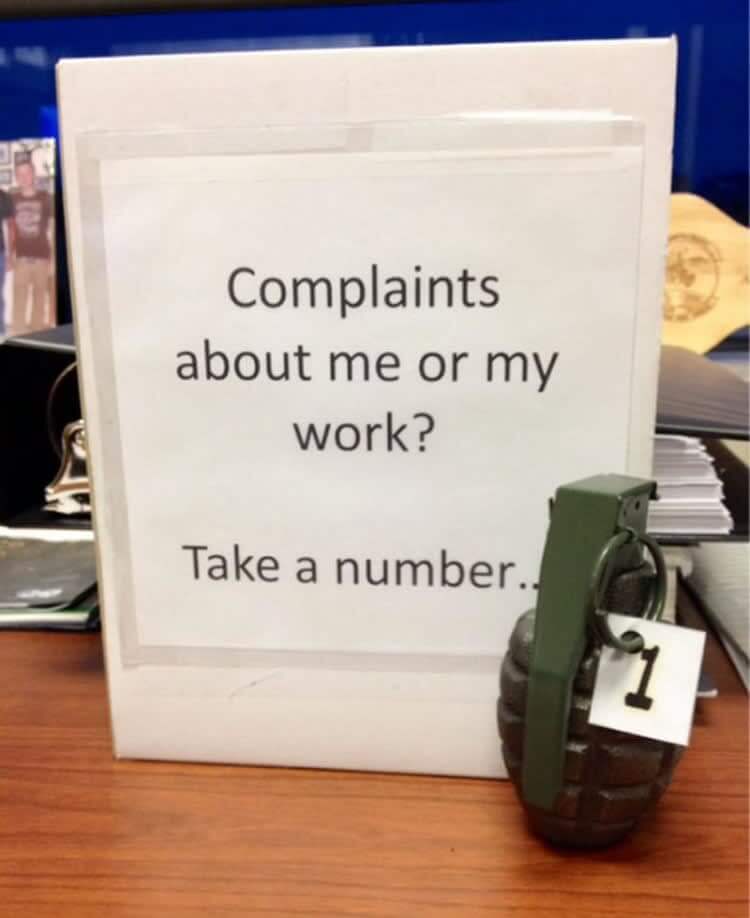 As a matter of fact, this person encouraged people to step forward with a complaint. But we are sure that no one will ever think of doing it. This person has record five-star ratings and now we know why.
21. Such A Nice Concerned Colleague
It can be really annoying to sit next to someone who is making noise while eating and the same can be said about someone who is non-stop laughing. All you want to do is mind your own business and they just keep on distracting you.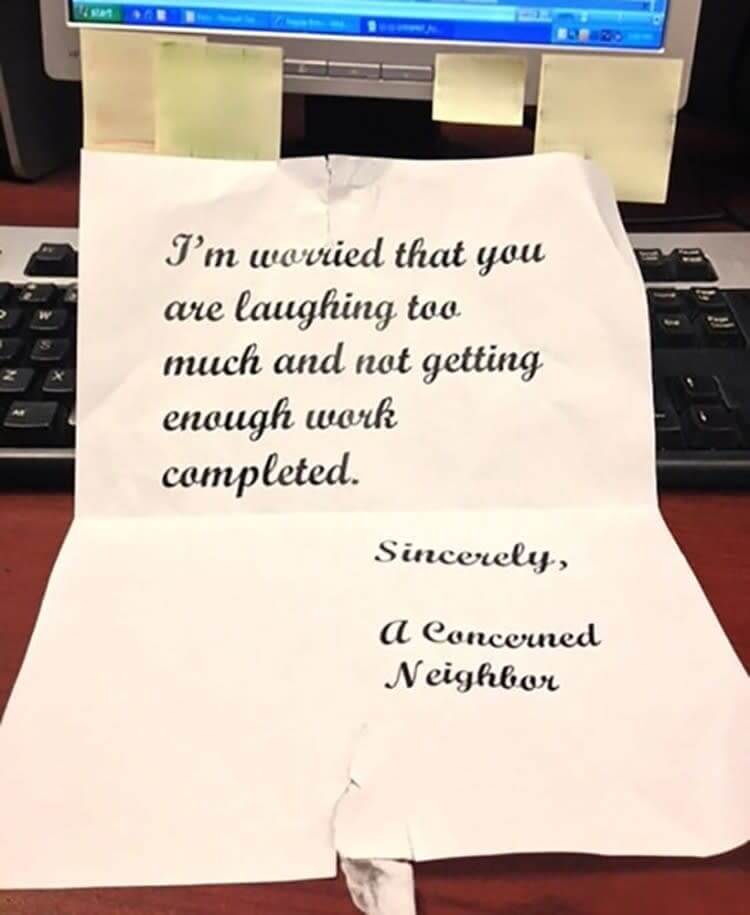 So, this person was laughing too much and came back to his desk to find this note. Whoever left this anonymous note was tired of all the laughing and decided to leave a note instead of making a big scene in the office. And why it seems more like a threat than a concerned note.
22. Now Debbie Must've Got The Message
When you work in an office with a shared fridge, you bring food from home and enjoy eating it in break time. But it can get a little frustrating when someone brings too much food every day and takes up almost the entire space in the fridge.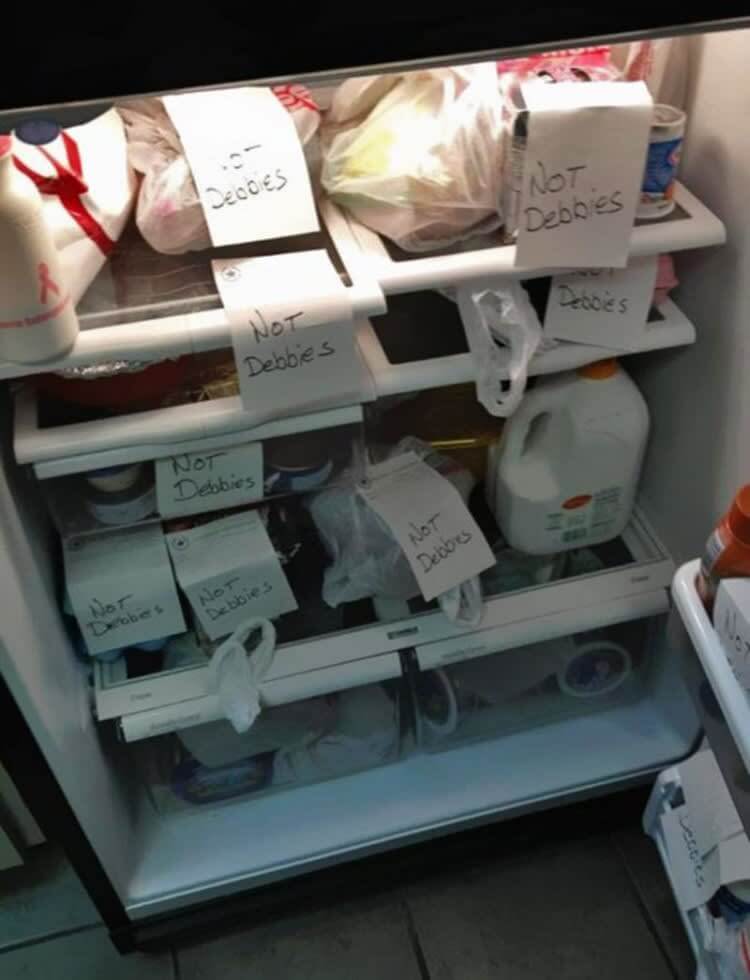 So, these coworkers came up with a simple plan to send a message to Debbie. It was a clear message and we just hope Debbie understood that there is a 'shared fridge' in the office.
23. Please Acknowledge My Effort
This person was fed up with their neighbor's bad habit of smoking cigarettes and throwing the buds away without caring about others. As an average smoker smokes 20 to 25 cigarettes per day, this person had no problem in creating this passive aggressive message with the help of cigarette buds.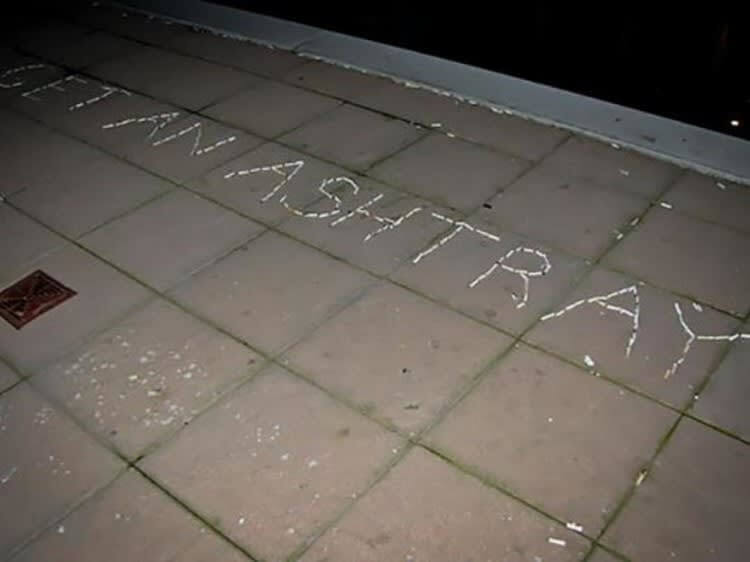 We can hope that it convinced the neighbor to buy an ashtray or even quit smoking seeing how many cigarettes they smoke every day.
24. Or Don't Take The Slice All
You can get mad if there is a nice midday treat of pizza pie at the office and there is one person who just takes a couple of bites out of an entire piece and leaves it. This is what happened here and the person who was hoping to eat the last piece of pizza didn't like it at all. So, they left a note encouraging the culprit to take the entire pizza piece the next time instead of just taking a few bites out of it.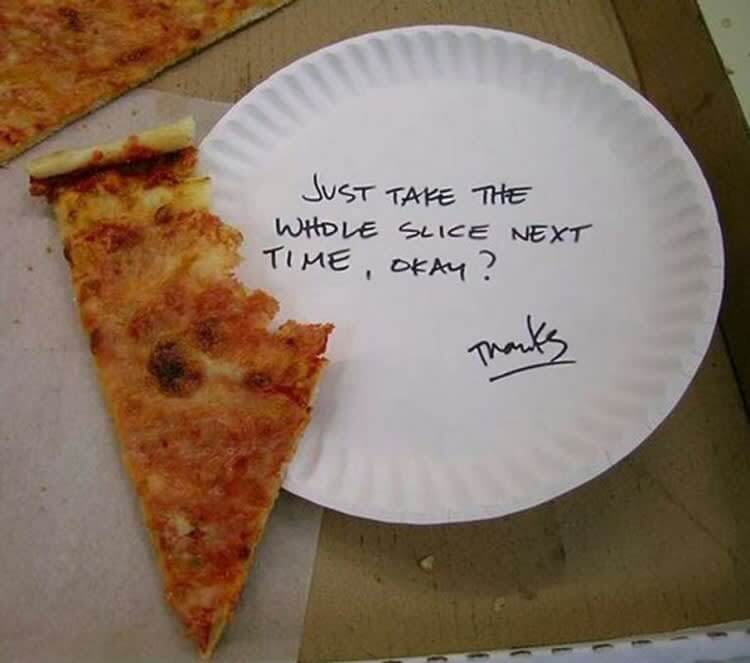 By the way, who are these people that just take a few bites out of a pizza? You take a whole slice and eat it, even if you are not feeling hungry.
25. Wait What
When the downstairs neighbor was too tired of hearing the constant noise made by the upstairs neighbor, they knew that they had to do something about it. Given that they do not party and make noise from simple things like walking, the downstairs neighbor couldn't involve the police in it.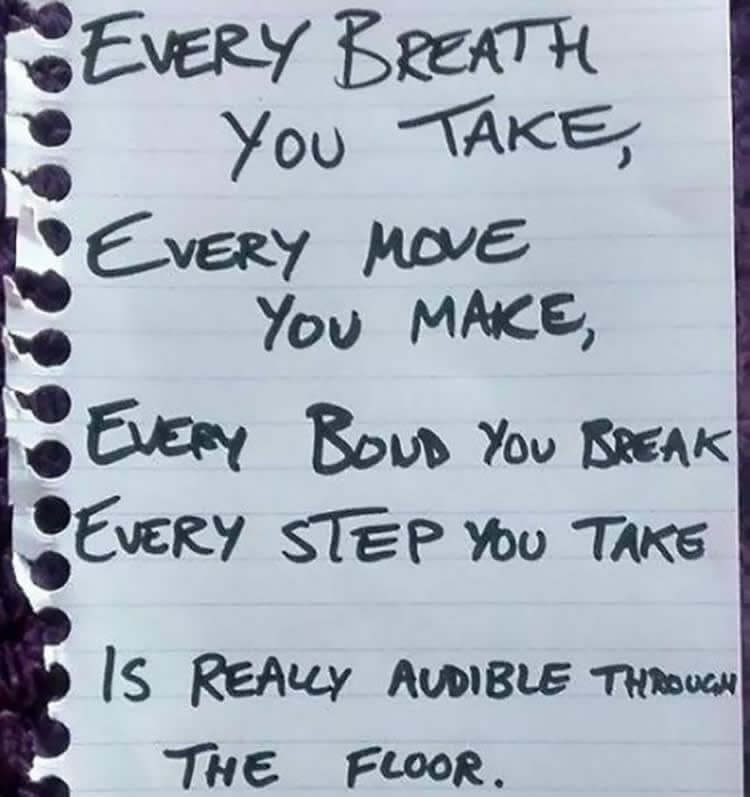 So, they wrote a note that started off as a dialogue from a romantic movie and then it took a quick turn. We have to give to the downstairs neighbor to come up with such impactful words and not involving the landlord or police in it. We hope that the upstairs neighbor understood this lighthearted message.
26. That's A Valid Point
So, one particular person wanted to inform everyone in the office to keep one specific door closed. But there was one colleague that couldn't help control the temptation to comment on such a childish font. Yes, Comic Sans.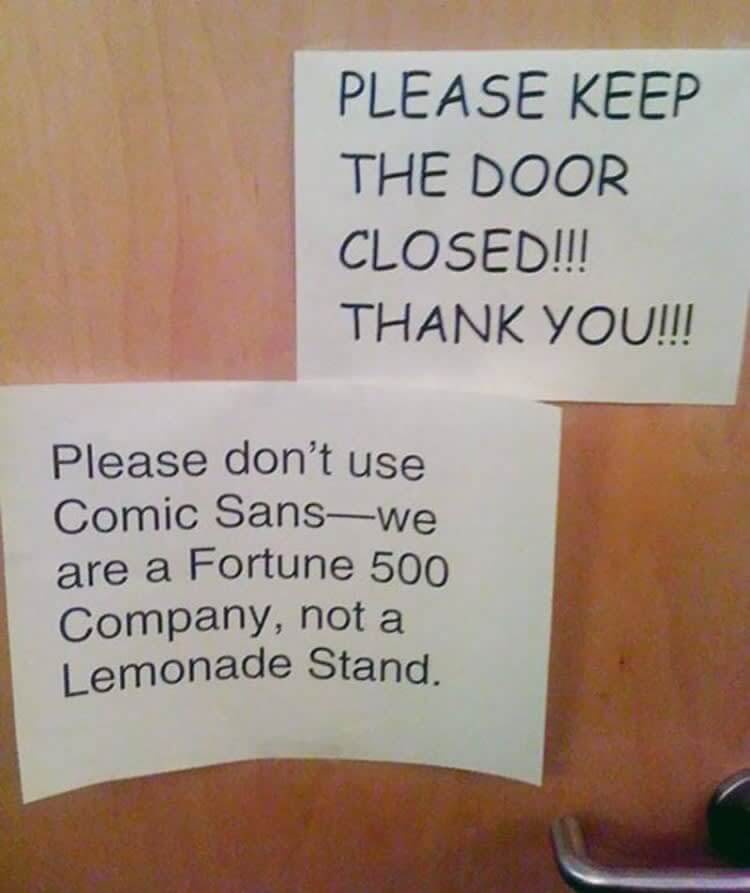 The person clearly pointed out that Comic Sans is a font best preferred by kids who run a lemonade stand and not a Fortune 500 Company. It's hard to argue with the point because Comic Sans is a pretty childish font, don't you think?
27. That's A Nice Way To Do It
We can understand that cleaning out the refrigerator is not an exciting experience at all, but it is a necessary thing which we have to do from time to time. After all, no one likes an overcrowded, smelly fridge.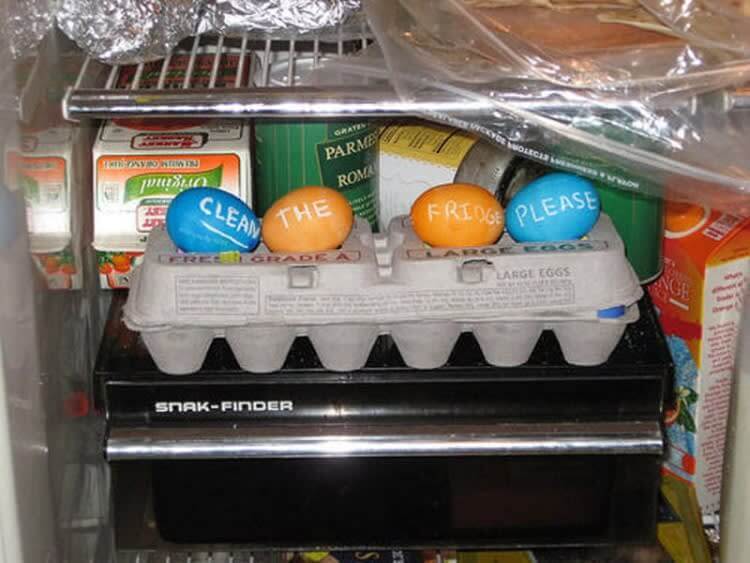 So, this person decided to use eggs to send a message and we can expect that it worked. Among all the other passive-aggressive notes, we find that this one has a bit lighter tone. What do you think about it?
28. That Explains A Lot
There's no denying that one of the most frustrating things to experience while living in a shared area is finding out that someone stole your package. And the worst thing is that you never know who took it and yet you may see the package-thief almost every day and even talk about the growing number of package-theft cases in the building. It makes you doubt almost everyone and it is not a good feeling at all.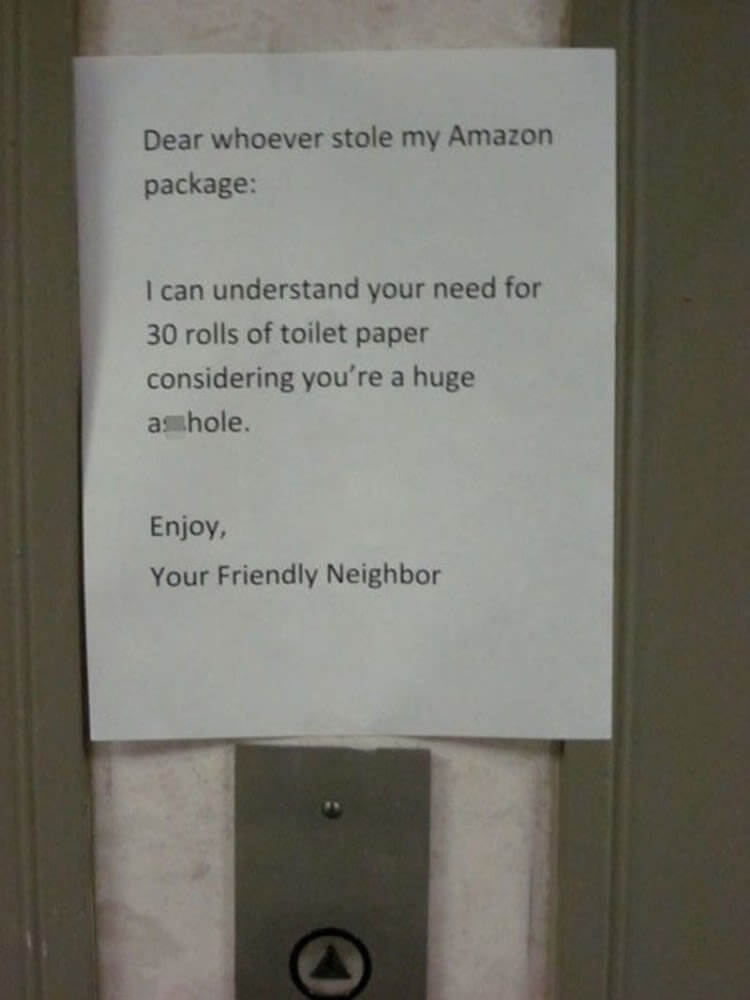 So, when someone stole the Amazon package of this person, they decided to send a message to him/her in a subtle way. The note started quite politely and then took a hard left turn.
29. They All Checked...Lol
Going to the bathroom and seeing that someone didn't flush is one of the grossest things to see. Although most people don't do it on purpose, it happens quite often and that's why someone had to put on a note so that people can take a second look and flush if needed.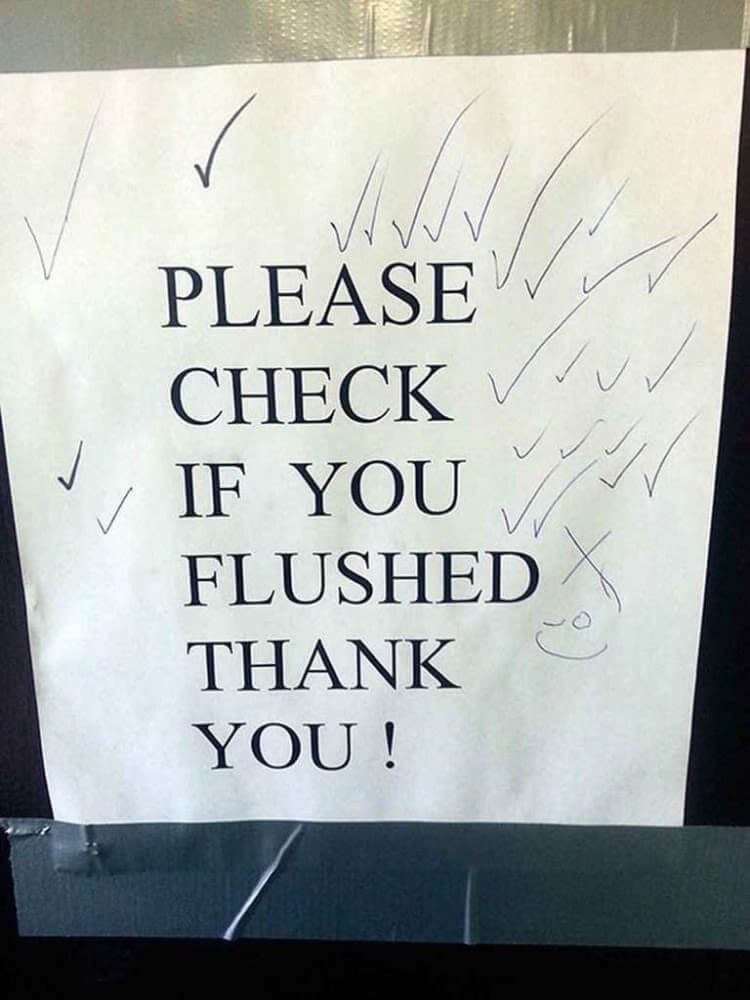 But this person didn't take into account the stellar sense of humor of their colleagues. Everyone who went to the bathroom started "checking" the paper to show they have flushed the toilet.
30. When You Use Apostrophes Passive-Aggressively
We have seen so far how some people didn't choose the right words and expressed what was in their hearts in the most passive-aggressive way there is, but this one has set high standards. It looks so cute at first sight, but if you look closely only then you start to comprehend how the person who created this note used apostrophes in the most passive-aggressive manner.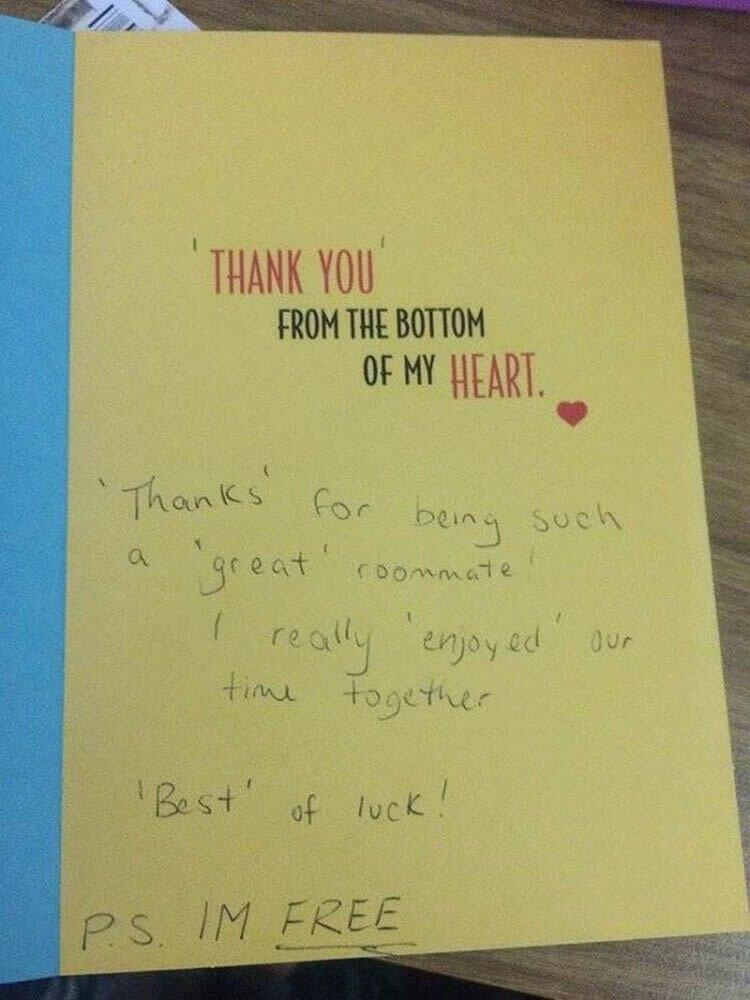 One thing is clear that these roommates didn't have a good time together, but one of them decided to give a card anyways. Without the apostrophes, the card looks really nice and even suggests that though they didn't have a good time as roommates, all is good between them. But the evil apostrophes clearly suggest that there is hate involved.
31. Lessons Were Learned That Day
So, someone was fed up with their neighbor using their washing machine after 9 pm. Instead of talking to their neighbor and politely asking them not to do it, this person went with a blunt notice approach.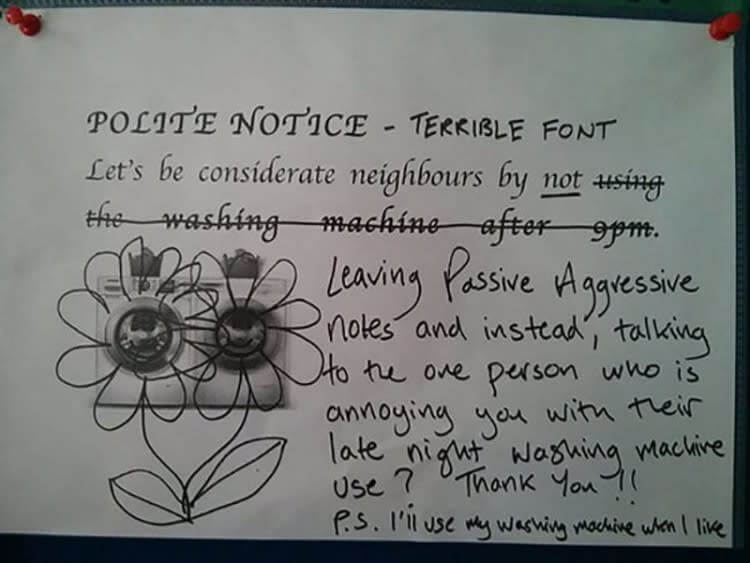 Obviously, it backfired when the neighbor responded in the best way possible. And yes, the neighbor also made it clear that they will use the machine whenever they feel like using it.
32. Let Us Be More Specific
Although signs are not really fun, they do a pretty good job of serving a purpose. The colleagues in this working space didn't seem to care about their drinks that were creating a gross watery type of waste.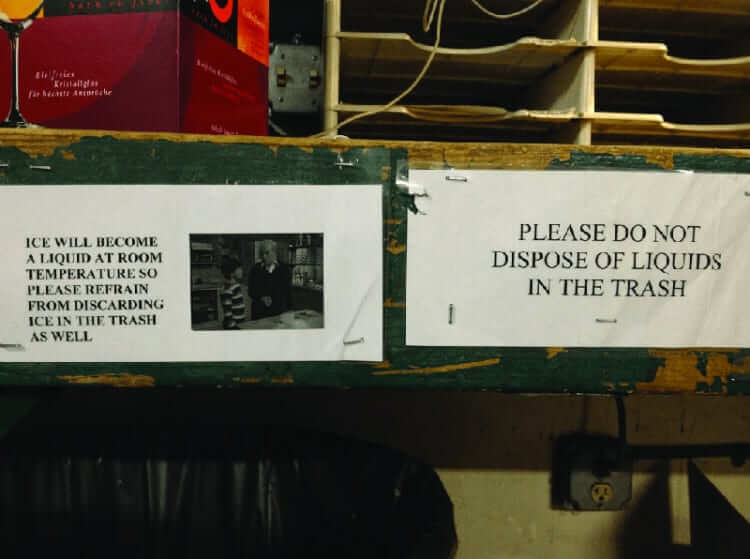 So, someone put up a sign to prevent it from happening. The colleagues found the sign hilarious as they were technically doing what they were told.
33. That's One Way To Do It
You work hard and expect others to do the same as well and yet you see your annoying colleague wasting their time and not doing anything right. So, this one pretty much explains the agony of one of the persons who was fed up with their colleague's laziness and decided to leave a message.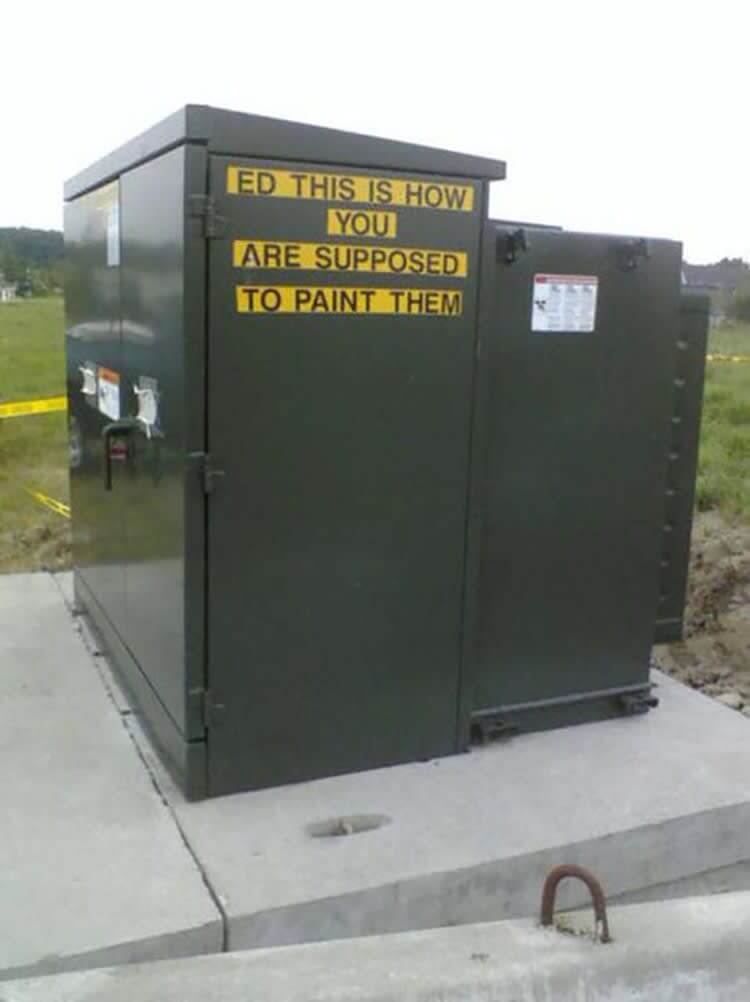 There's no better way to point out the shoddy work of your colleague than using a massively bright sign. We just hope that Ed got the message.
34. And That Was Nice?
This person wrote at the end of the note that "I WILL NOT BE NICE" and we are left wondering that they referred to a cute, innocent cat as STUPID CAT and they thought they were behaving nice.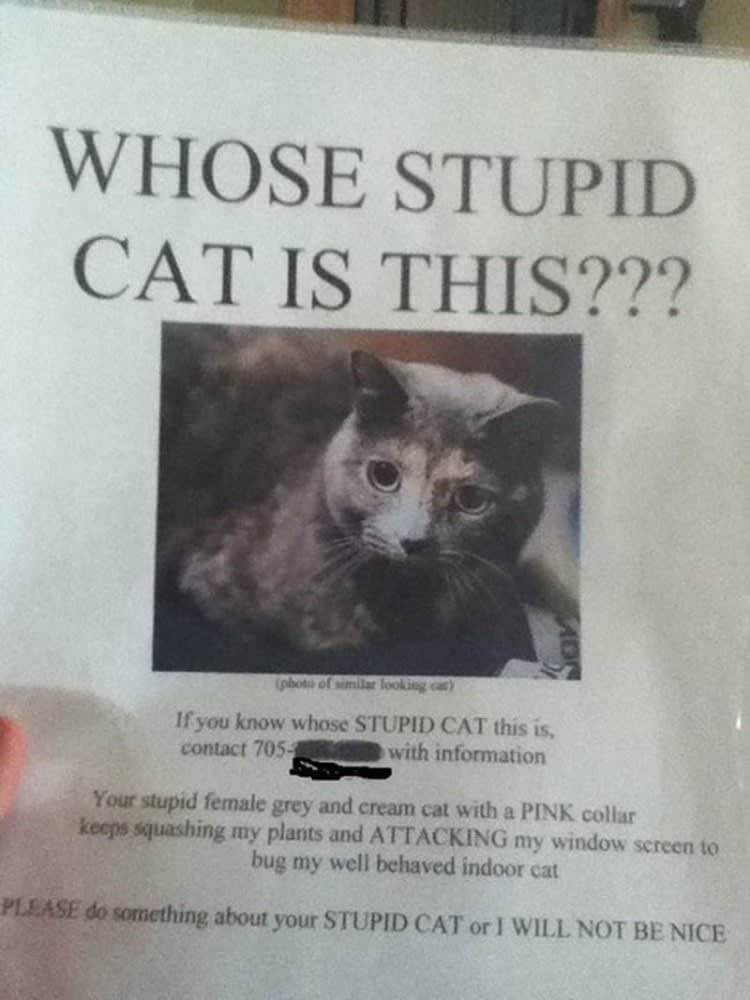 But we can somehow understand they didn't want this cat to squash their plants and disturb their cat. We just hope that the owner of the "stupid" cat handled the situation.
35. An Angry And Blunt Request
In the previous notes that we have seen so far, we noticed that there was some sort of finesse in them. But this passive-aggressive note is blunt and it is prone to offend almost everyone. It is quite specific and it left us scratching our heads and thinking that, "who the hell uses their feet to flush the toilet? Seriously!"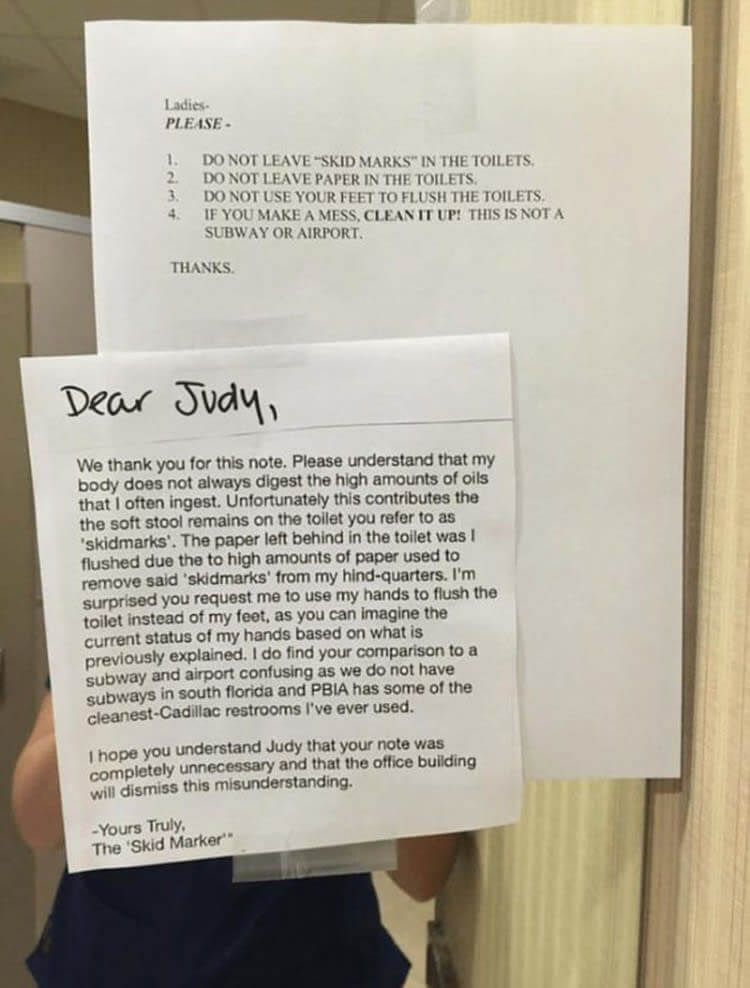 Well, the 'Skid Marker' responded with another note that clarified everything. And we are taking sides with the skid marker because sometimes avoiding a mess in the bathroom is just too difficult.
36. That's How You Do It
You saw in the previous image how the neighbor wrote a blunt note and offended the person so much that they said they would use the washing machine whenever they feel like using it. That neighbor needs to learn something from this guy. This person was also irritated by their neighbor's use of washing machine at unusual hours and so they came up with a simple message.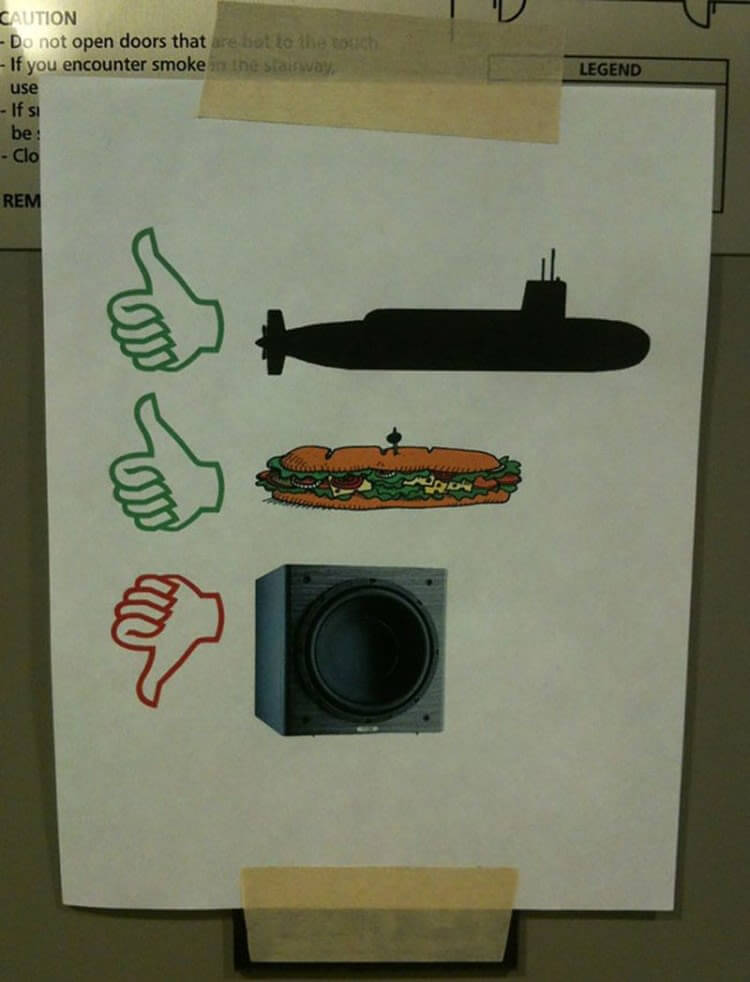 What we find so impactful in this message is how it took a simple thumbs down to send the message. You don't need to write so many lines explaining your frustration when you can use thumbs down to express it.
37. You Made The Mess, You Clean It Up
We find so many videos on the internet on how dog or cat owners make them clean up the mess they create. And let's be honest here, pets show no remorse in creating the mess and even cleaning it up doesn't make them any better. This passive-aggressive note is for a human and not a pet. People tend to leave their mess behind only because they think someone else will clean it up. But this person wasn't having any of it and decided to highlight a gross mess.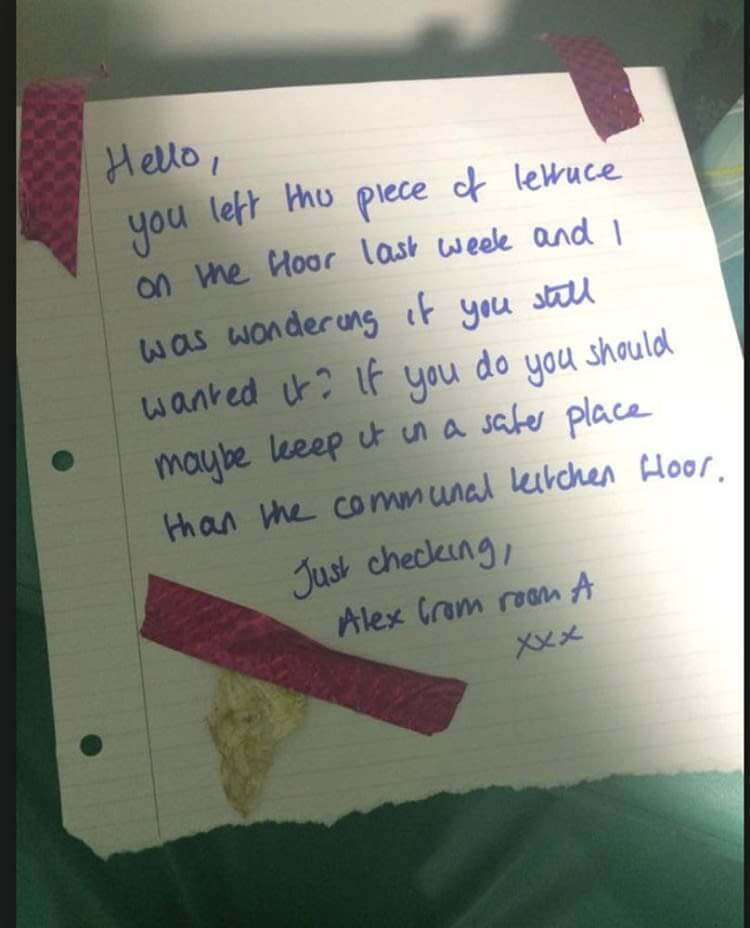 Alex from Room A seems super upset and we just hope that the responsible person learns from their mistake. Although it is not related, but this one reminds us of how Chandler Bing said in Friends, "And The Messers Becomes The Messies."
38. They Still Love You
For parents, it can be a little difficult to adjust at the start when their children grow up and move out. And when it happens, the parents do sometimes feel that they are the only ones worrying about the children and not the other way around.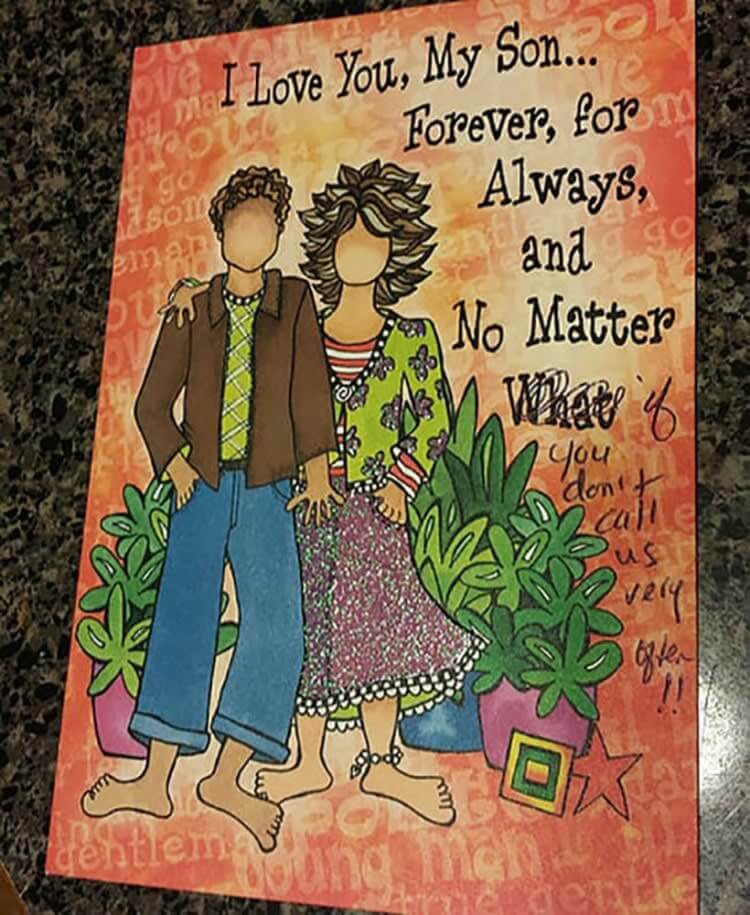 It is true that children move out and start worrying about life so much that they tend to forget calling their parents for days and even months. So, this is what prompted a heartfelt card that expresses the love and somewhat disappointment of the parents. We really liked how subtle the parents were in delivering the message.
39. Now That's A Personal Attack
You go to the library to read some good quality books and then you are personally attacked by this note. Now that's pretty harsh, right?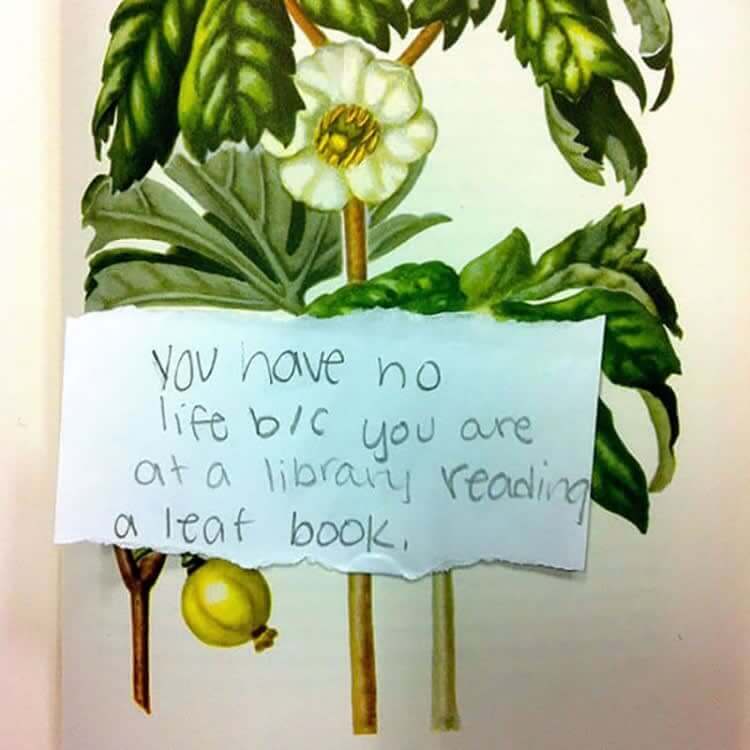 We believe that whoever wrote this note is not a big fan of this book and wanted to make sure others don't read it as well. If you love reading books, we'd recommend you not to get offended and just ignore it.
40. They Had No Other Option
When you live in an apartment building, you have to experience a lot of frustrating things and sometimes you can do nothing about it. Earlier, you saw how a person was angry about someone stealing their Amazon package. But here is an example of how the entire building couldn't take loud fights in this apartment and decided to do something about it.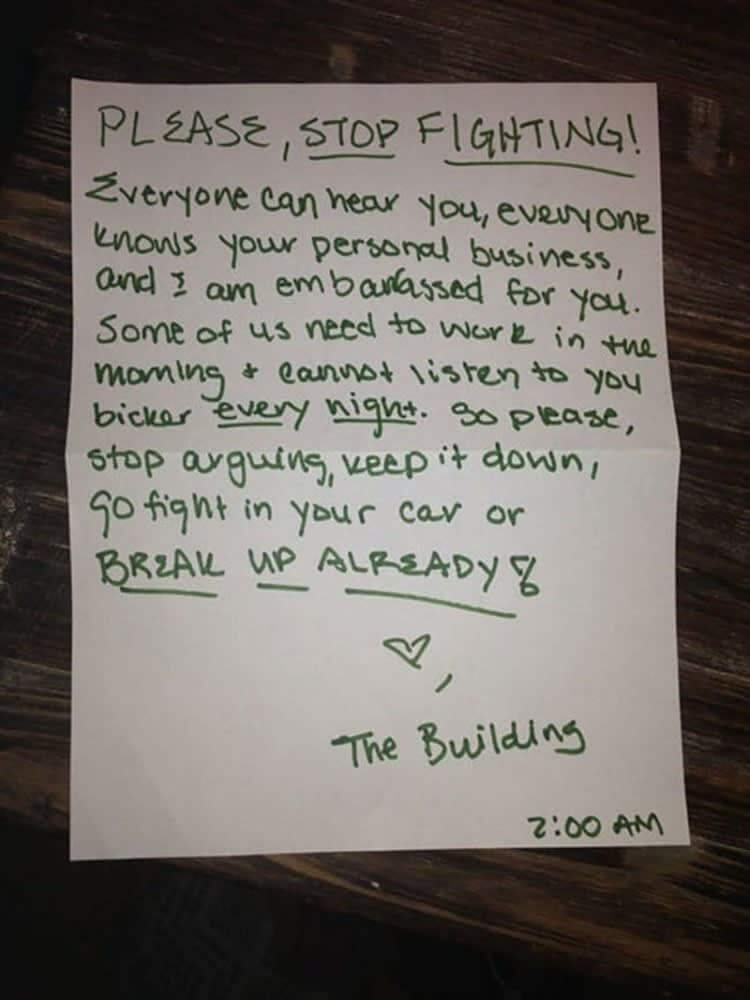 This note clearly shows that the people living in the building cannot listen to a couple fighting at 2 am. It is safe to say that they lost their patience. The good thing is that they didn't call the police and waited for the couple to reconsider their relationship. They even suggested that some relationships aren't meant to carry on for long enough and it is better to end it.
41. We All Need Bob Marley Printer
People who work at offices know how frustrating it can be to learn that the printer jammed. As the printer is quite an important machinery, if it doesn't work then it can put a lot of work on pause.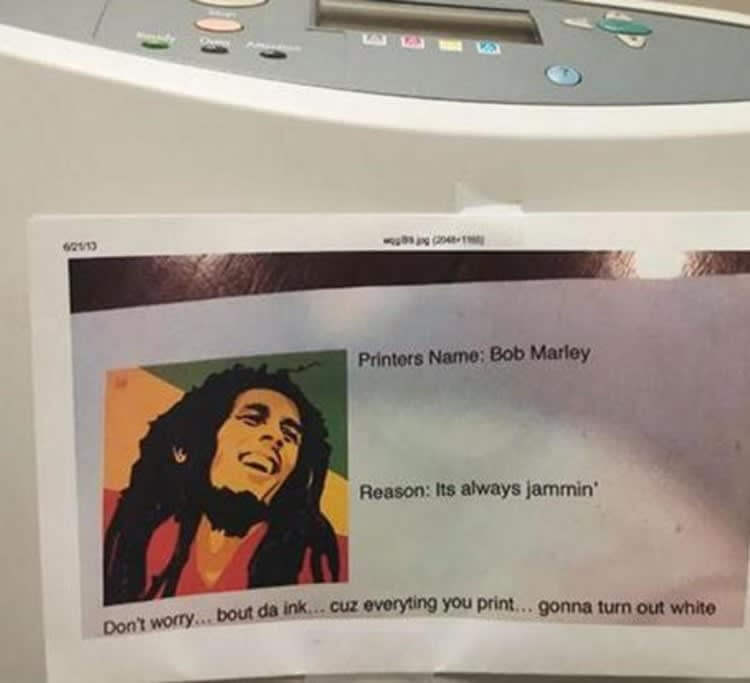 These people were tired of the printer jamming and decided to do a bit of comedy with it. Who knows their comedy and passive-aggressive approach makes the higher-ups buy a new machine for them.
42. Exactly, Not The Best Place
It looks like Lee didn't read the sign before placing his bananas under it and he is mad because someone ate them.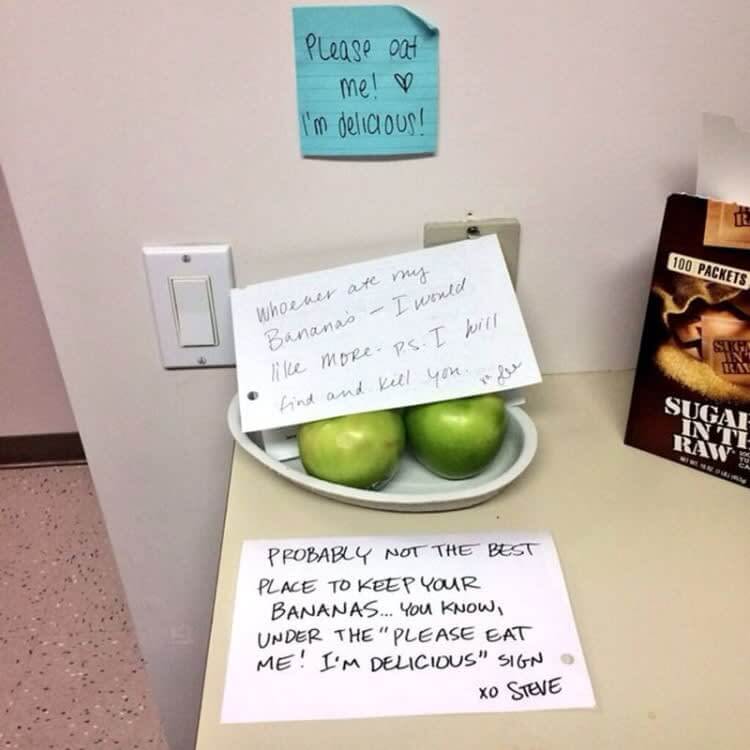 Although he used the dialogue from Liam Neeson's movie Taken "I will find and kill you," his warning was quickly discarded by someone else who pointed out that it was his mistake in the first place.
43. We Agree, Please Don't!
As someone kept on unplugging the coffeemaker, they had to put on a note to prevent it from happening again.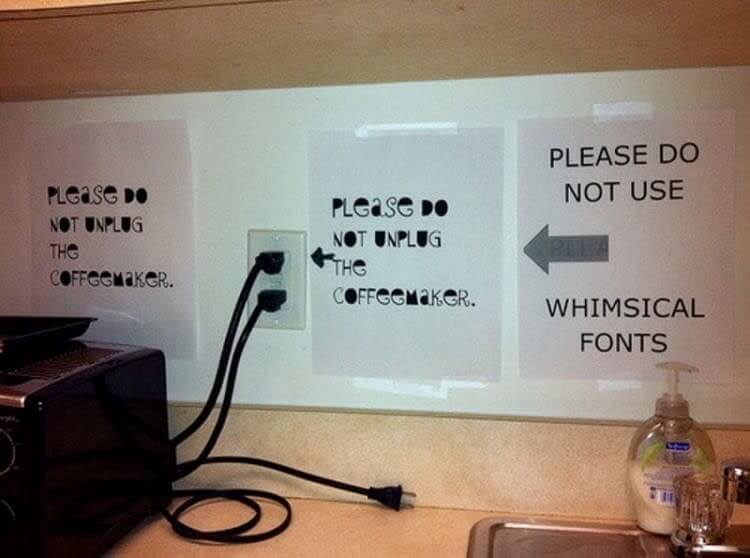 But this is one of those arguments in which there isn't much of a good counter-argument. So, this person decided to put a sign requesting them not to use Whimsical fonts and we feel like they are right.
44. Programmers With A Sense of Humor? We Must Be Dreaming
Who knew computer programmers are such an interesting bunch of people. We knew that they stay quiet and are intelligent, but we didn't know that they can have a strong sense of humor. Well, you learn a new thing every day.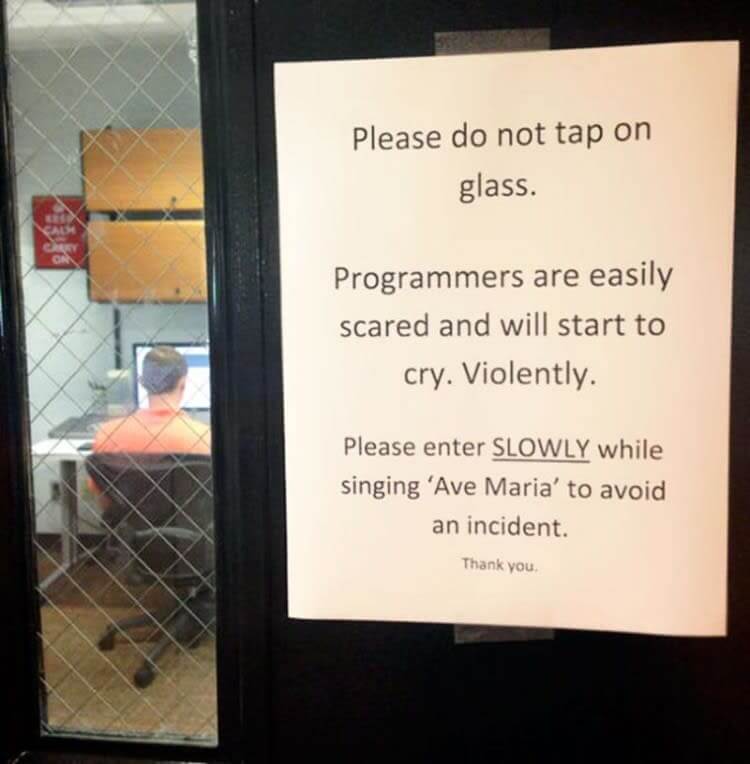 The note clearly shows this group of computer programmers doesn't want to be disturbed and they could've just used dull words, but they did a good job with it.
45. Fear The Wrath of Angry Toast
When you are living in a shared place, you have to share a lot of things with other people. Take this toaster as an example. It seems clear that one person like their toast extra toasted while the other one likes it just about tanned.
So, this unfortunate tragedy was bound to happen. We just feel that this person responded a bit like a child because everyone can set the toaster as they want.
46. Not A Fair Trade
There is a legend that American blues singer Robert Johnson sold his soul to the devil to achieve the musical success and if it is true, then we can understand it. But what about this poor fella who is going to give his soul just because he took some pens, right?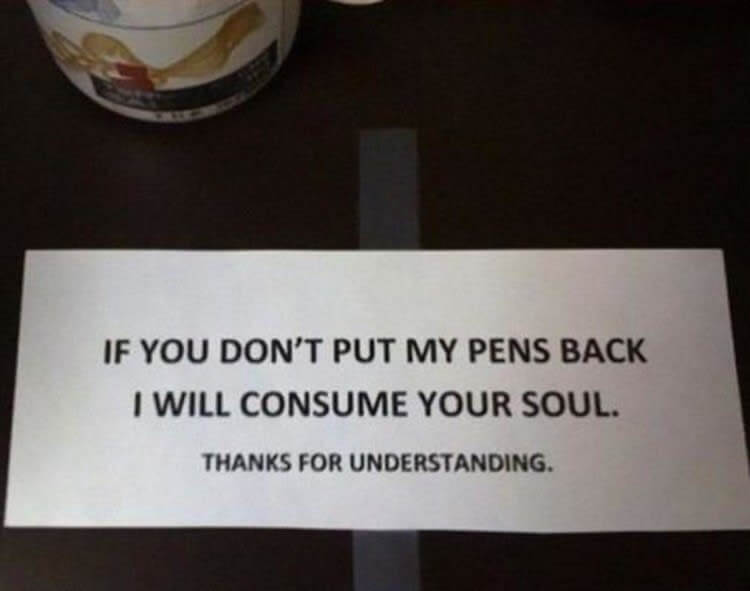 We are a bit confused that a grown-up person is so stressed about their pens, but we are not going to talk more about it. We just feel that giving your soul for some pens is a hefty price to pay.
47. Limit Expelling Demons
We can understand that loud parties are okay on Friday and Saturday nights, but when they happen on weekdays, it becomes a problem for others.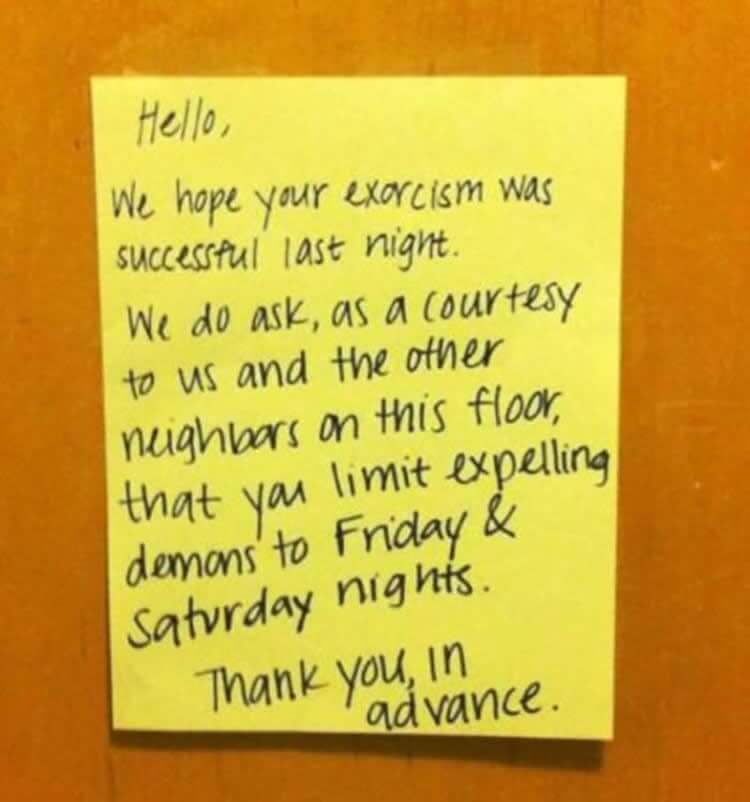 After all, some have to go to work and others have a school to attend. So, this note from all the neighbors on the floor seems justified because someone's exorcism was just too loud.
48. Using The Power of Sarcasm
Please don't mind us using Friends TV show reference every now and then, but as big fans of the show, we love to throw some references around. Like this one as it can easily make Chandler Bing proud.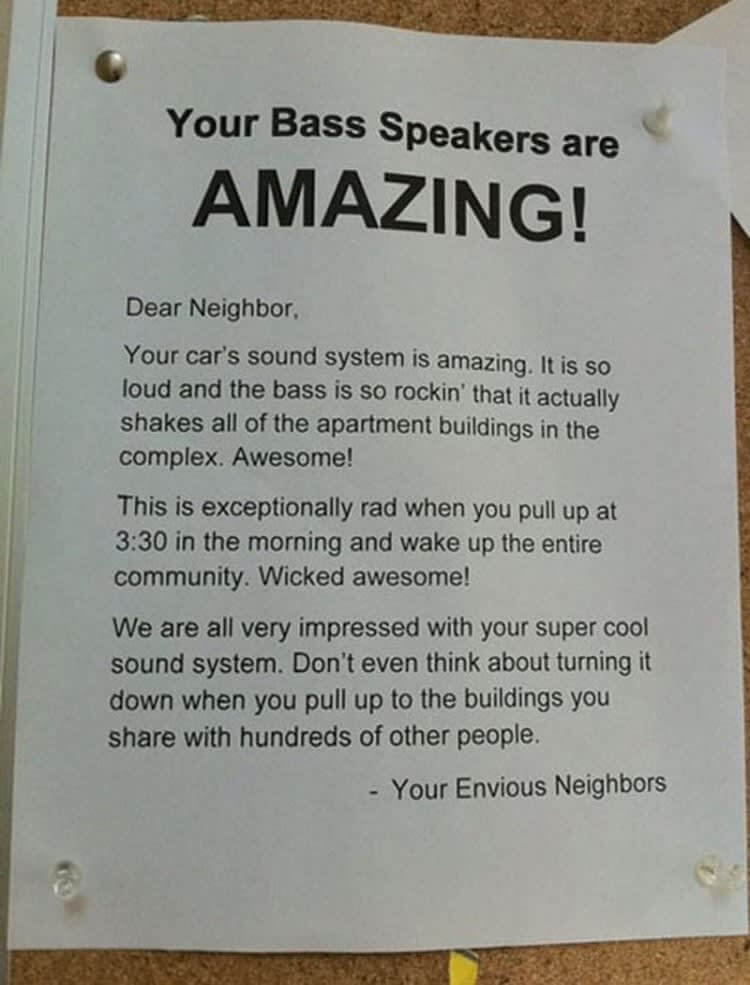 These "Envious Neighbors" came up with a note for one particular neighbor who blasts out music so early in the morning without considering the comfort of their neighbors. We absolutely loved the sarcasm level in this note and we really hope it made someone realize their mistake.
49. That Wasn't Expected At All
Ladies and gentlemen, this is how you outsmart someone with butter knowledge. Apparently, this person loves butter a lot and is knowledgeable about it as well.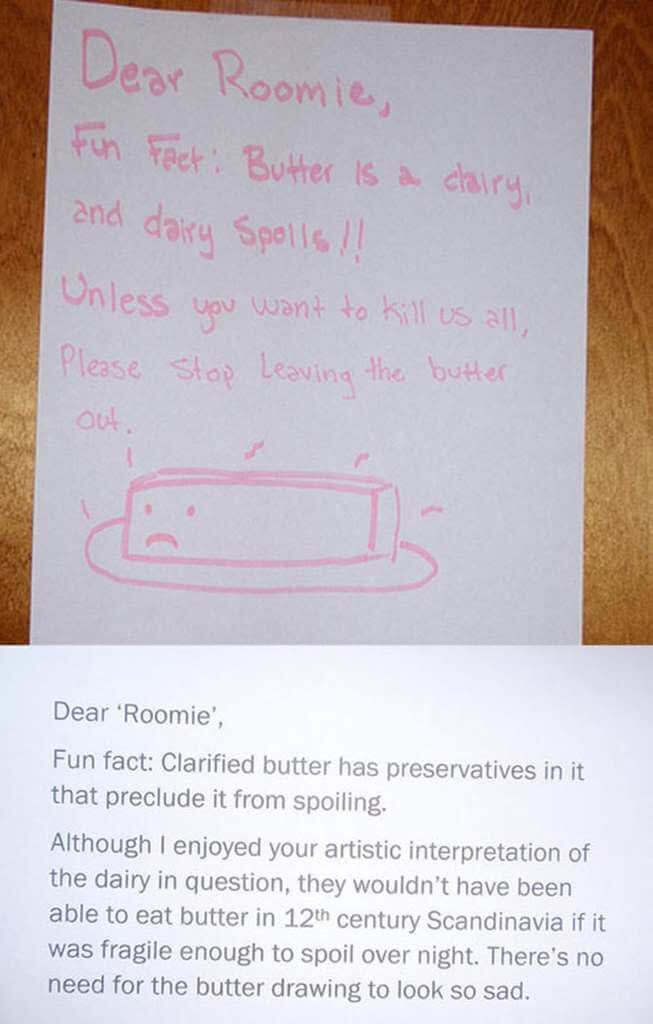 While some people keep the butter in a butter dish or the fridge, some individuals don't consider either storage method. So, when one roommate decided to put a note out on how leaving the butter outside can spoil it, the "butter lover" responded with a fun fact and turned the tables upside down with it.
50. It Quickly Backfired
One of the coworkers tried to point out and encourage how the people working in the office need to stop using sarcasm for a day and then there was one person who realized that there is a spelling mistake and used the opportunity to celebrate the mistake with the dose of sarcasm.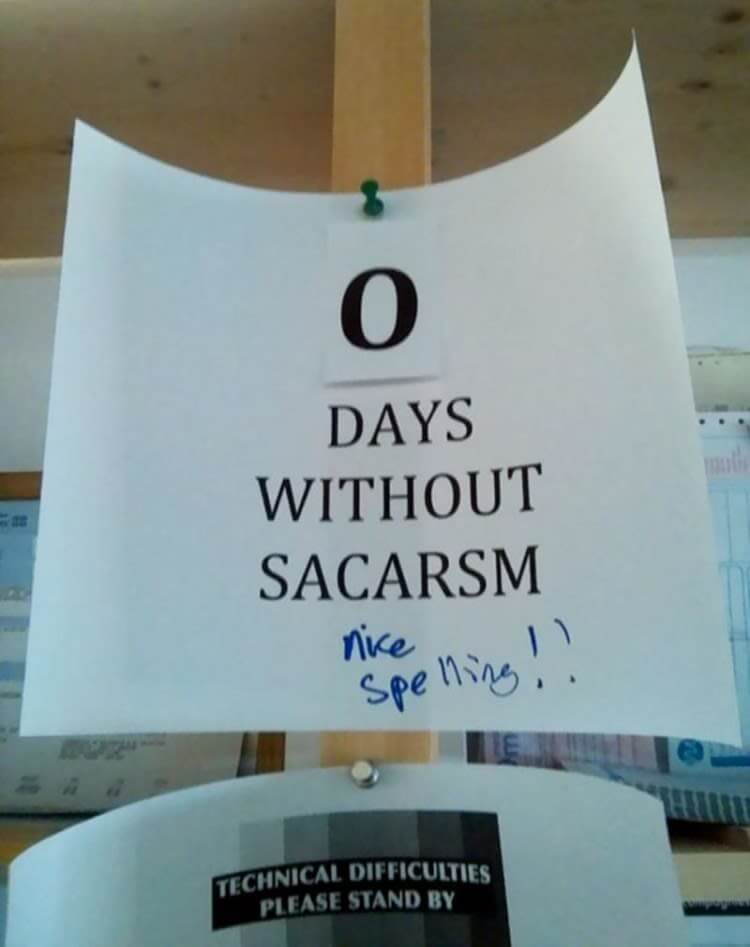 This is a hilarious note in itself and the way the person pointed out the spelling mistake makes it even funnier. By the way, there should be no office on earth where no one uses sarcasm in their conversation.
51. They Used The Word Barks Six Times
It can get really annoying to deal with a neighbor that has a dog that just won't stop barking. The sound of a dog barking can drive some people insane as you can't sleep or focus on your work.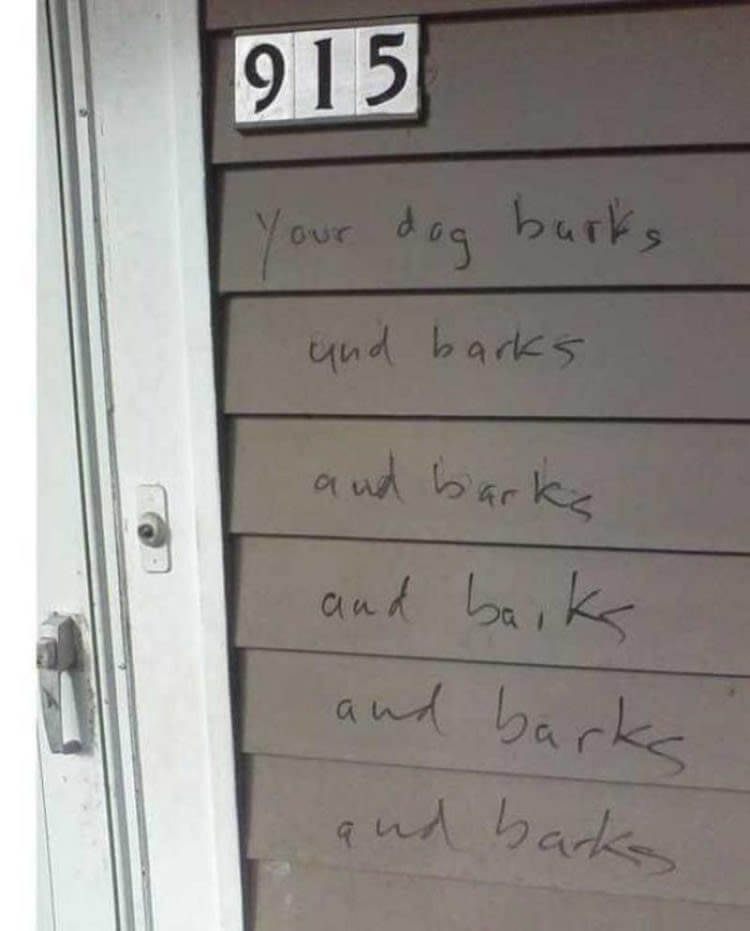 One neighbor just couldn't take it and decided to express the frustration passive aggressively instead of talking to the owner face to face. If you come to think of it, passive-aggressiveness is a good option as the barking dog can come out and bite as well.
52. Print Jobs
Some people like to encourage others with the help of motivational quotes from famous people or use images of people who have achieved a lot in their lives. One person had enough of some people in the office telling others what to do and what not to do.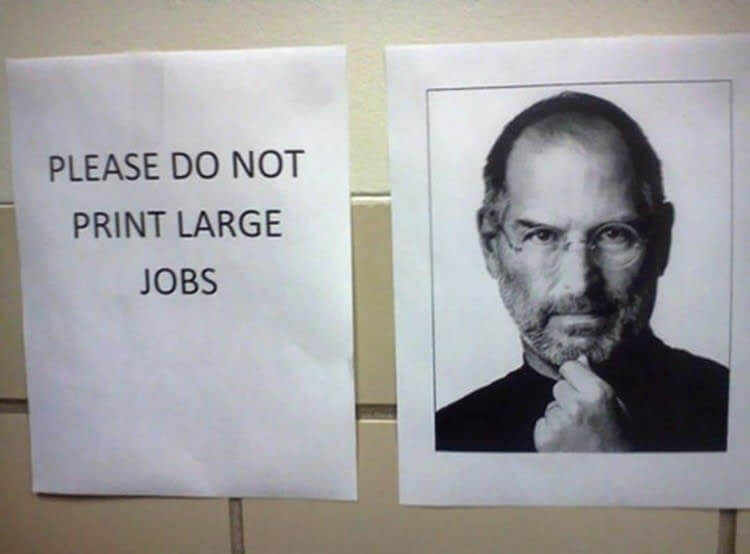 In this silly altercation, that person decided to print out a black and white picture of late Steve Jobs and posted it right beside the original note. We are sure the original poster had no idea someone would respond like this but the response simply delivered the message and that's what matters the most.
53. When You Are A Super Single Person
One of the rules of buying food at supermarkets is to check the dates on them. You have to keep in mind that you don't buy food that might go bad in a couple of days. So, someone was kind enough to remind people to check the dates on the food and this is how someone responded.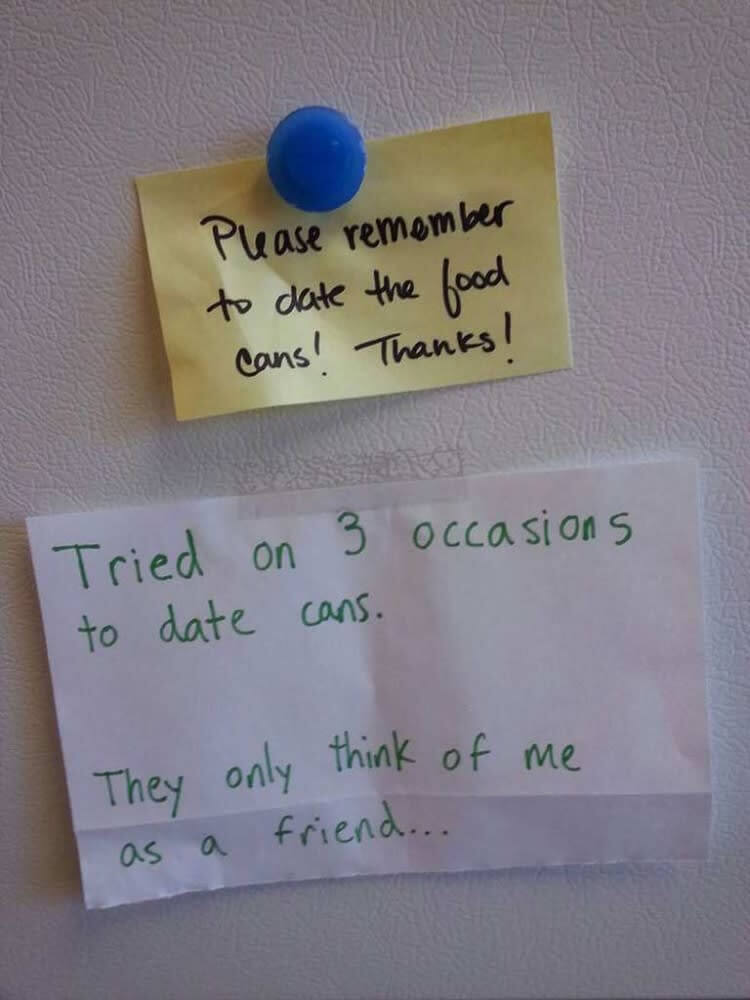 It seems like someone decided to be funny and play with words and we find it quite funny. After all, how many people can say that they got friend-zoned by cans, right?
54. Contradictory Action
This is so hilarious because a person questioned that the sign about not putting thumbtacks in the wall itself had been affixed to the wall and this is just contradictory action.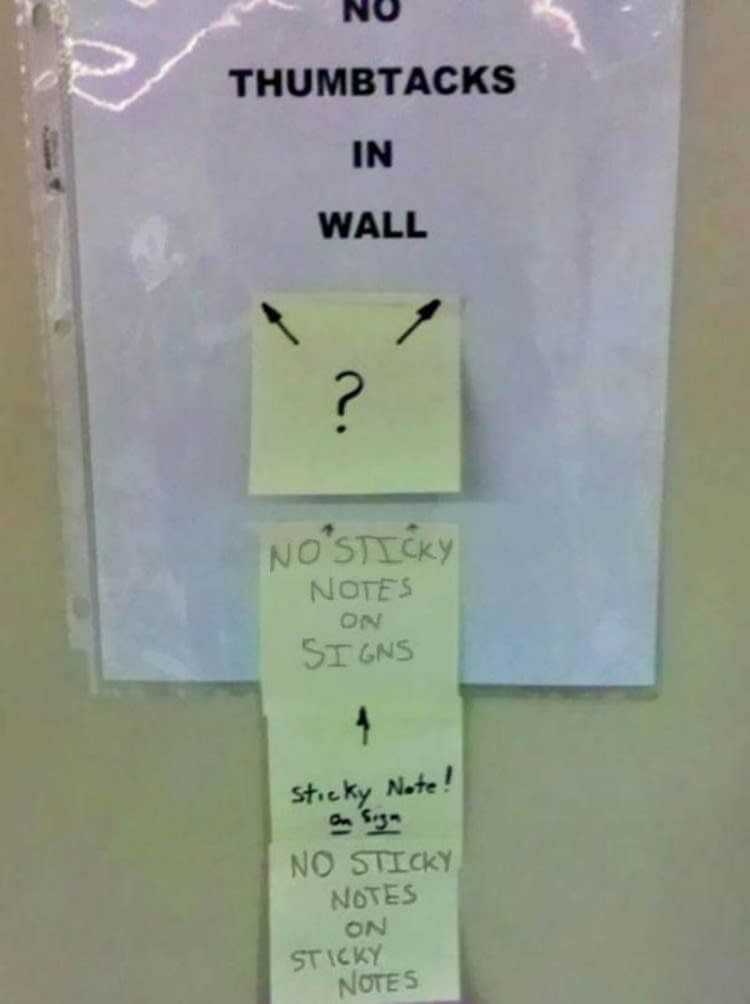 So, what transpired next is pure gold as there is a flurry of passive aggressive messages. Although it looks ridiculous, it all makes a lot of sense. We just hope that everyone involved in it had a good laugh at the end of the day.
55. Hostage Pen
Earlier we showed you how a person was ready to consume someone's soul just because they wouldn't return their pens and here is a person who doesn't believe in borrowing pens from their colleagues. This pen is held hostage and there is a $50 that needs to be paid to rescue the pen.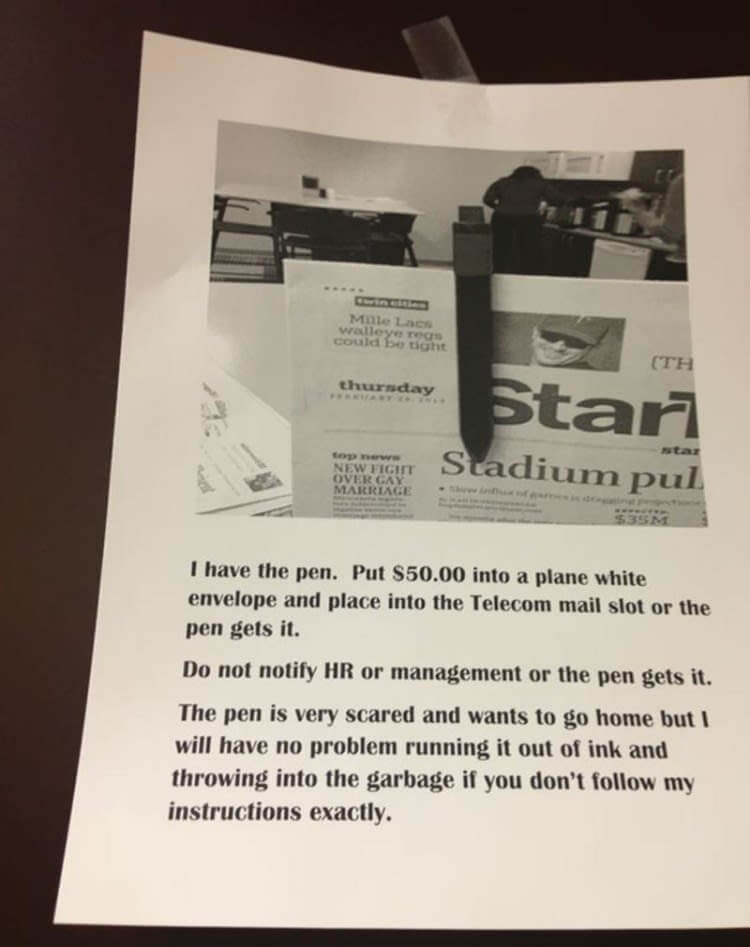 The pen's original owner might just go and buy new pens instead of paying for the pen held hostage. Hopefully, the owner buys a pack of pens so a situation like this doesn't come up in the future.
56. Such a Generous Family
If you ever come across a problem, always go for the warm and welcoming solution like this one. The first note is passive aggressive, but the response is far more passive aggressive.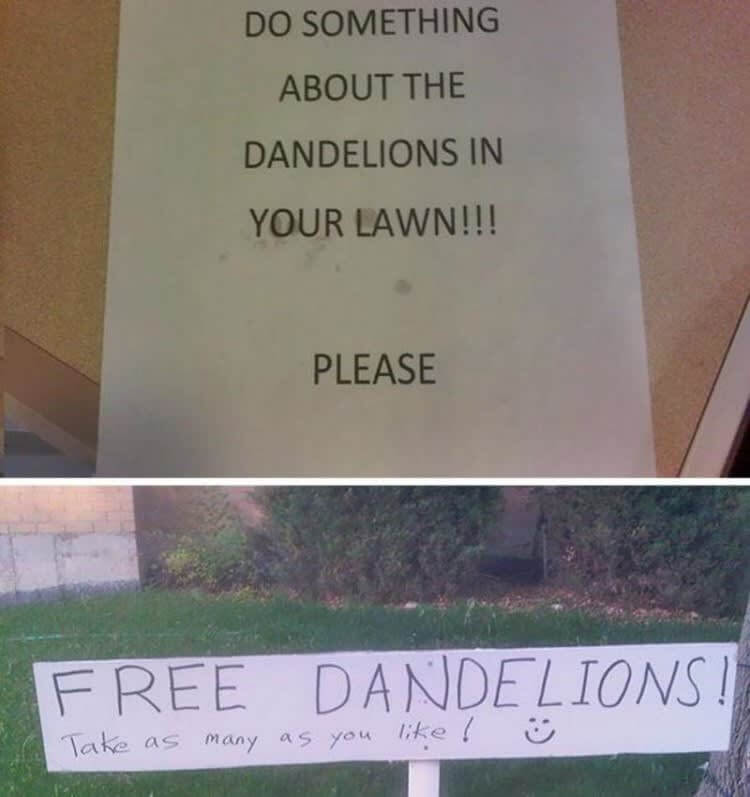 The neighbor with the first note didn't like the sight of dandelion weeds in their neighbor's lawn and they simply responded by inviting everyone to get some free dandelions.
57. A Humble Request
We have seen so far how people respond when they get tired of people eating their food from a shared fridge in their offices, but this one is pure gold. There are so many notes of people complaining about someone stealing their food and then there is the food thief's note that shows he/she is just concerned about the food and not the whining of people.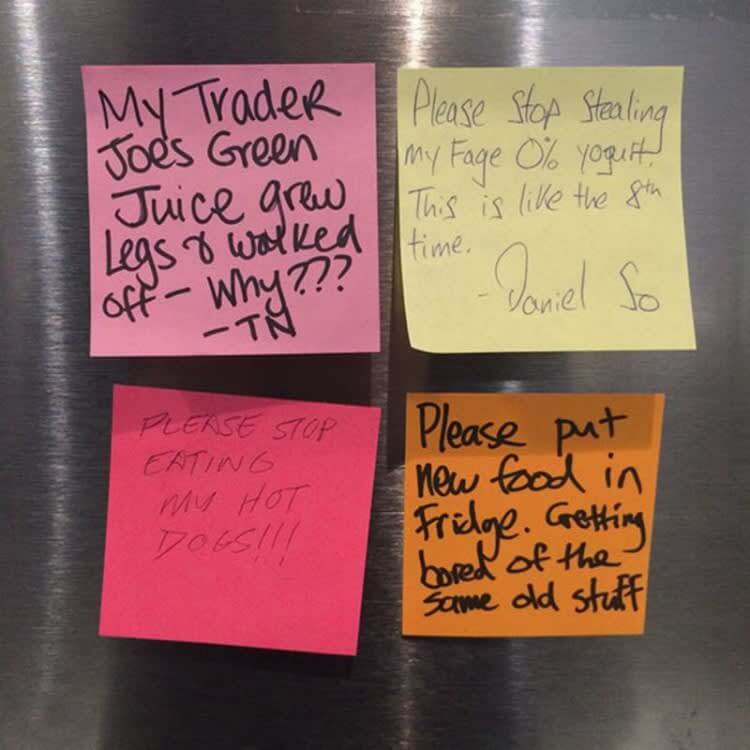 So, it seems like three people are looking for the food thief and it also seems like the thief doesn't even care about it. There's still no word on if they were finally able to get hold of food thief.
58. That's A Valid Point
This person was tired of someone drinking their Diet Cokes and wanted to do something to stop the thief. But as no other method proved to be useful, the person came up with a Jesus print out and thought that it would discourage the coke thief.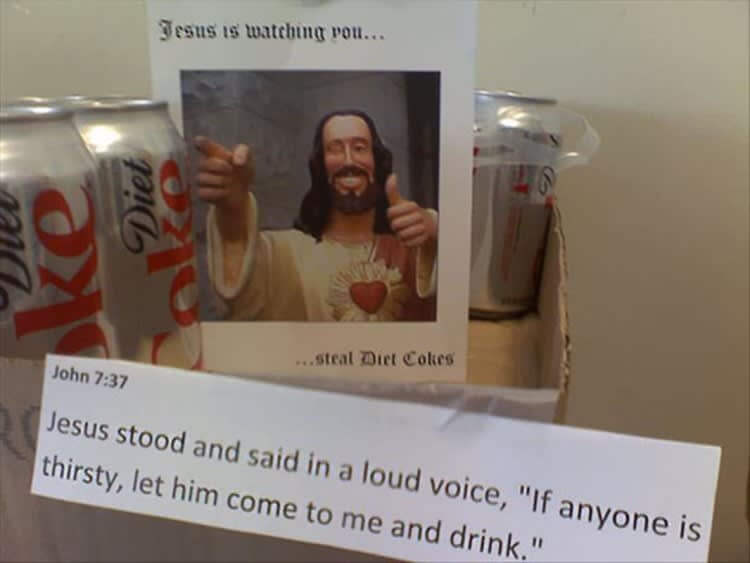 But it turns out that the coke thief came up with a response that kind of justifies their action. There is a possibility that the coke owner may change their mind.
59. We Pay For It, So We're Using It
If you ever try to rent out an apartment, keep in mind that a lot of units proudly advertise that they have parking spaces. But you'd have to pay the rent of parking space whether you plan on using it or not.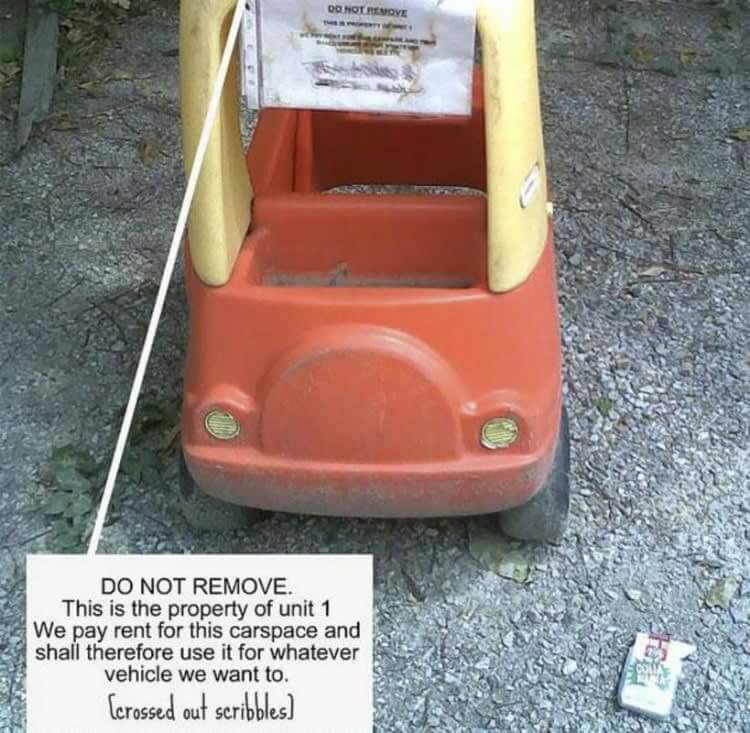 This tenant was not planning on using the parking space, but they still had to pay for it. So, they decided to do something about it as they don't own a car. They purchased a children's toy car and parked it in their parking space. To make things even funnier, they attached a note explaining why they had to do it.
60. A Simple Note In The Windshield Wasn't Enough
When someone parks horribly, others tend to leave a note in their windshield to let them know not to do it in the future. But then there are cases such as this one in which you know a simple note won't suffice.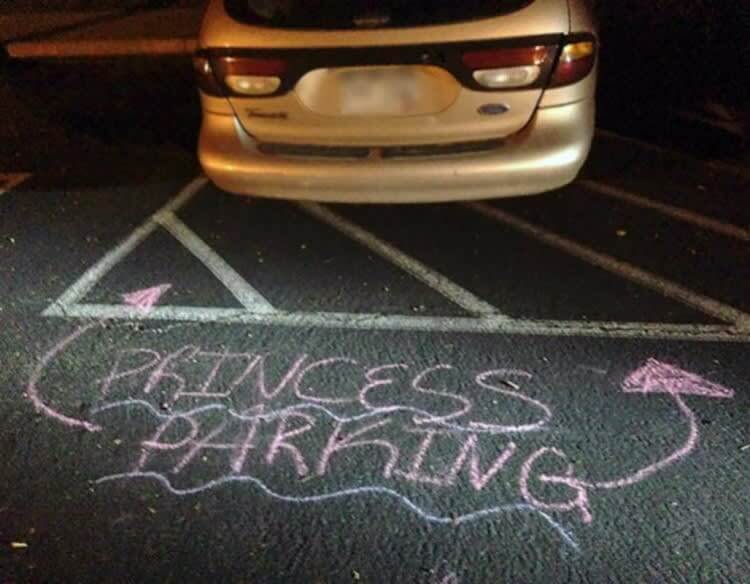 This person noticed that someone parked in an illegal space and decided to do something about it. They came back and labeled "Princess Parking" and we actually admire this public shaming because whoever parked there needs to be more careful in the future.
61. Not The Best Way To Know About It
One household decided to install a large glass in their bathroom, thinking that it was only one-way, but the neighbors had to break it to them in a quite embarrassing way. It turns out, the neighbors could see them showering and they kept quiet for a while before it was too much for them.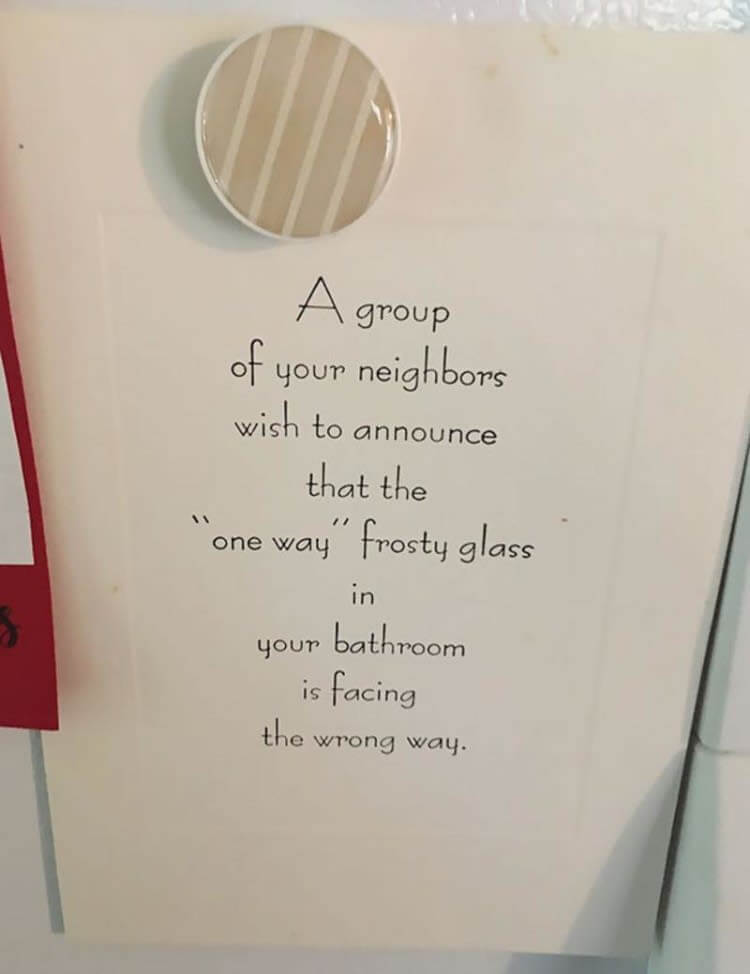 This is a passive-aggressive note, but it is mostly a polite way to embarrass the family. Imagine how awkward it would get the next time they face their neighbor.
62. Just Going To Point It Out
This person doesn't have OCD and that's why they didn't do anything about the hair hanging on the wall for over six months. This person came to office everyday hoping that someone might've taken the hair down and put an end to its misery, but it was the same story every single day.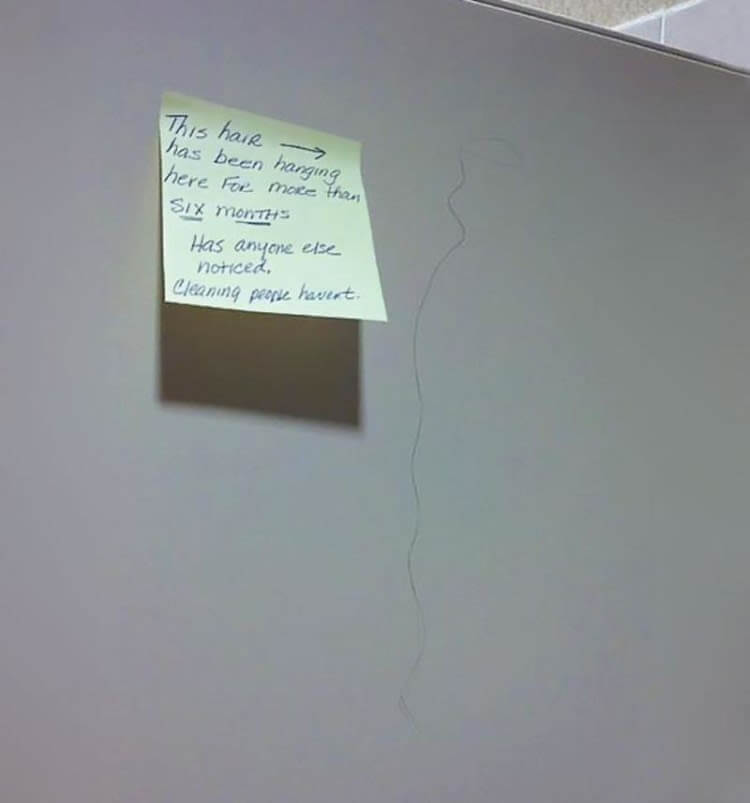 So, this person had it enough and decided to put a note near it pointing out that the cleaning people didn't notice it for over six months. We are not sure if this note is directed towards the people working in the office or just the cleaning staff.
63. That's A Quite Straightforward Farewell
It can be a bitter sweet feeling to say goodbye to a colleague who decided to pack their bags and go to another company. After all, you spend so much time together and saying goodbye is never too easy.
But this office decided to deal with it in a hilarious way and we really liked the cake they selected for the occasion.
64. Remember When People Used Technology To Talk With Each Other
One person pointed out in a passive aggressive way how they miss those days when there was an ice machine and it is clear from the note that they are pointing out at someone in the office.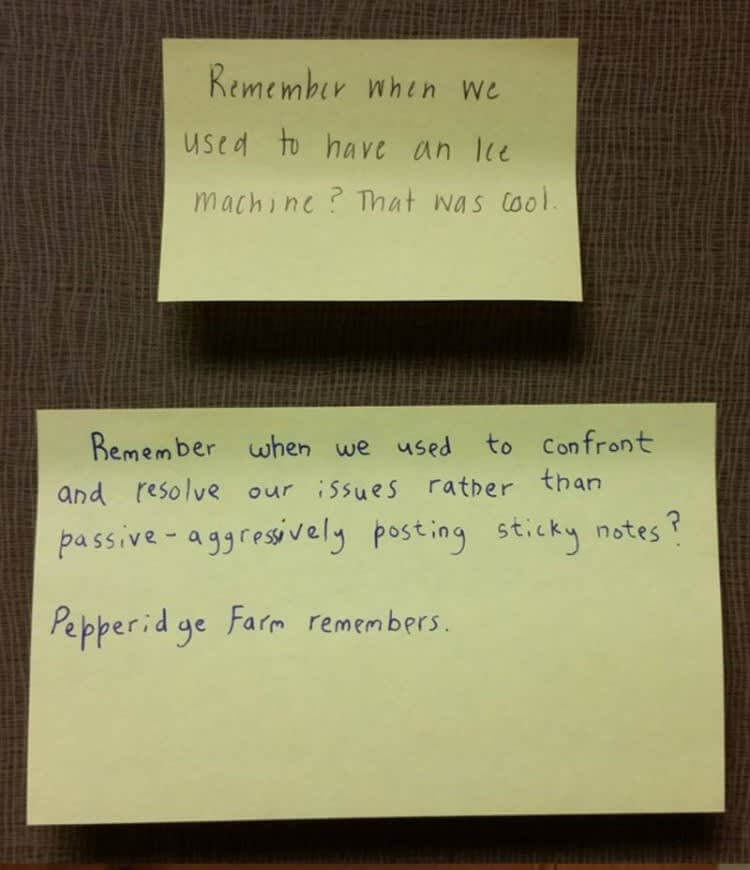 But that someone came up with a snarky note as well. In fact, that person just showed that everyone can be passive aggressive.
65. That's A Far More Existential Approach
The discussion in the office which occurs through written notes can be really hilarious. Here, one colleague wrote a note to notify everyone that the printer is there temporarily and someone responded with a way more existential approach.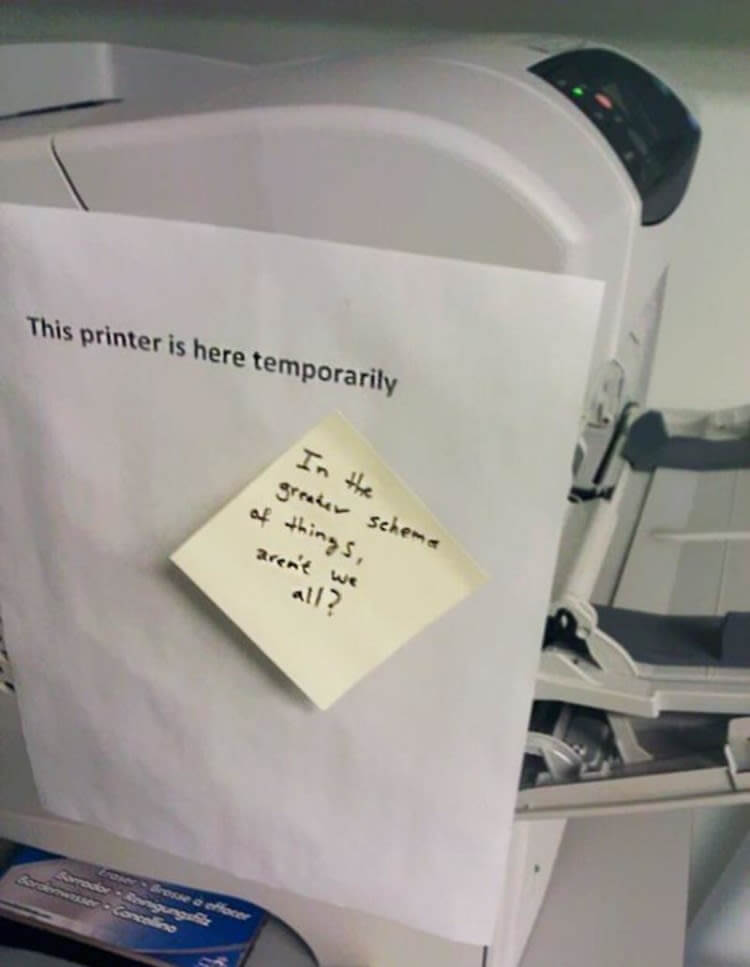 We just hope that the little note put a smile on anyone's face that saw it (although it would be temporary as well).
66. No One Can Tell The Difference
It seems highly possible that someone likes to drink energy drinks belonging to others in the office. But this person doesn't want to be called out again. So, this time they went through all the effort and time to replace the real can with a fake one made entirely out of paper.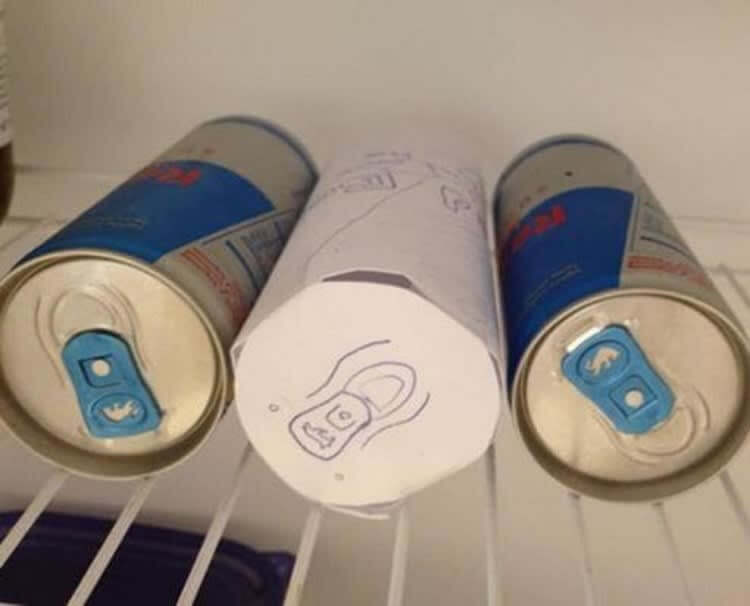 We can only hope that the person who bought the energy drink cans was impressed with the effort that they forgave the person who stole the drink.
67. What's Next?
So a person brought in an entire gallon of milk and one colleague decided to get a bit funny by suggesting to bring in a whole cow the next time.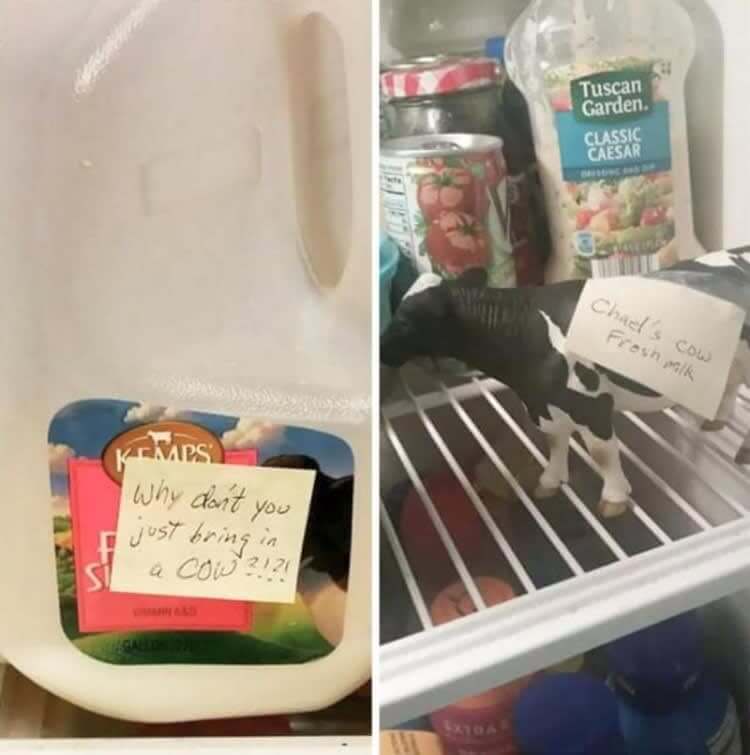 It was just a suggestion from a person who was taking sarcasm classes, but they didn't know that the person who brought in the gallon of milk is capable of bringing in a whole cow. And that's what happened and it started a little war which is cute and funny.
68. Playing With Feelings Han?
This is a sassy yet sad post. It is because sometimes campaigners look for different ways to get the attention of people and to ensure they don't throw their ads without reading them.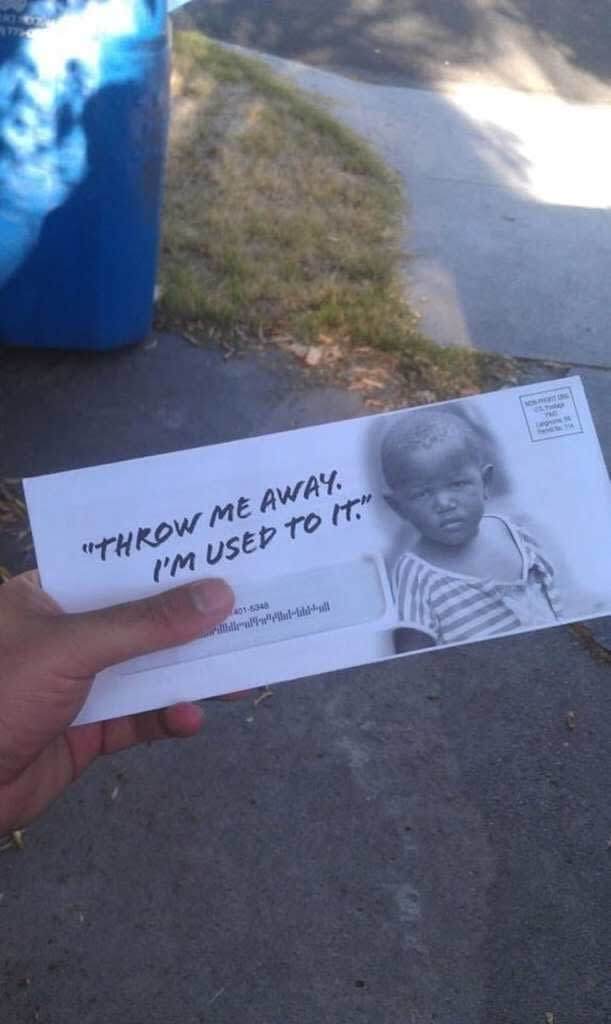 These marketers decided to get extra emotive here and the slogan suggests you might be throwing that child away. And we feel that it is not the best ad slogan, but hopefully it encouraged people to donate.
69. "We Got It The Last Time, Richard"
Working in an office can be stressful and that's why many colleagues try to brighten the mood around the office by celebrating birthdays, anniversaries, etc. It gives everyone a chance to take their mind off of work and have some fun. But then there are some people who don't care about others and only like to do whatever the hell they want to do. These type of people reminds us of Kevin Malone in the NBC sitcom, The Office.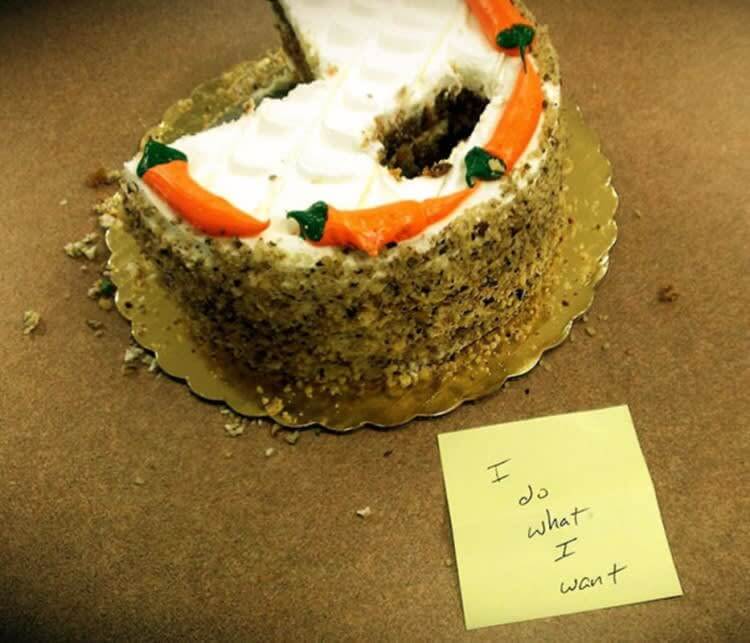 Anyways, this person was fed up with people celebrating birthdays and cutting cakes. So, he simply went in there and cut out a bizarre slice for himself. He isn't even worried what others think of him and he actually owns it like a boss.
70. Please Do It For The Kittens
Everybody can't stop themselves from saying "awww" when they see cute and cuddly kittens and we can say with certainty that no one wants to see them upset. Although leaving dirty dishes in the sink cannot trigger crushing depression in kittens, this person decided to go with this logic hoping that it would work on their colleagues.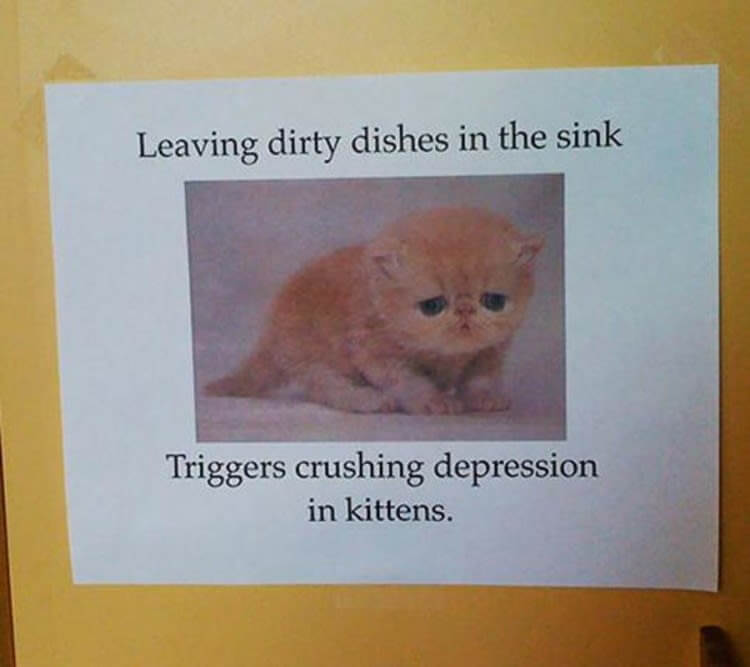 We can hope that the innocent face of this fur ball can convince many office workers to clean the dishes. If that doesn't work, then we recommend using a picture of puppies.
71. Just So You May Know
The worker Brian in the office was tired of cleaning up after his coworkers and even doing dishes for them, but he made up his mind to put an end to people taking advantage of him. So, he left a note for everyone along with the white contraption with the buttons.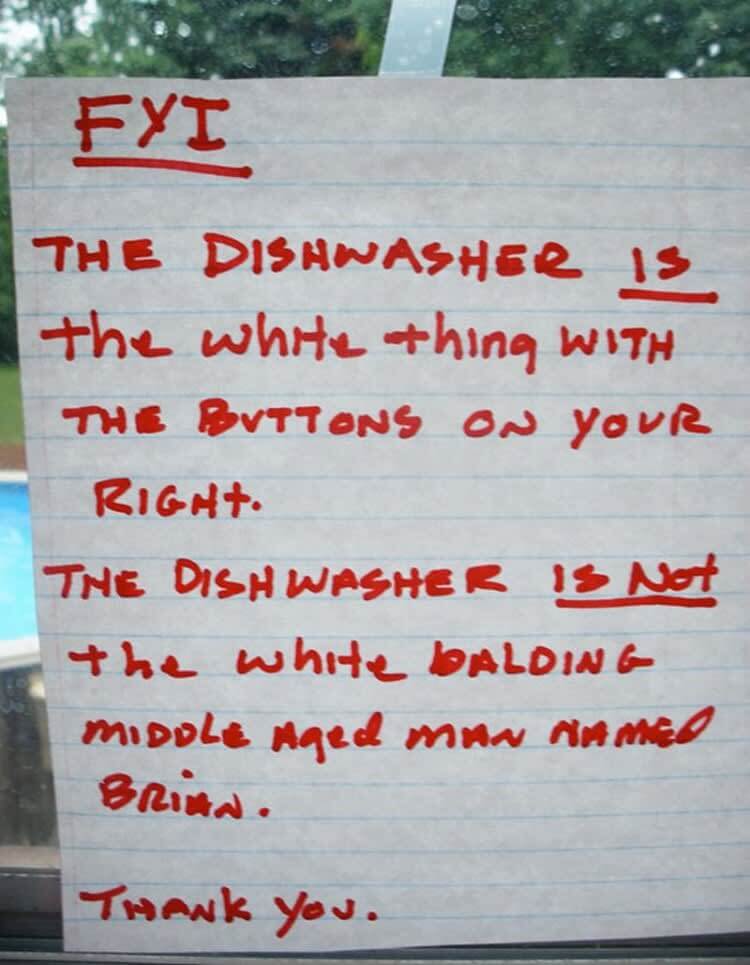 We just hope that this note encouraged everyone to clean up their dishes and not just rely on one guy to clean them. We are happy for Brian that he finally spoke up.
72. Passive Aggressive Music Review
It can be really frustrating to feel super sleepy and yet you can't sleep because some jerks are playing music too loudly. It is like some people don't even care if others have to wake up early and go to work.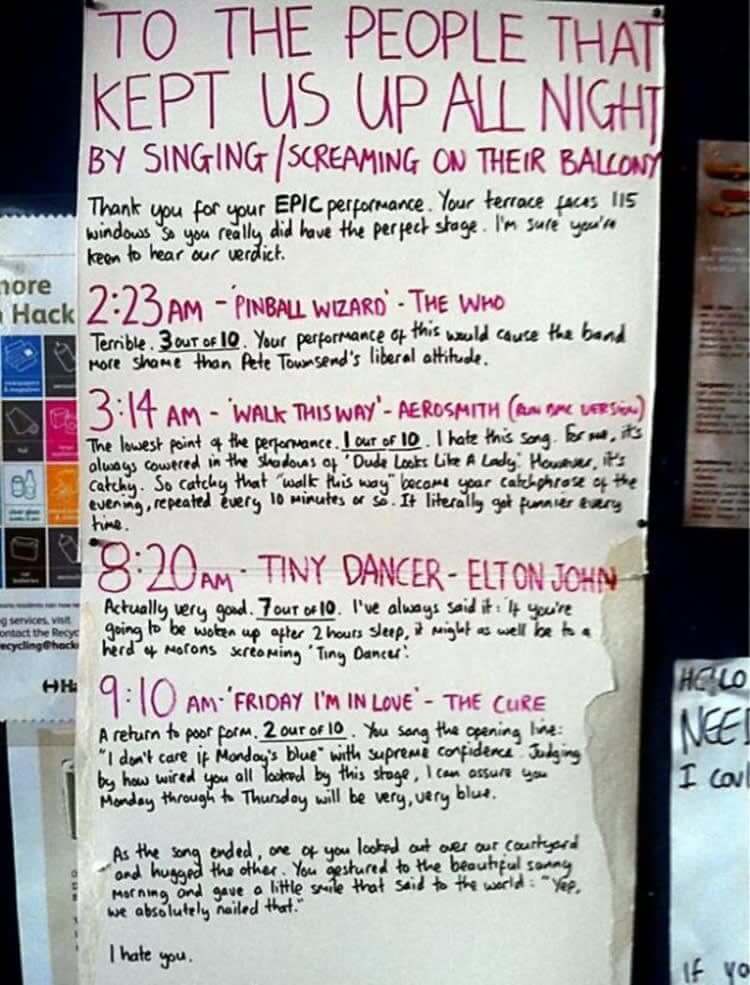 This neighbor decided to take things into their hands and gave a review of the songs their neighbors had been playing all night. We hope that this review sent the message to the loud neighbors and made them realize the importance of keeping the music down.
73. Such A Nice Neighbor
Here is an example of how to kill others with kindness. The neighbors of this person didn't like picking up after their dogs. So, this person decided to do something about it. He picked up the poop himself and brought it back to their home.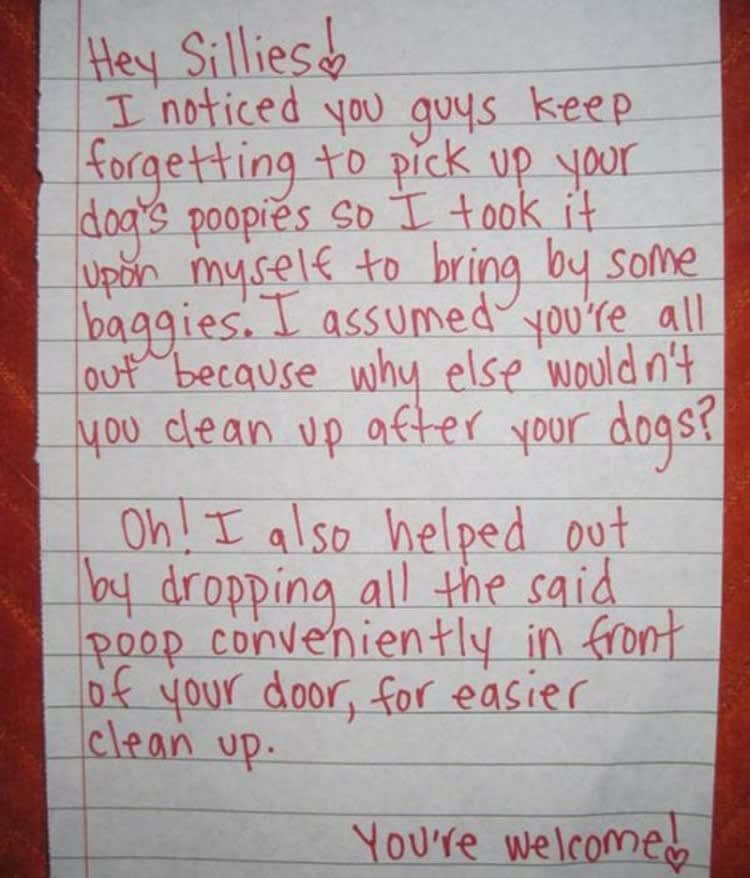 To make things clearer, he even dropped the entire poop in front of their door so that they have to go through the quick and straightforward experience of picking up poop. This guy is a legend.
74. A Person On A Mission
One of the things about passive aggressive notes is that they look so sweet and yet so blunt that they can put a hole into almost anyone's heart. This person was tired of one particular person dragging their furniture around the house and decided to do something about it.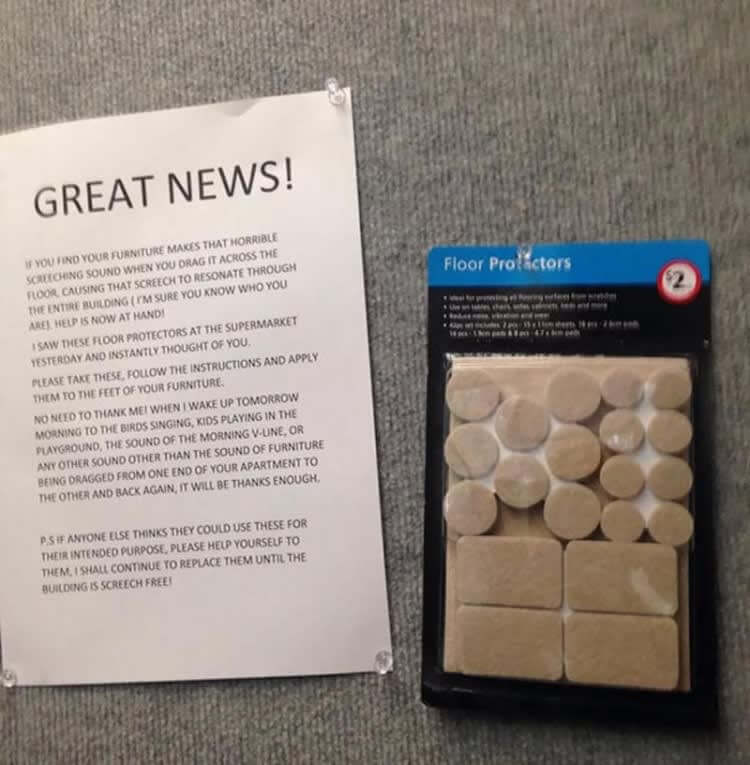 They simply bought floor protectors and wrote a caring note to one person who made noises in the morning. One can hope that upstairs neighbors understood the agony of downstairs neighbors and appreciated their kind gesture.
75. A Crystal Clear Message
Any cat owner can tell that not finding the cat late at night can be a horrifying experience. But it doesn't justify going out at one in the morning and yelling the cat's name so loudly that it wakes most of the neighbors. As the cat lady was doing it almost every day, one neighbor stepped in and posted a passive aggressive note.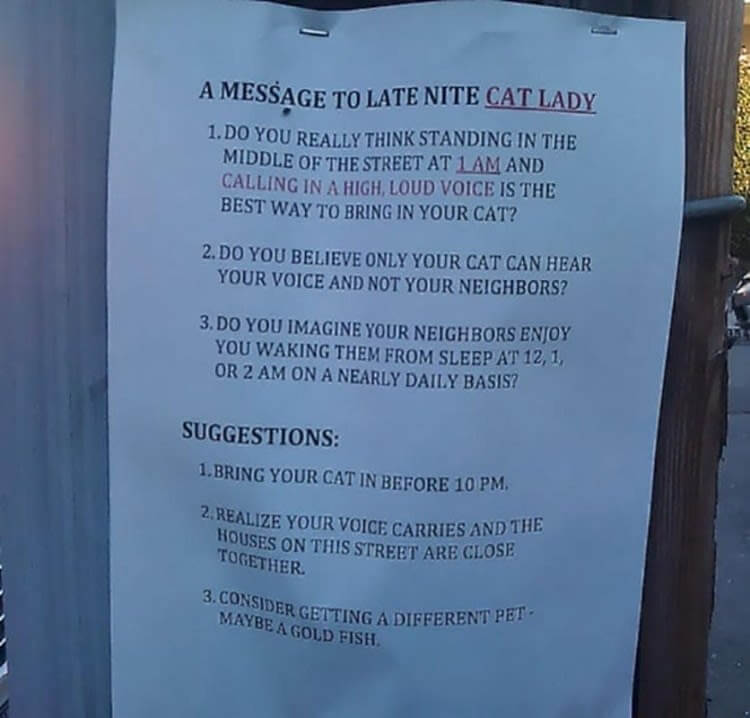 The only problem with the note is the suggestion of getting a pet goldfish. We can say with guarantee that once you become a cat parent, you never move to anything else.
76. The First One is A Lie
This neighbor repeatedly asked people to stop feeding the local squirrel population, but no one listened. So, they came up with an idea to use fear as a motivator to stop people from doing it.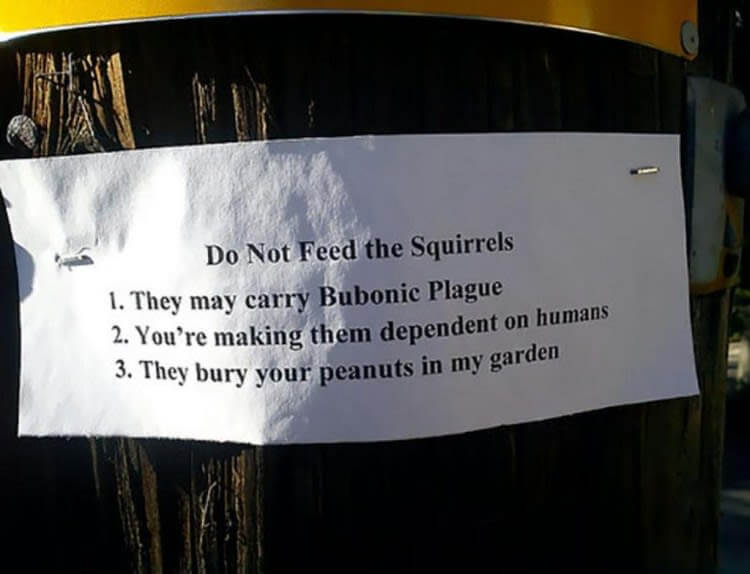 Squirrels can indeed become dependent on humans and yes they do dig up soil to store their food, but the first point is a lie. Nevertheless, we can hope that the neighbors stopped feeding squirrels after reading this note.
77. Oh, That is Slick
It is a good idea to watch a movie at night with lights off and popcorns by your side. But some people like to watch a movie by turning the volume full on because they want to enjoy the full sound effects. However, it also means disturbing the neighbors who have to wake up early in the morning and go to work.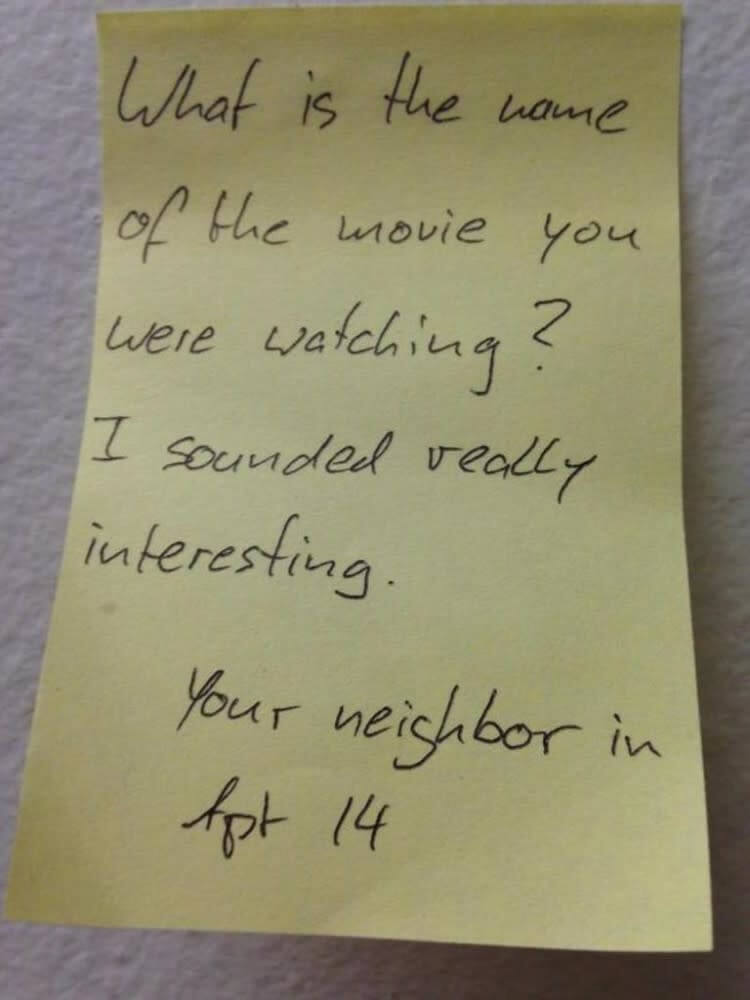 Apparently, someone didn't care about others. It led one neighbor to passive aggressively ask them what movie they were watching to make them realize their mistake. It is a smooth move and we hope it worked.