7. Joke's On You
If you have been in the online dating world for some years, you get used to so many pick-up lines that you don't get taken down so easily. In fact, you become immune to some of the silly ones.
This lady wasn't having any of it and she was quite brutal about it. But at least the dude has a sense of humor to accept his defeat.
8. It Can Surprise Anyone
One wonders how that conversation went after that out of the blue surprise. It must have ended.
It can be hard to come up with a response after such a surprise, but we want to know what happened next. We hope the first person didn't ask for another surprise.
9. Really Bruh?
First of all, this is modern poetry at its absolute best. If you get to read poetry like this, sign us up for it without any delay. Secondly, the lady came up with a great response.
The guy tried to show how funny and creative he is, but only ended up making a fool of himself. The only kind of okay thing about him is that he took that insult like a champ.
10. He Said He Didn't Care
This one really cracked us up because he asked for it and he said that he didn't care.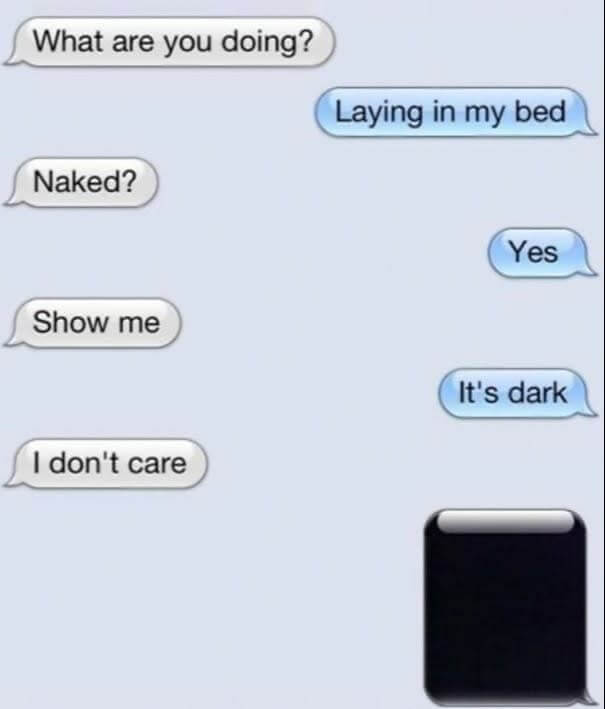 If you look closely in the dark, you notice that there is nothing but total amusement. Well played!
11. Well Played!
When it comes to dating sites, it is best to use your own picture because people can ask silly questions to make fun of you.
This guy most probably wanted to impress others with his truck, but that didn't work as planned.
12. Time To Quit Online Dating
Why this guy ruined his own pick-up line. When she said "no", his reply should have been "would you like one?'
But he ruined it and we can hope that he learns from the mistake and quits online dating.