7. Someone's Hungry
Keep all hands and feet inside the boat when you are going on a tour to see these crocodiles. This one lost one of its arms in a battle, but that doesn't mean its jaws are any less powerful. The croc got in a fight with a shark and came away from it with a missing arm. 
This croc was known as Brutus to the tour groups. He has many battle scars after fighting sharks and other crocodiles. Once, he had a vine stuck down his throat and he is missing a few teeth, but that hasn't stopped him from showing off for the crowd. 
8. Caution: Moose Crossing
In some places, seeing a moose in a shopping center parking lot is a normal occurrence, but not for most people. This would be a shocking scene to someone who has never encountered one of these massive animals.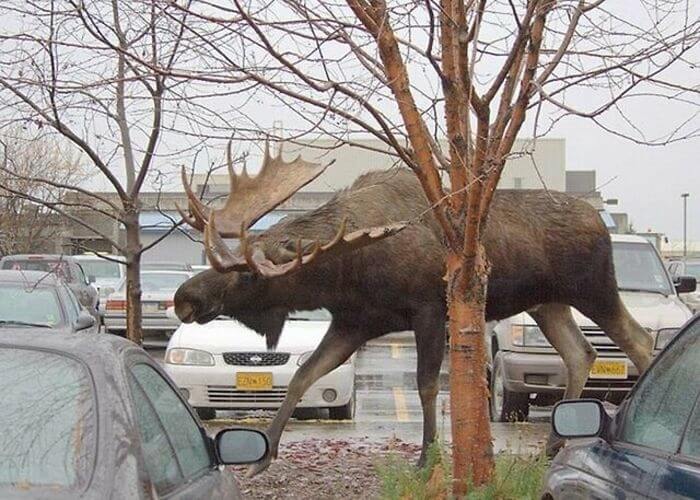 This one is looking for a place to park his antlers so he won't get stuck in the trees anymore. It's a rough life out there when you have to embarrassingly walk through the parking lot and try not to get tangled in anything. 
9. The Real Tiger King
That is an awfully small bottle for a wild cat of this size, and he will probably be hungry for something more substantial like a human in a few minutes. Siberian tigers are gorgeous with the black stripes and orange fur, but they are still ferocious felines. 
This tiger sadly lives in captivity, and the ones in the wild grow even bigger than this. They are fierce predators, and shouldn't be subjected to cages or people gawking at them all day long. Animals weren't put on this planet to be kept in captivity. 
10. Fully Inflated Horse Lungs Explain Why They Can Run So Long And Fast
It's safe to say that this horse was definitely not a smoker. These lungs are enormous, and they are required so that horses can run for long periods of time without getting tired. You would never realize how much larger some animal organs are to help them with speed and stamina. 
We wonder what happened to the horse considering its lungs look to be in perfect health. Although we are not vets and those dark spots could have been the cause of death. Nevertheless, it is crazy how large they are. 
11. This Great Dane Is Taller Than The Average Man
Great Danes are one of the biggest breeds of dogs. These gentle giants are adorable, loyal, and loving creatures. They are taller than this six-foot man, but that doesn't make them any less cute. They might be the size of mini horses, but we would take one of these over the giant snail any day.  
The only problem with Great Danes is that they have many health problems because of their size. It is common for the stomachs to twist, which traps air. The only way to help this problem is to fix it with surgery. 
12. River Monsters In Real Life
If you have ever heard of the show River Monsters, then you know how scary some of the creatures are that lurk in the water. This particular fish is a goliath tigerfish from the Congo River. 
The highly predatory fish has been known to attack humans, and locals believe that an evil spirit enters its body, which makes it attack. With sharp teeth that can grow up to an inch, we wouldn't want to come face to face with this monster.