The truth is out! Many of our most trusted brands are finally being put under the spotlight, and the results are not as pretty as we'd have hoped. It turns out that some of these brands thought they could fool their customers in order to drive up profits. Now that the facts are finally being revealed you can see which brands are trustworthy and honest, and which ones have been deceiving you this whole time.
1. Full Price Box For Half Box Candy
This chocolate box makes it seem as though it is filled with tons of delicious candy inside. Surely that would be the case or why else would the box be so big?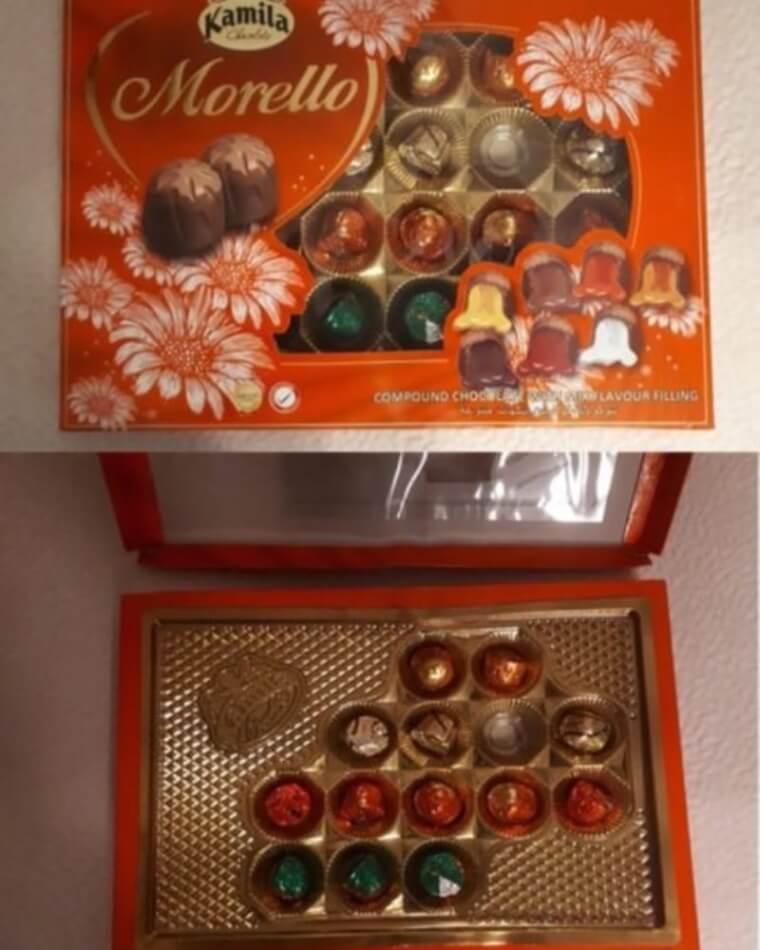 Turns out that this company, Morello, was actually showing everything they have in the box, rather than giving a teaser as one would expect. No doubt they charge full price for a box, rather than charging half price since that's the amount of chocolate that you'll be getting!
2. Lying About How Much Deodorant There Actually Is
We have to admit that it is not the first time brands tried to come up with packaging that intentionally creates the impression that the quantity of the product is enough. After all, you pay for a dozen eggs because you expect to get a dozen eggs.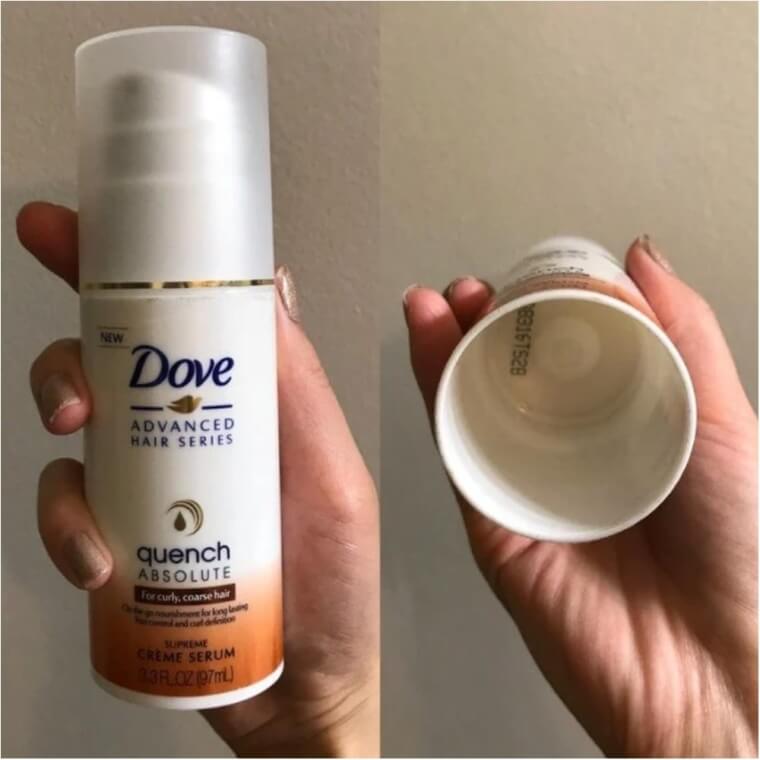 But some brands think it is easy to fool the customers to drive more profit. It goes without saying that this practice is not wise as customers do notice less quantity. Most importantly, this practice can break the trust of your customers. All we have to say is that dishonestly won't help you make profits in the long run.
3. Too Cheap To Give Pepperonis
It seems like this brand wanted to get into the magic business but ended up making frozen pizzas. They created the illusion that there is tasty pepperoni in their "delicious pizza" only for the customers to discover that there are only three pepperonis.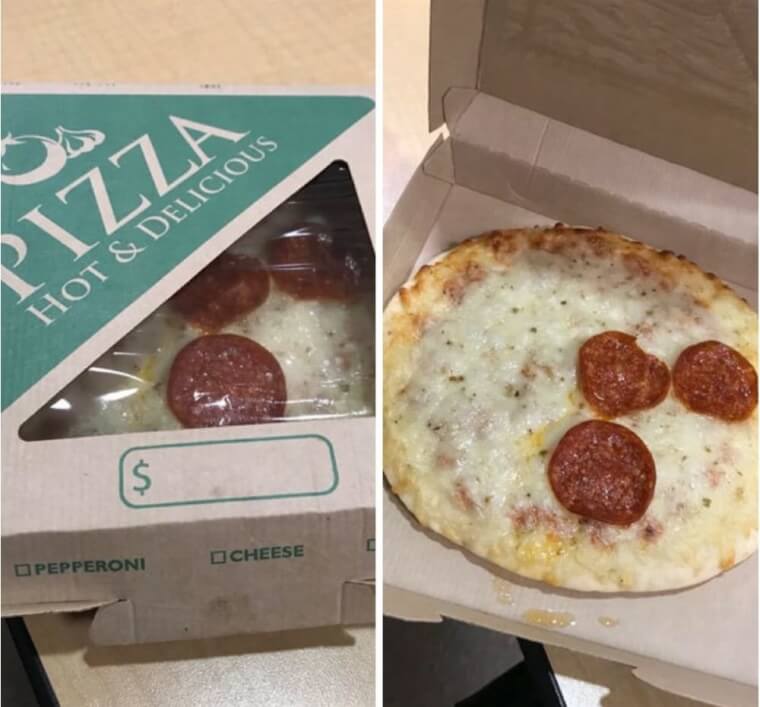 It can be frustrating to realize that you have been tricked by a corporation. But it seems like corporate greed is stronger than the effort to make loyal customers.
4. How To Control Sugar Intake
It seems like this brand knows how popular it is and so they wanted to check if people still buy their product even if they get a smaller portion than expected.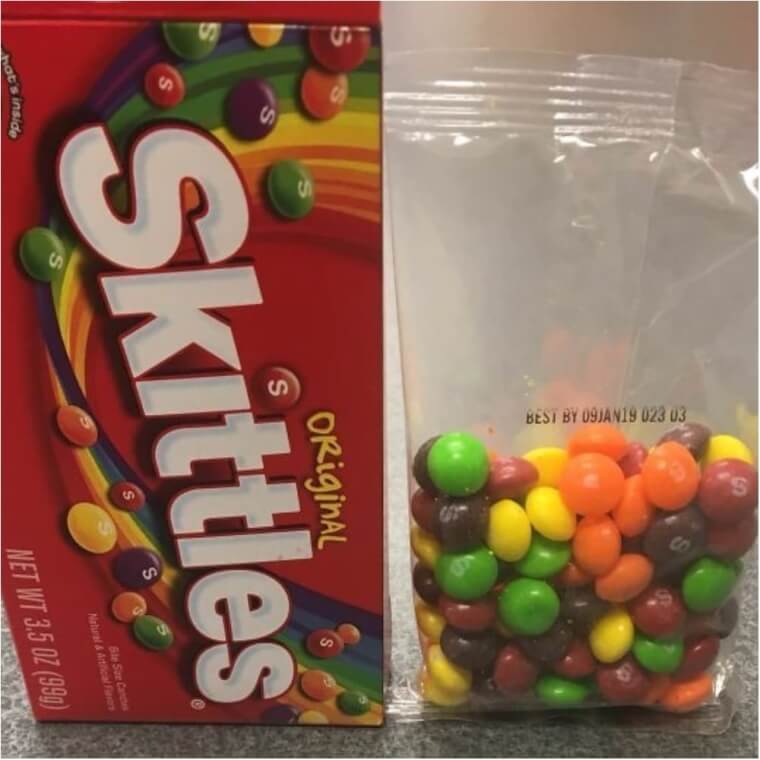 Well, the customers were quick to point it out. Maybe this brand wanted to play its part in limiting people's sugar intake.
5. Why Double Packaging?
Most of us can agree on the fact that M&M is a well-reputed brand. But we don't get why they went on trick their customers with double packaging. Why they had to put a bag of M&M's inside a box?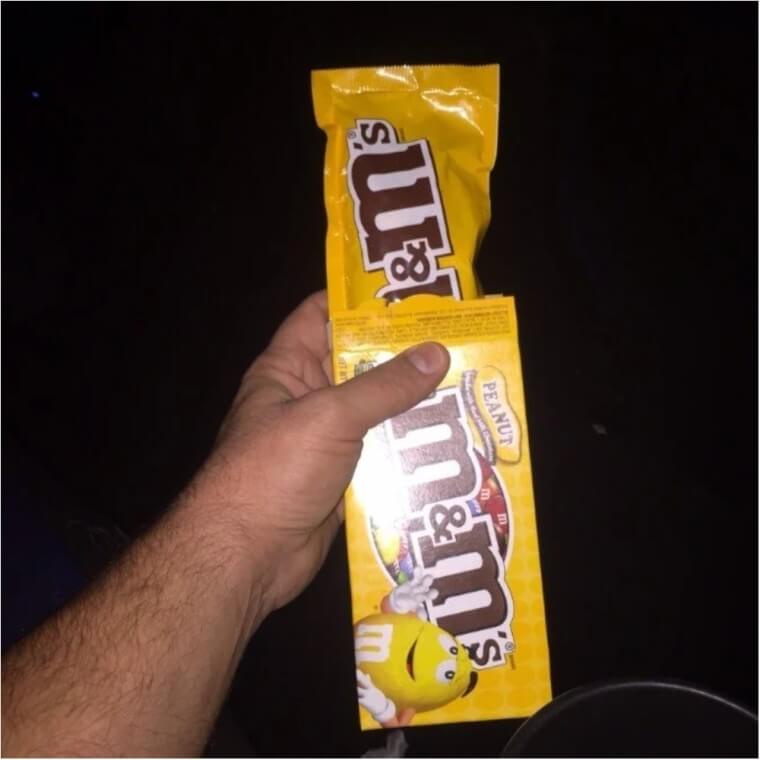 It seems silly because most customers started to expect more M&M's and got disappointed seeing a regular bag of this delicious snack. You broke our hearts, M&M's.
6. Don't Believe Everything You See
One of the biggest issues most of us have with fast food brands is that they show tasty and crunchy burgers in their advertisements to play with the feelings of customers. And once someone arrives at the restaurant, they're served with fast food that doesn't meet their expectations at all. But most people simply stay silent and eat their food because of their hunger.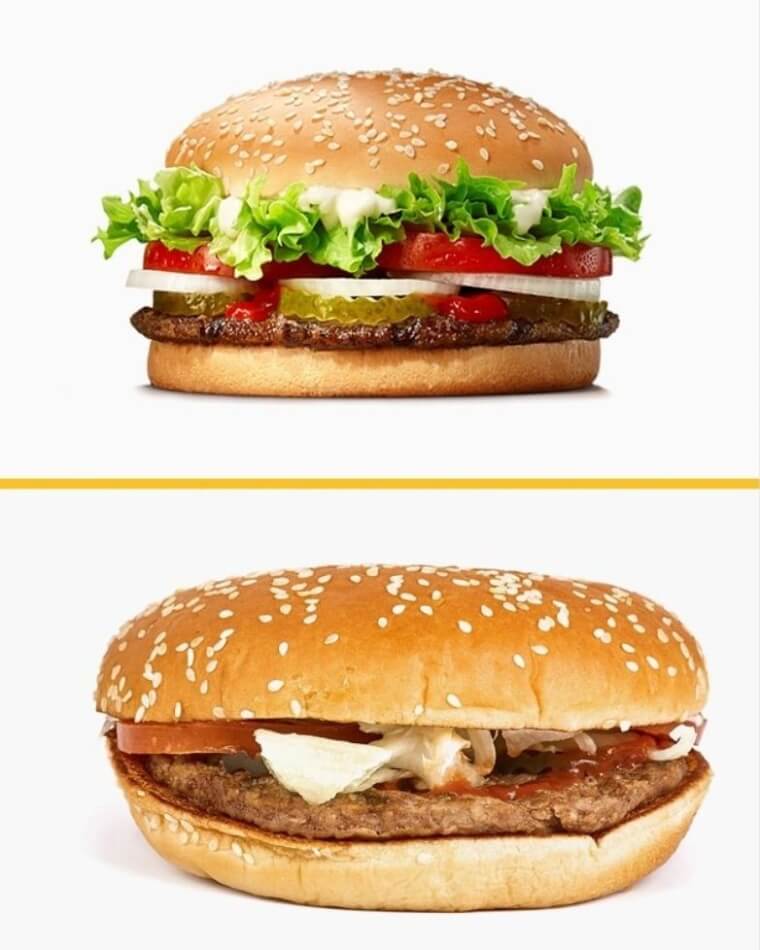 It is high time that we all raise our voices against this unfair advertising. What do you think about it?
7. This Is Just Flat Out Gross
We're not going to lie, they definitely had us in the first half. The "12 pack" looks lucrative, but they tried to play a trick and had to give some clarification that there are 12 after you cut the three rolls into 4 portions.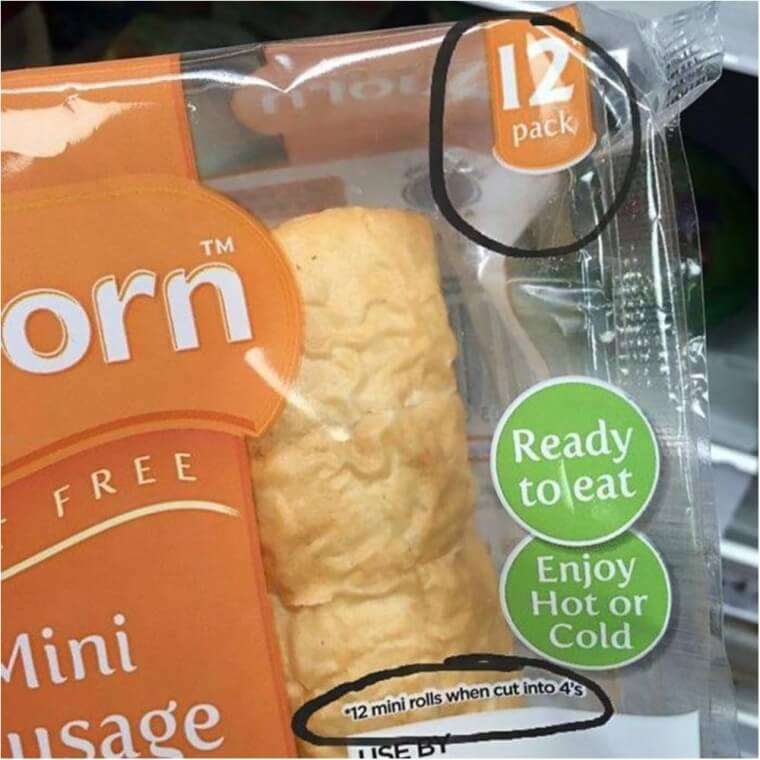 We just feel that the manufacturing company should have remained honest with its customers. Why take extreme measures to make amends when you can stay honest and make repeat buyers.
8. The Dart Trick
At first glance, it looks like there are a lot of darts in this packaging. It may even excite some people to think about having a shootout with friends with this classic toy. But in reality, it is not exactly the case. There are not many darts in this pack as you'd expect.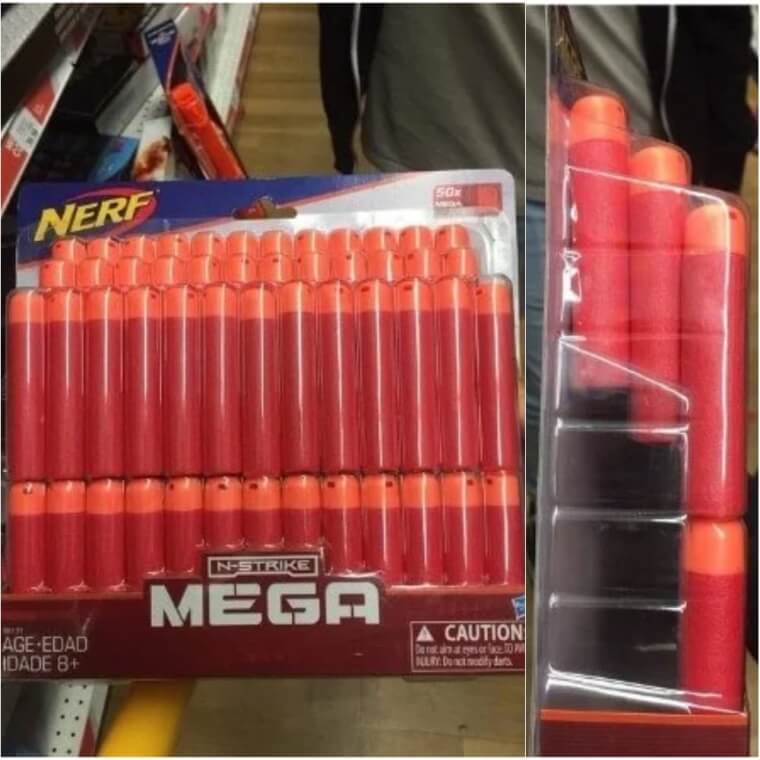 The manufacturers believed in creating the illusion to sell their product and it seems like many people fell for it.
9. Fresh Panera Bread, Hmm…
When it comes to tricking customers, our list would be incomplete without Panera Bread. Although the crew at Panera bake bread on-site, it is important to know that the dough isn't made from scratch.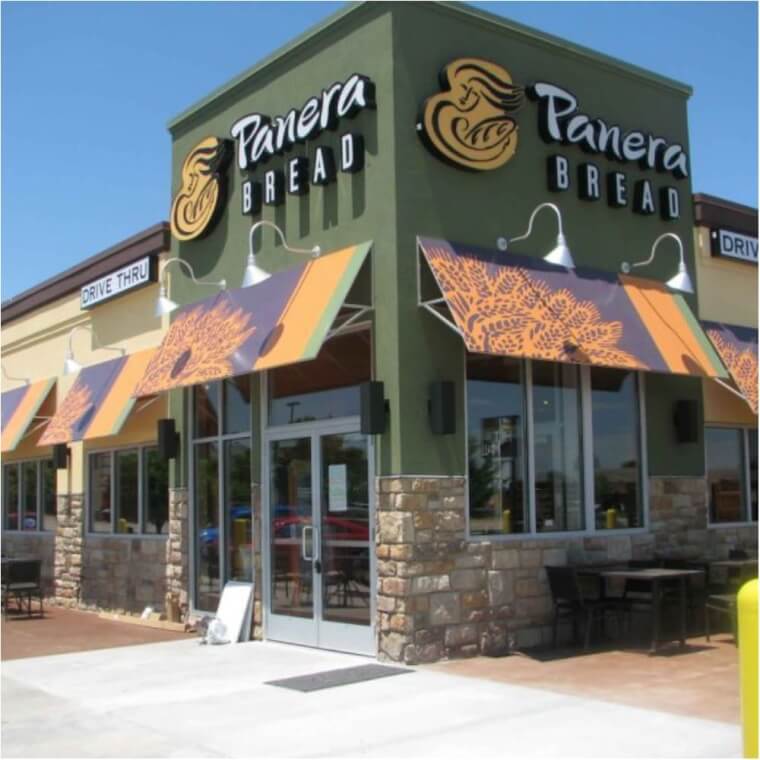 In most dine-in locations, the dough arrives via truck and one cannot be sure if it's frozen or not. So, it creates doubts in the minds of customers when the brand makes claims about baking fresh bread.
10. Kellogg's Got Caught Lying To Parents And Kids
It seems like the advertising world doesn't believe in the term "truth" because they only think that deceptive packaging can sell their product. Kellogg's decided to launch a new packaging a few years ago with a big claim that their Frosted Mini-Wheats cereal can help improve kids' attentiveness by nearly 20%.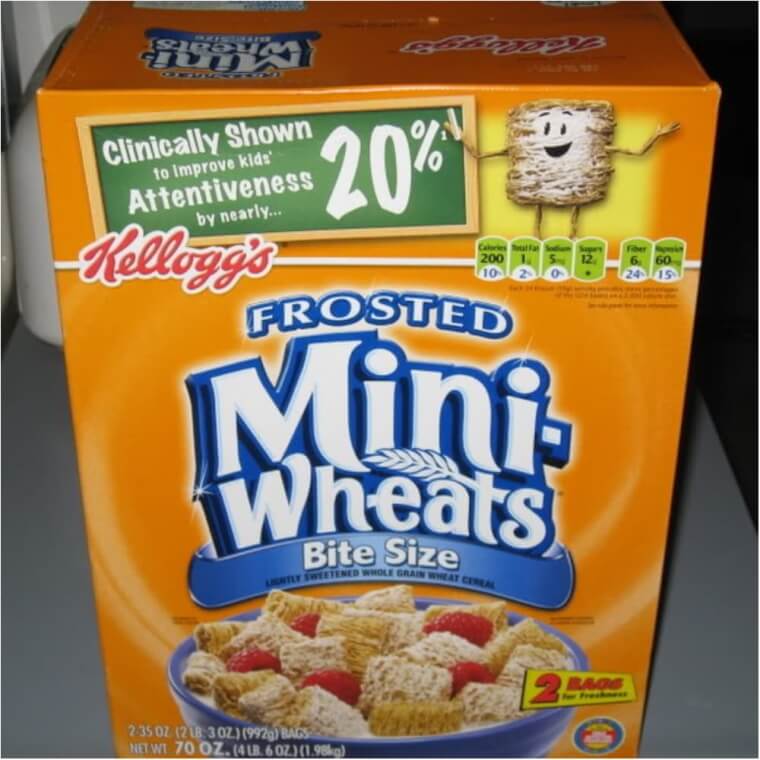 It was a false claim and although the brand didn't admit to false advertising, they had to create a $4 million fund to reimburse misled customers who fell for it and bought the product between January 2008 and October 2009.
11. Someone Decided They'd Had Enough
Organic farming, production, and labeling have been regulated in the European Union since 1991 and that's why this kind of packaging would be banned. But that is not the case in the United States, which is why the organic food industry makes a lot of money every year even though organic food is more expensive compared to conventional food.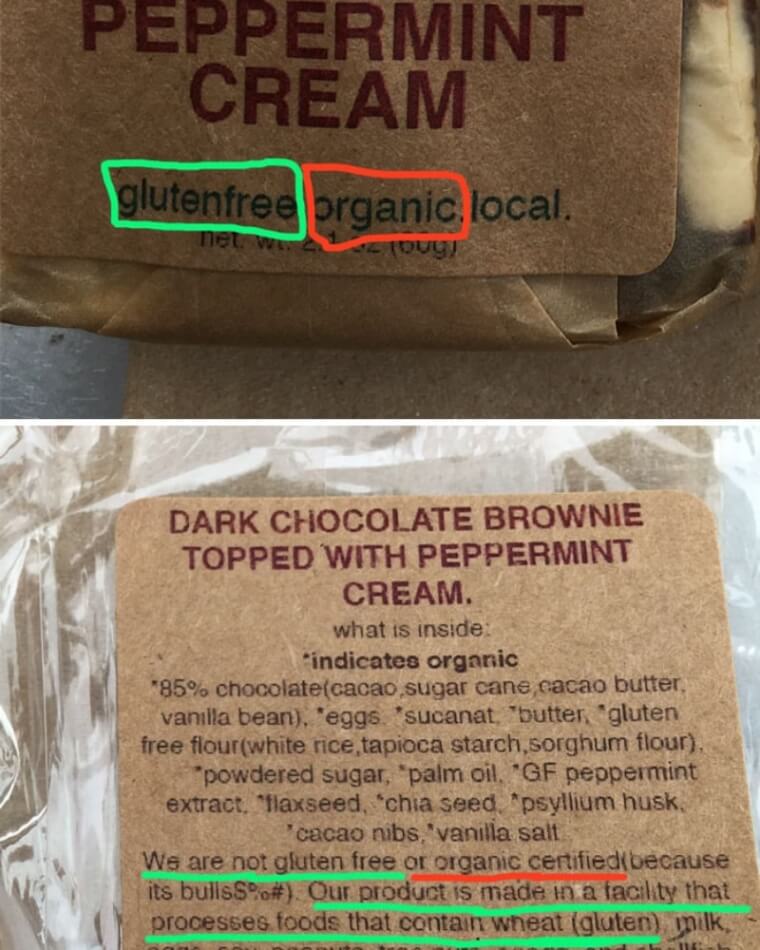 This packaging shows that the label clearly says the food is organic and gluten-free, but in reality, it isn't. It seems like someone in the company wanted to make it clear and show the true face of the brand to the customers.
12. Big Pizza Lies About The Cheese To Cut Corners
In 1958, Pizza Hut was the first pizza chain to open in America. It seems like now no pizza chains can be trusted. It is because health inspectors from the UK standards department tested fast-food pizzas for authenticity and found that 19 out of 20 pizzas samples were actually not made of cheese.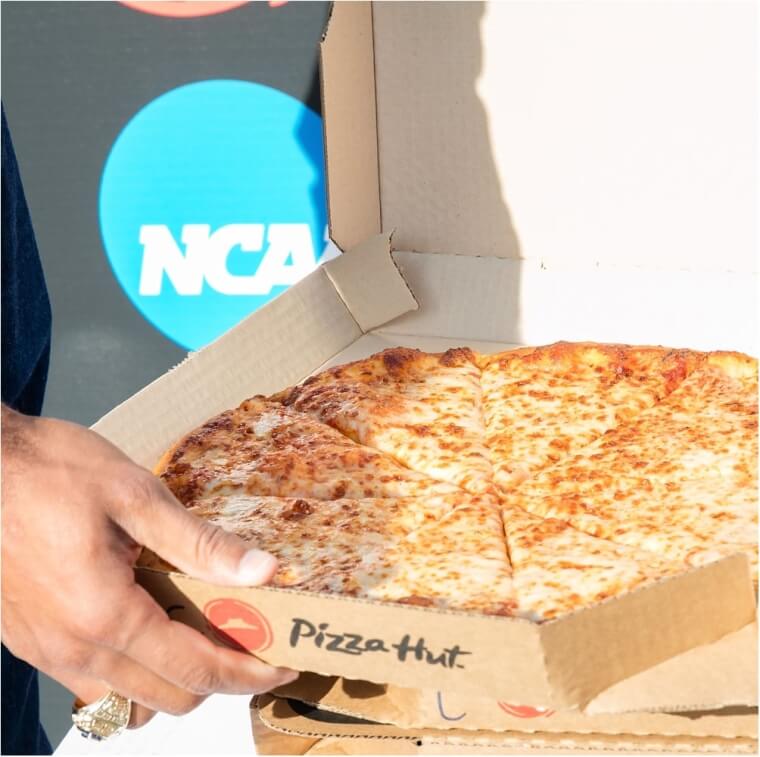 In fact, pizza chains were using imitation cheese. Given that cheese is the best part of a pizza, it is wrong on so many levels.
13. This Company Has Some Sleazy Advertisers
The people who came up with this ad should be fined for playing with the emotions of people. It is because most people will think it's a parking ticket and get mad because they didn't do anything wrong. The reality is that it's just a sleazy ad meant to get people's attention.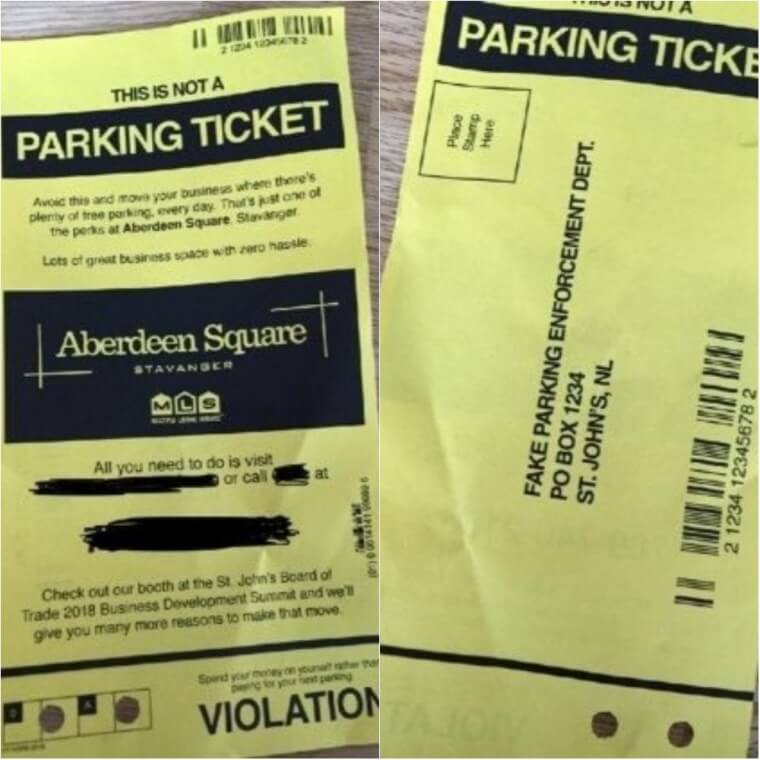 However, we have to admit that the marketers achieved one purpose with it: more exposure.
14. Subway Has Terrible Excuses About Their BS
Here's something that will make you feel a bit betrayed if you are a fan of Subway: their footlong sub is not really a foot long. When someone measured it, they found that it is only 11 inches.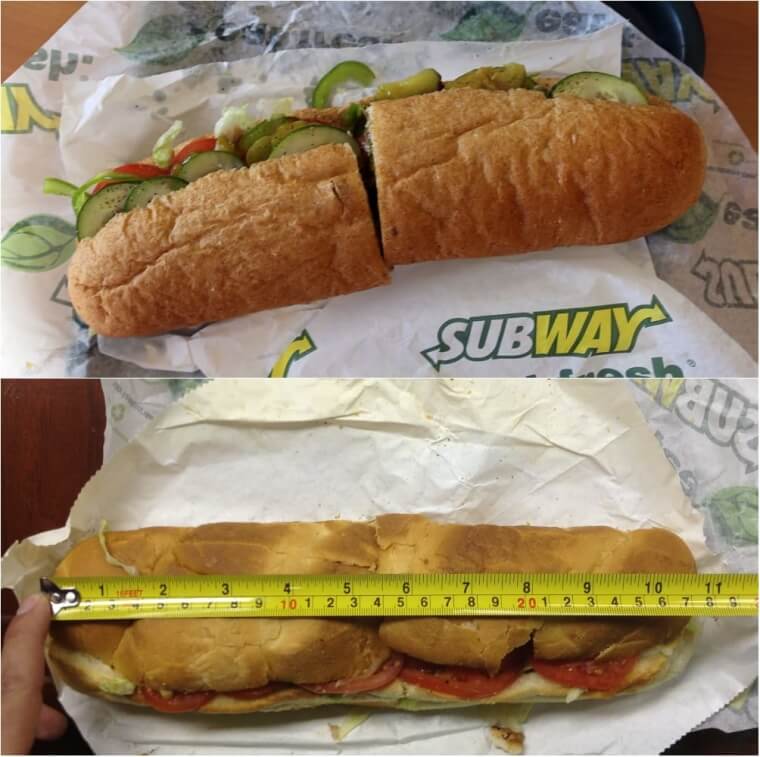 In response, Subway said that their 'Footlong sub' is actually a registered trademark as a descriptive name for their famous sub sold and it was never really intended to be a measurement of length. What do you think about it?
15. Not The Convenience Food We Needed
How could, a big brand like Calavo not understand that avocados come in their own natural packaging and there is no need to cut them in half and wrap them in plastic? It looks more absurd also because this company prides themselves on their environment-friendly practices.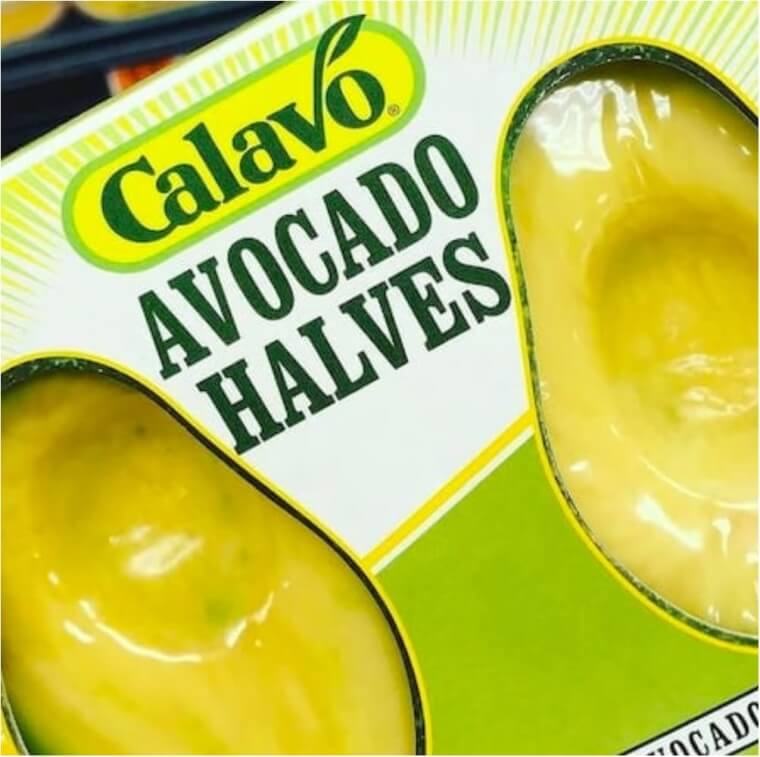 One wonders how many people bought avocados that had been precut and then wrapped in plastic and cardboard. No wonder why this photo went viral on social media.
16. If That's True Then What Are You Tasting?
The Pumpkin Spice Latte is one of the most deliciously-sweet drinks of Starbucks that comes around every fall. The drink became quite popular and it seemed like there was absolutely nothing wrong with it.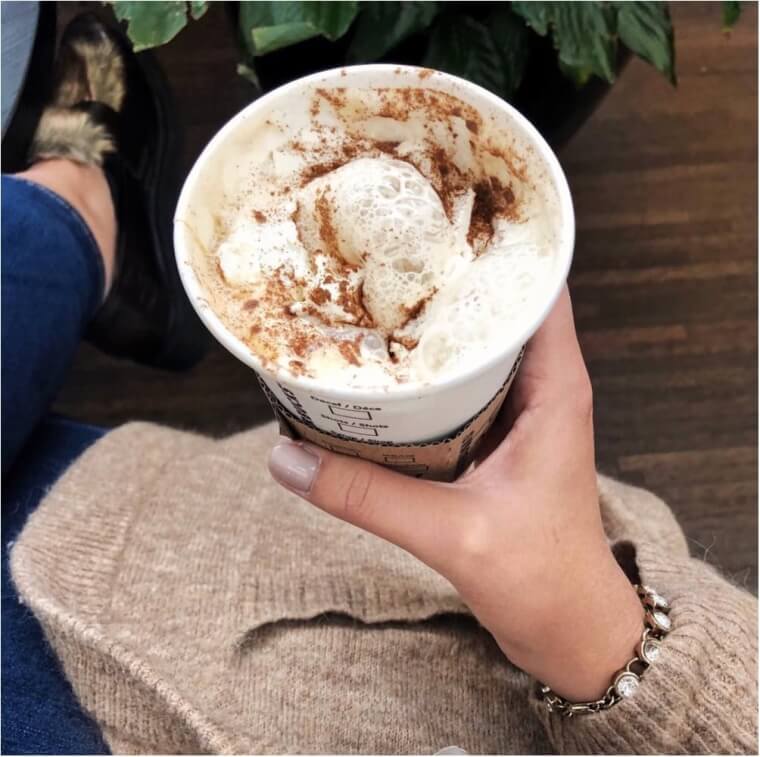 However, a food blogger called Vani Hari (aka Food Babe) wrote a post in 2015 in which she revealed that Starbucks uses no actual pumpkin in their drink. So, it means that their drink named Pumpkin Spiced Latte contains all the other ingredients except pumpkin. Interesting!
17. Double Check When Something Says "All Natural" On It
If you see labels that say "all-natural," it is best not to believe them completely. It is because labels can be applied to anything as long as the product doesn't contain artificial flavors, added color, or synthetic substances. In most cases, labels like these are just another marketing tool to trick people into buying the product.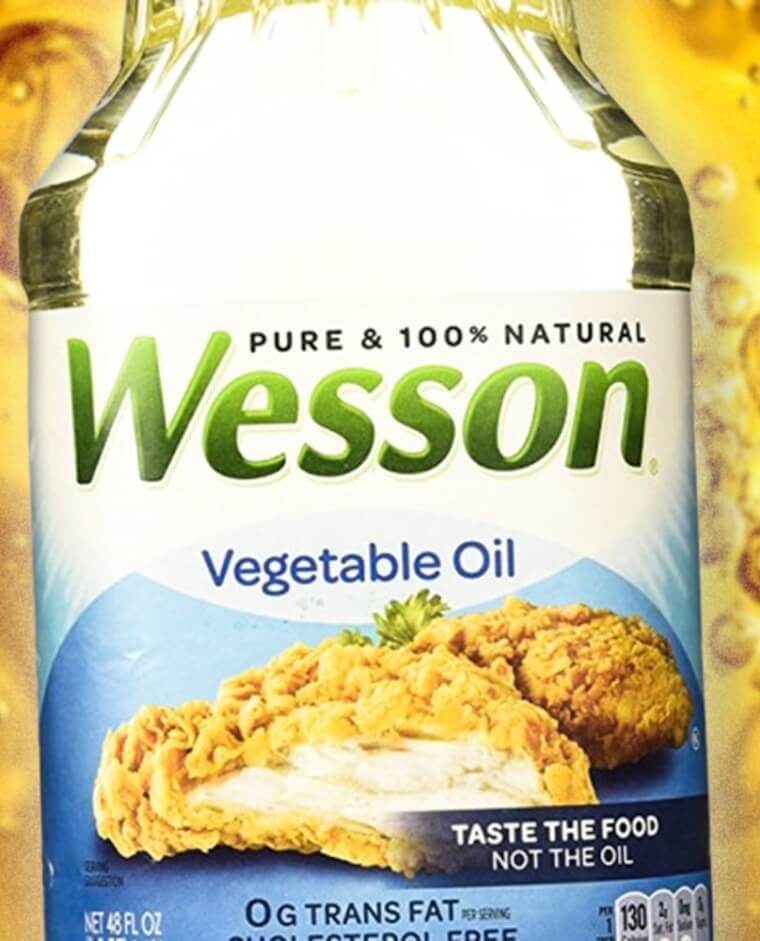 It is clear by now that many food products have misled customers with the label "natural." Just so you may know, 'natural' doesn't apply to the use of hormones, pesticides, or antibiotics; but also to sweeteners like high fructose corn syrup.
18. Size Comparison Reveals It All
Now we know for sure that this kind of packaging is the main reason why most of us have so many trust issues. It can be really disappointing to see that many brands claim to offer more quantity when, in reality, they are decreasing it.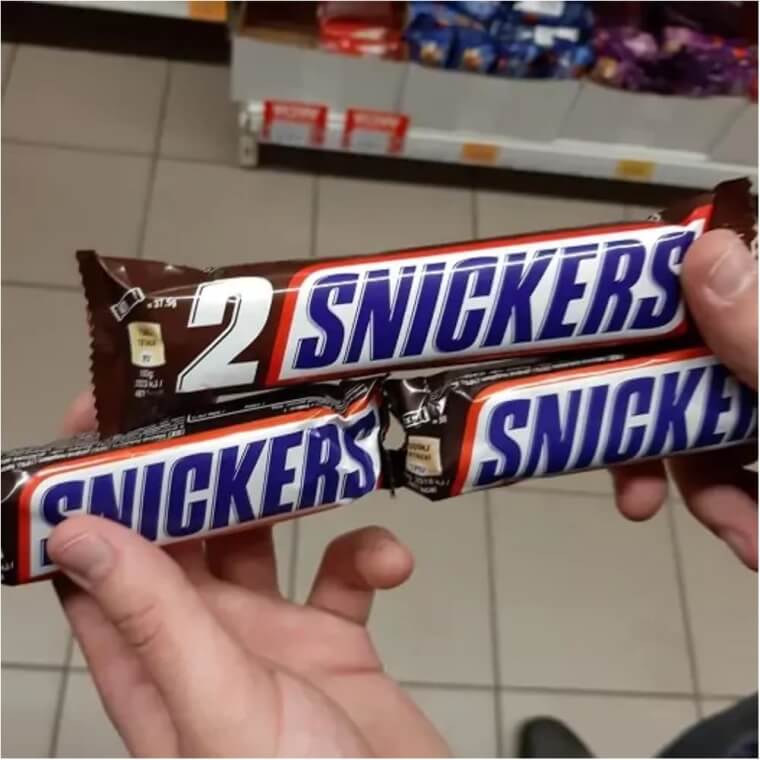 Well, it seems like this brand thought no one would be bothered to make a size comparison. Well, someone did and now we know the truth.
19. How Could A Company Think This Was Okay?
When it comes to cooking oils, it can become challenging to make a decision as there is an overwhelming number of choices. And then there are cooking oils with misleading labels like this one.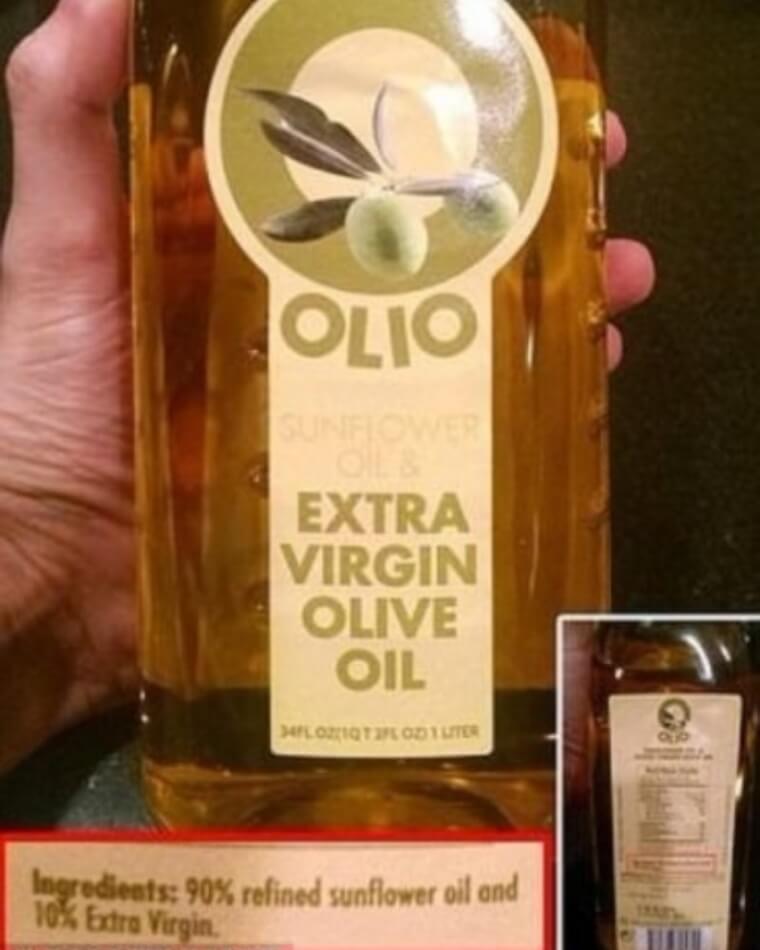 Although there is 90% of refined sunflower oil in this product, they went with the approach of cleverly hiding it. If this is not misleading, then we don't know what to say.
20. When Labels Are Hiding The Truth Of How Much You're Buying
If you are one of those people who know about pâté, we can say with certainty that either you hate it or you love it. Some people who don't like the taste of the liver feel that pâté is disgusting. On the other hand, there are people who really like the complex flavors, richness, and sweetness of pâté.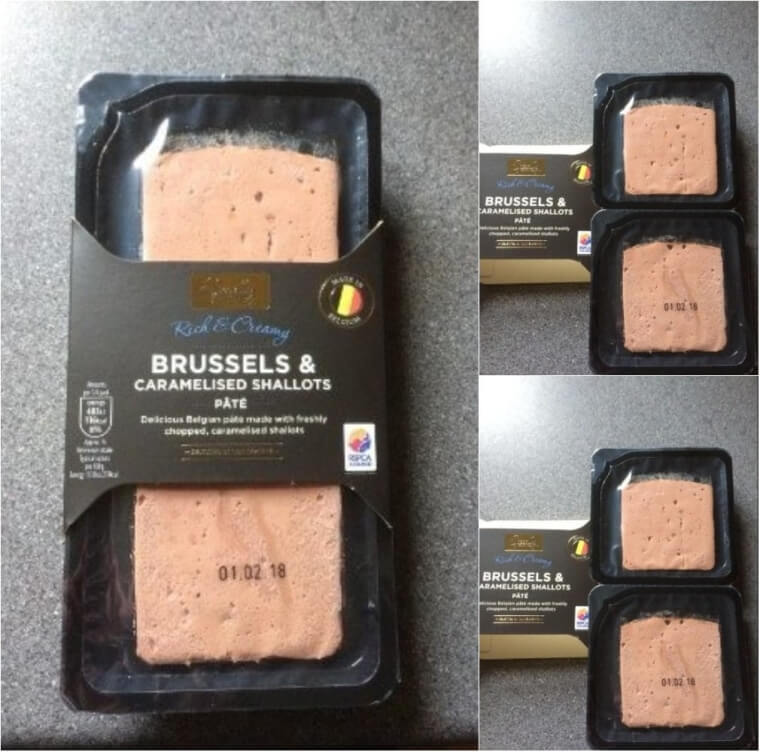 This brand decided to come up with packaging to trick lovers of pâté and we find it disgusting. Never play with the feelings of customers!
21. More Real Than The Real Stanley Cup!
Hershey's is a well-known brand and it's not easy to believe if someone says they haven't heard about it. Given that it is a big brand, we expect quality from it.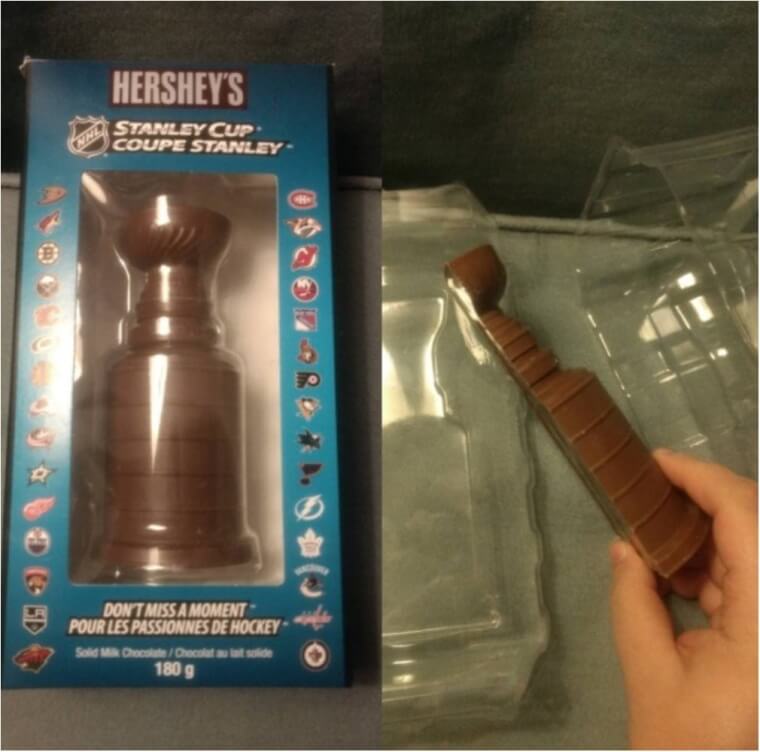 But when this person opened a solid milk chocolate Stanley Cup, they couldn't believe that it was just half of the trophy. It would have been much better if they had just made the cup hollow instead of misleading their customers.
22. Basically Trying To Steal Your Money
Most of you may have felt betrayed after realizing that the bag of your favorite kind of chips has more air in it than chips.
This person noticed that this brand of chips was clearly trying to get the hard-earned money of customers into their pockets. It is just not right.
23. The 3D TV Game
At first, the 3D TV seems like a good idea. But many companies tried and failed at it as well.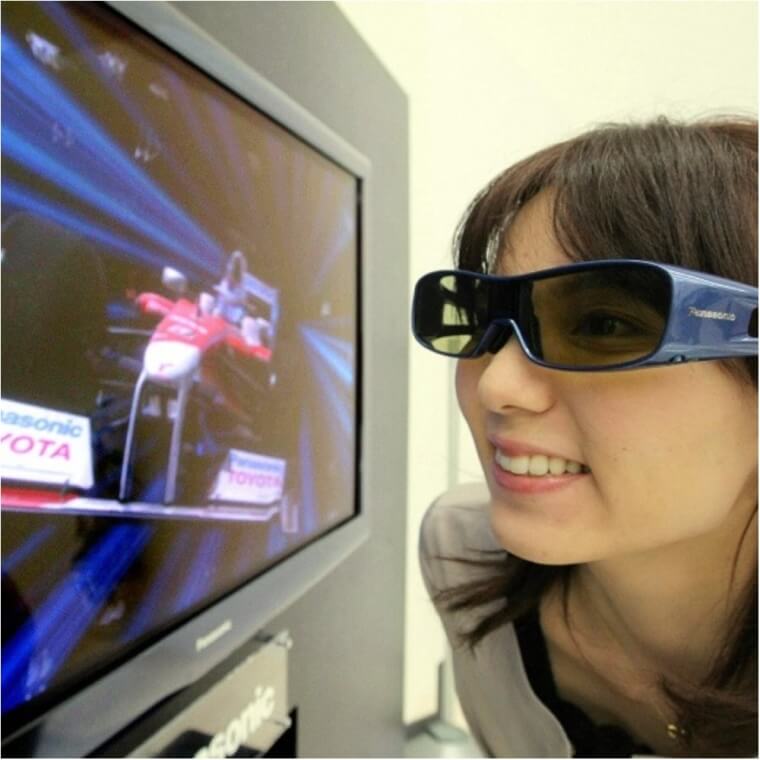 At that time, many companies tried to make the best of the opportunity by launching substandard TVs with big claims. Luckily, people weren't fooled by the unjustified marketing tactics.
24. Haste Makes Waste
In 2011, the multinational information technology company HP learned a big lesson the hard way when they launched HP Touchpad to rival the Apple iPad. The problem with their touchpad was that it was created in a short time.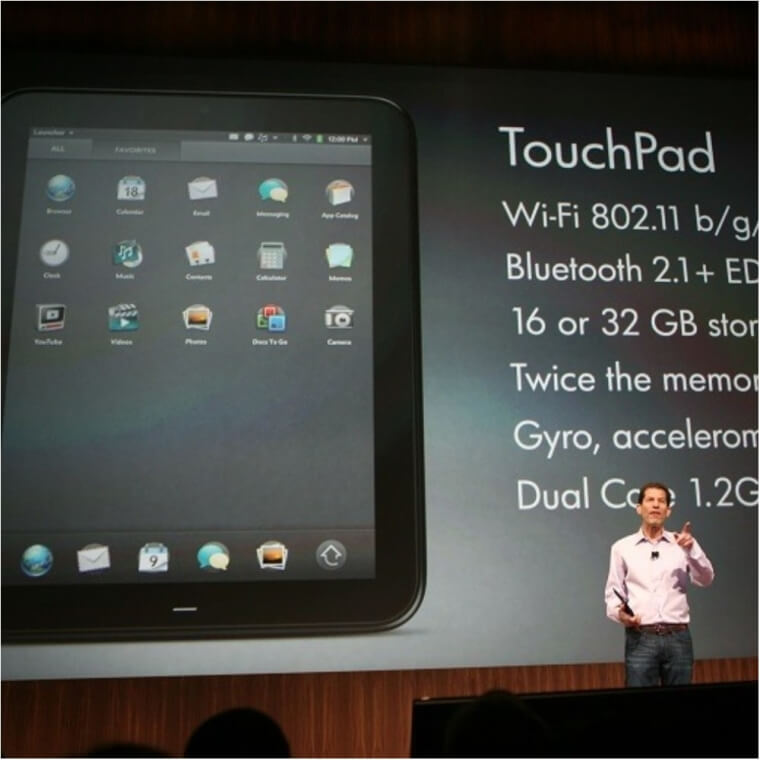 The company not only worked on an idea that wasn't original, but they also rushed things. The faulty software and lousy marketing was a big lesson to everyone that haste makes waste.
25. Bigger Is Always Better? Think Again
What these two bottles show us is that bigger is not always better. It is because the manufacturer didn't want to spend money on packaging as they had more than enough trust in the customers to read how many pills are in it.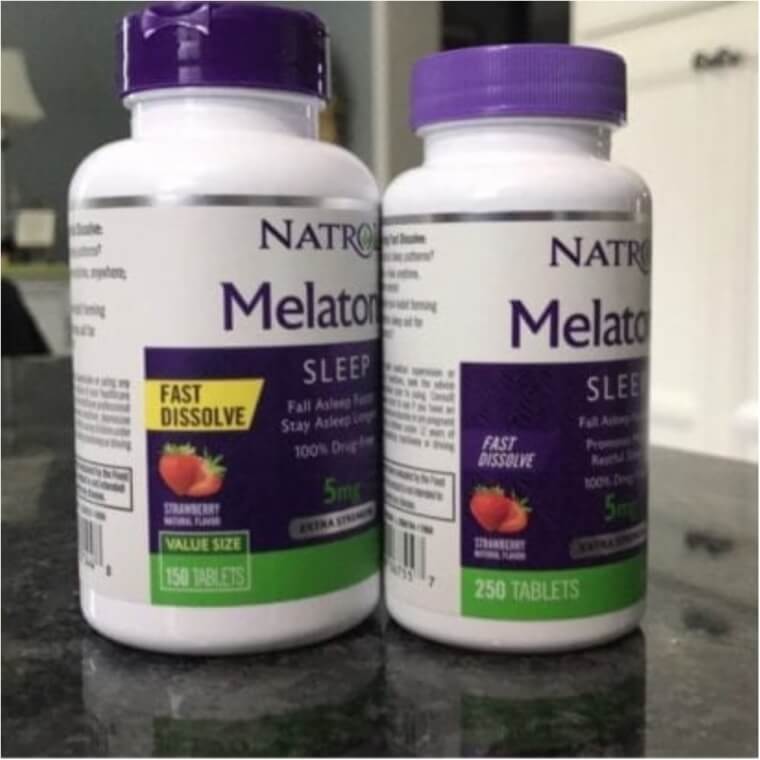 But still, we can't understand why the bigger bottle has fewer tablets in it and vice versa. It doesn't make any sense and one wonders if the corporation will ever stop thinking that customers are dumb.
26. Nike's Defueled Band
As the world is already filled with many fitness devices, Nike decided to introduce their product as well. Their FuelBand was good, but it was introduced at a time when there were already many Fitbits and Apple Watches in the market.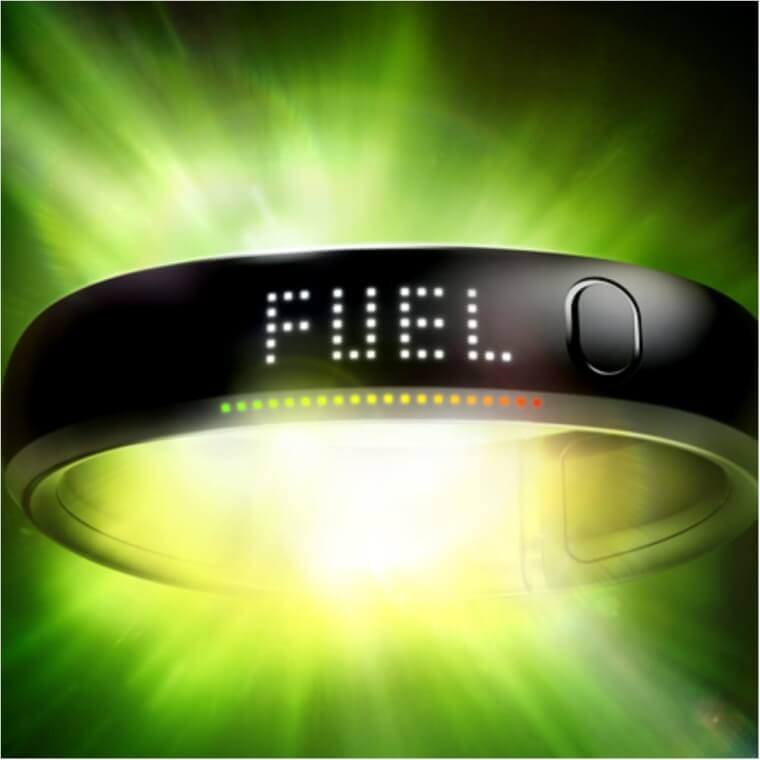 Although they did some heavy advertising, it couldn't help as no one was interested in buying it. Ultimately, the FuelBand was laid to rest after four years.
27. Kylie Jenner Even Got Caught Lying
Before Kylie Jenner's "Kylie Skin" skincare line was launched, it was already raising eyebrows as people, and even Dermatologists, had a lot of concerns about the ingredients.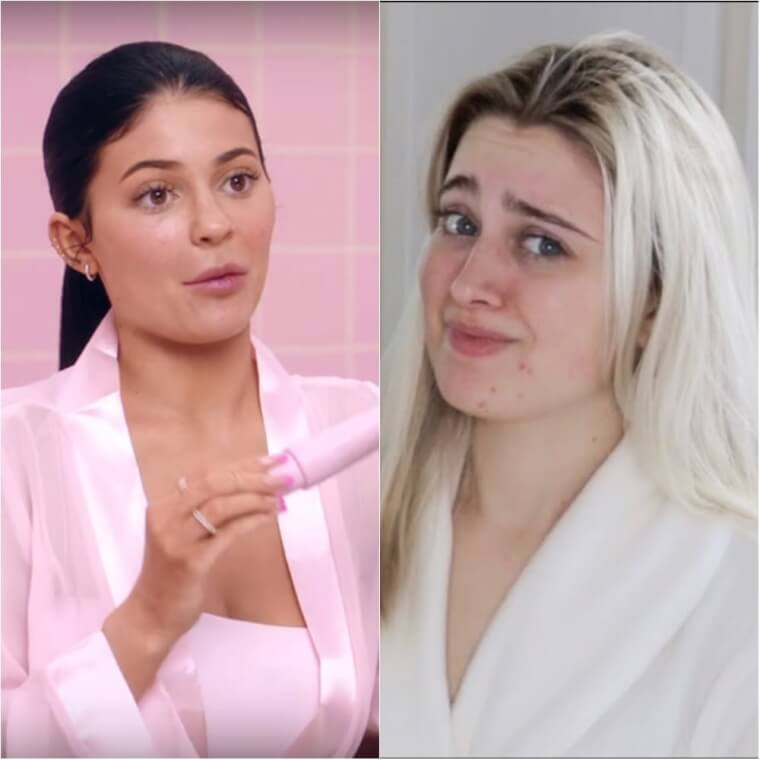 It is because she had released a walnut scrub in her skincare line that had crushed walnuts as the main ingredient, which has been proven to cause skin damage.
28. Even Ice Cream Companies Can't Help Themselves
Who does this, and why on earth can someone play with the feelings of those who love ice cream? We know one thing for sure, that this is not how you make returning customers. If it were something else, we would have understood. But we are talking about ice cream!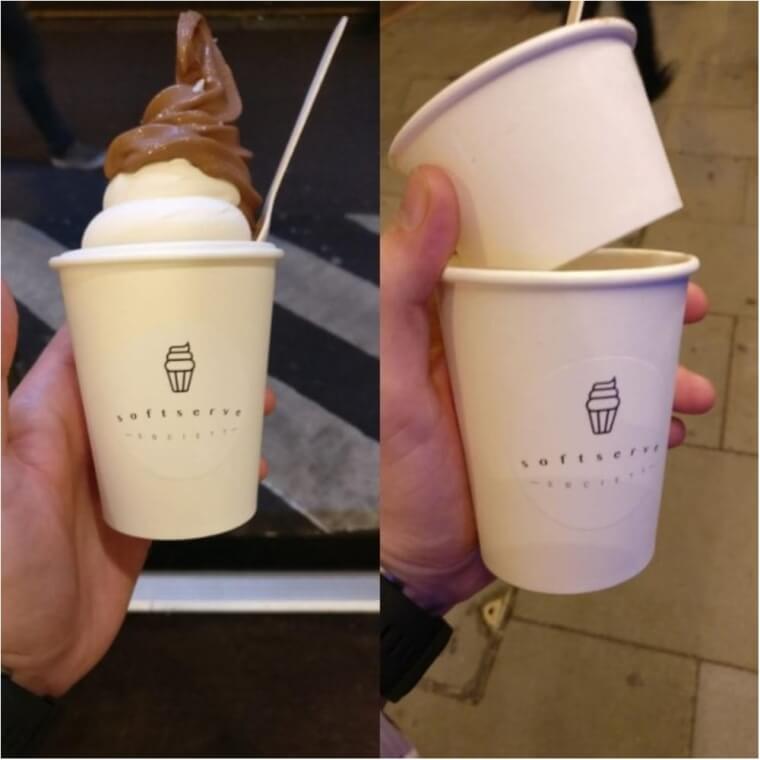 A customer is paying money with expectations that it will be filled from top to bottom. But the ice cream shop in central London tried to save money by putting a small ice cream cup into a large one. All we have to say is that, "you will pay for this."
29. You Asked For A Drink, So Why Do You Get Only Ice?
We all know that many customers of Starbucks have been complaining about the brand's business practices for years, and some have even taken the company to court. It is because people think that the big brand is scamming people. What do you think about it?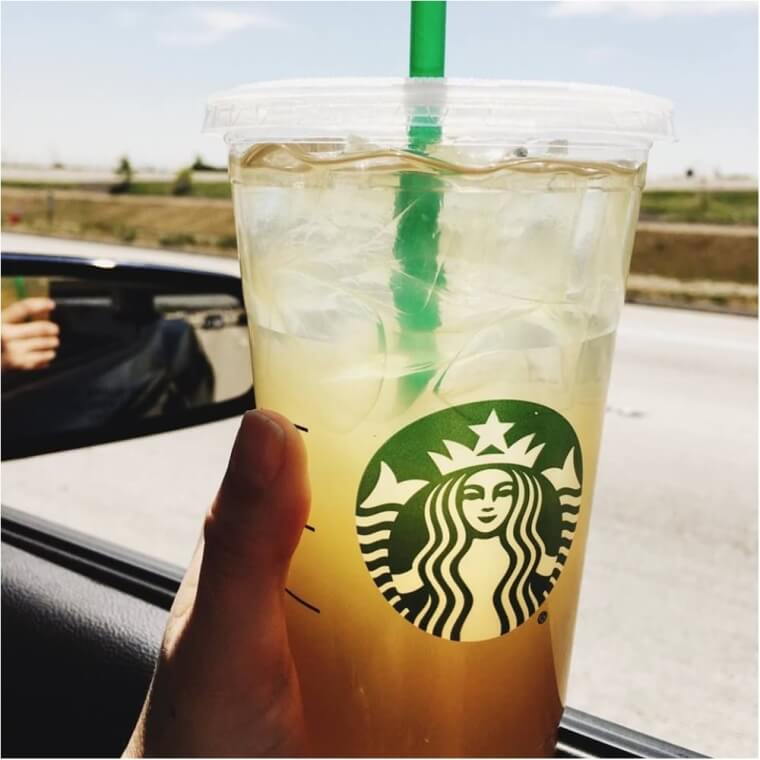 Here you can see how they have filled iced coffee with so much ice that there is very little coffee in it. After all, ice is much cheaper than coffee. Next time you go to Starbucks, look out for this little trick.
30. Two Different Sizes, Same Amount Of Cereal
Most of us have noticed that many brands have started to decrease the weight and volume of their products. But Cheerios decided to go a bit too far with this packaging.
Their "large size" box actually weights less than the standard size box. If you love this brand, you have to feel betrayed.
31. This Is Just Business As Usual For KFC
Although many scandals come, get called out, and go, we have to point out that this one remains even today. In 2013, someone shot a video in a KFC kitchen in which an employee is taking mac-and-cheese and green beans that, "have been there three or four days" before repackaging it to be served the following day.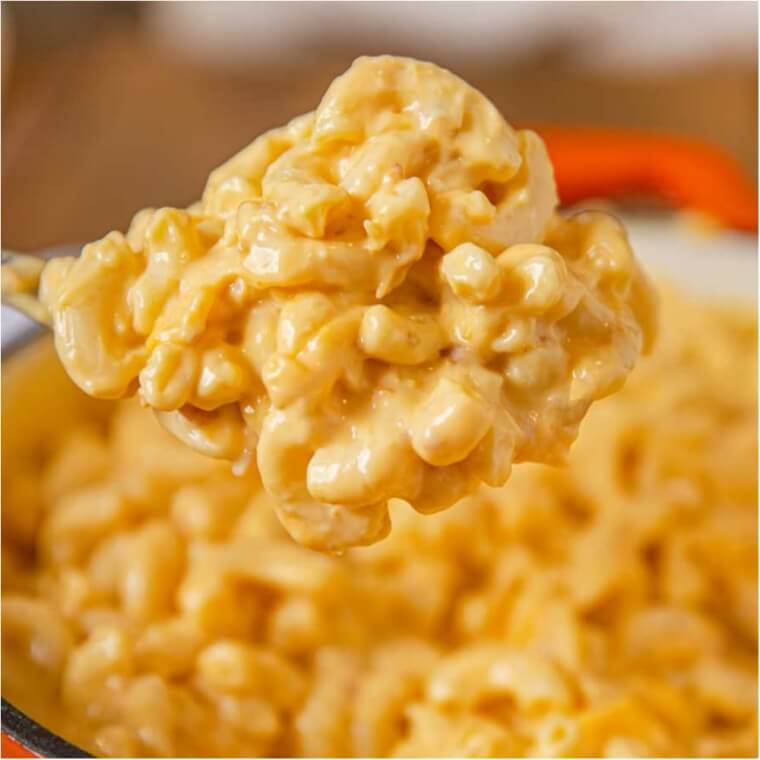 Even though the video was uploaded on YouTube in the same year, it was 2017 when the video went viral. KFC has to come up with assurance messages for their customers.
32. This Company Is Laughing At The Customer
This company has clearly decided that at least one thing that something is better than nothing. The company has a "unique" packaging for cookies, which misled customers into believing that there are at least a couple of cookies in each section. But the reality is quite different.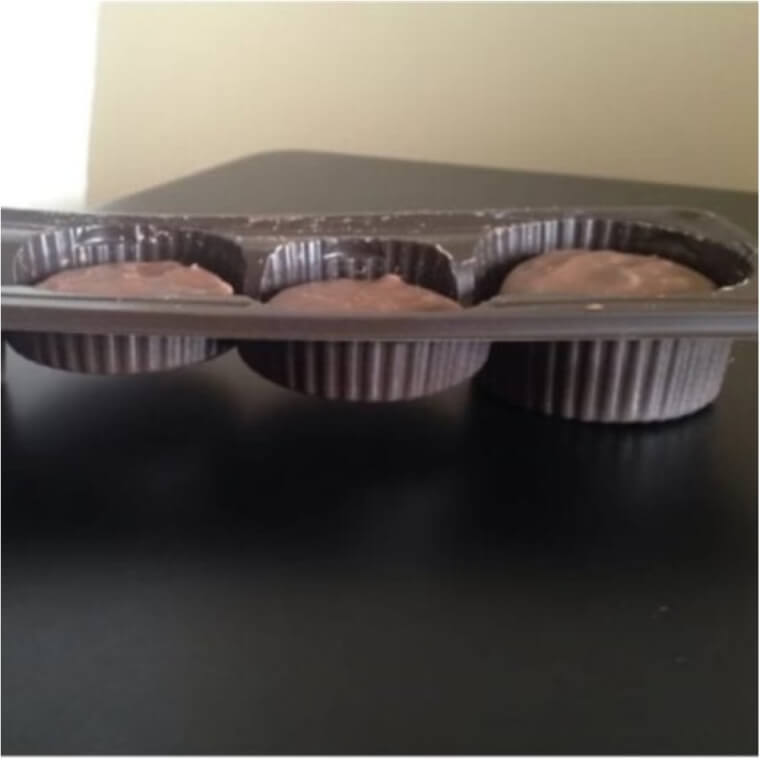 We can only sympathize with the person who bought these cookies.
33. Lying To Children
Although this company is telling kids to be happy, we have one question: how on earth can a kid be happy when they get only one-third of the promised nail decals? The kid must have thought about getting a lot of nail stickers, but this is what she got. Maybe the kid didn't mind because children are usually quite understanding.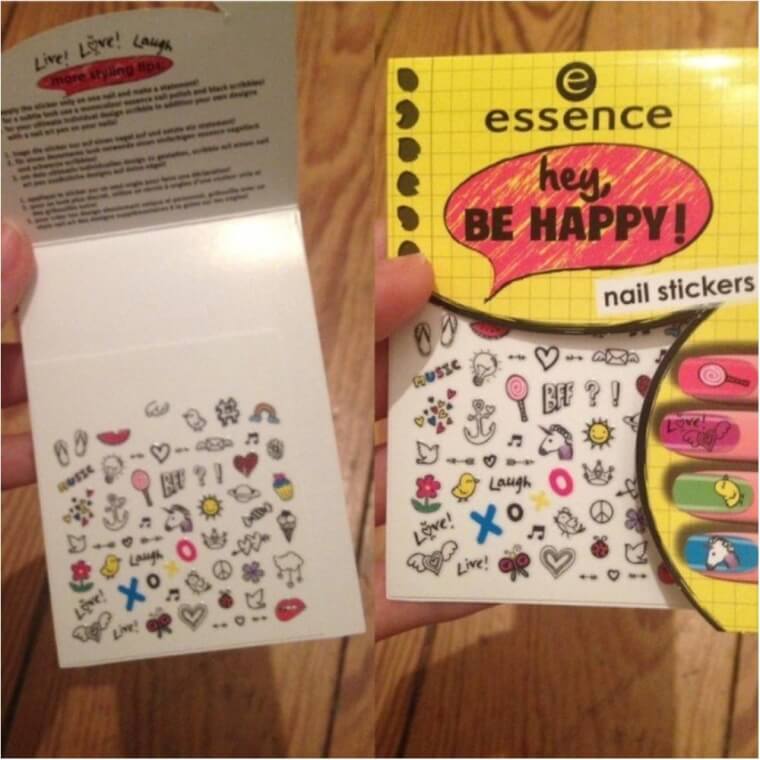 But we really feel that the company should stop this unfair packaged gift because happiness is more important than the little extra profit they made from it.
34. How Is This Even Legal?
So what this company wanted to tell this customer was here's a fresh breath strip pack for you and the other pack is for no one.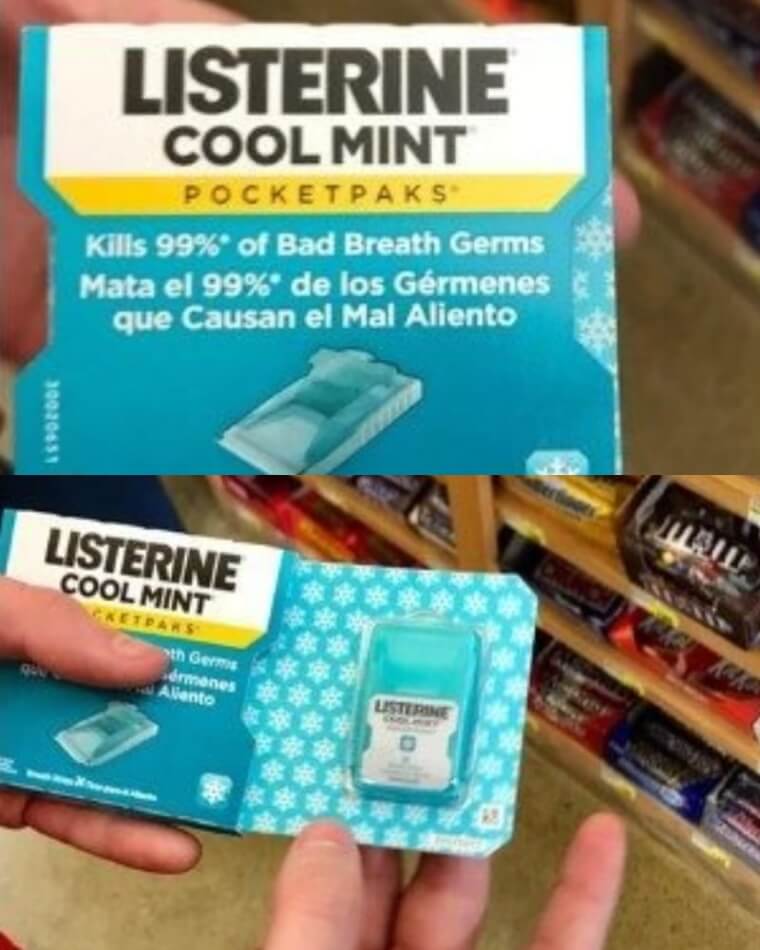 The company played a good game of tricking the customer into thinking they got two packs. We don't know why they went with such a big package when a smaller one would have been more than enough for one fresh breath strip.
35. This Better Be Some Kind Of Mistake
The sweet frosting on a pop-tart can give a fantastic feeling to young children and even adults, but what if the company decides to mislead customers into thinking that there will be more frosting?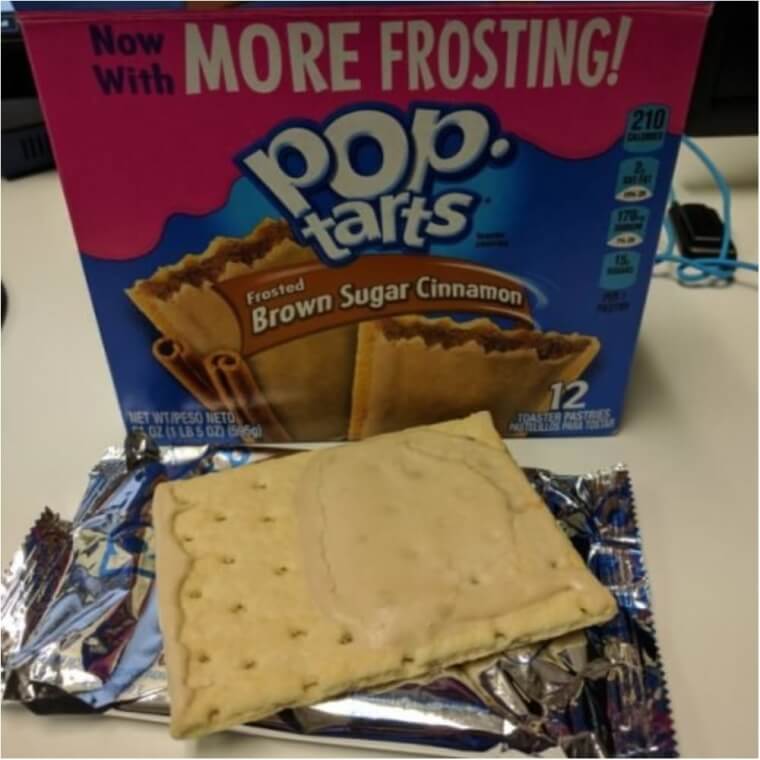 Well, it seems like the company made a false claim because, as you can see, there is very little frosting.
36. Almost Gave Us A Heart Attack
Seeing mail like this before you catch a flight can give you a mini heart attack, but this didn't stop the company from "joking" about it.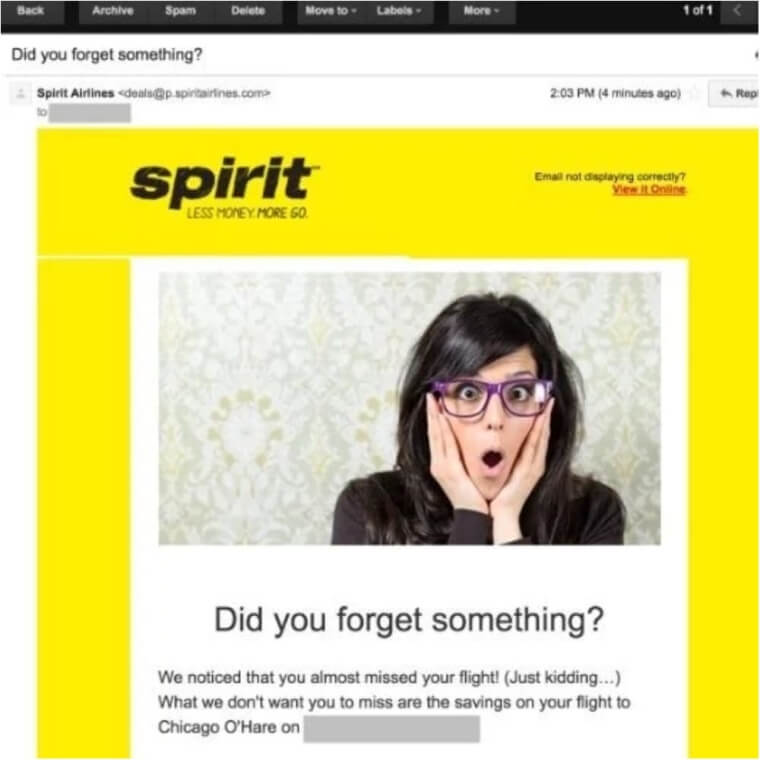 This is in poor taste as most people may think that they missed a flight or someone stole their credit card. No matter that they were kidding, we just know that this is one shady ad to catch your attention.
37. Lying To Customers Seems To Be Universal
As you have already seen how so many brands tried to trick customers, we feel that this one is hilarious and yet enraging as well. After all, you can only laugh looking at it, and then become angry at the deception.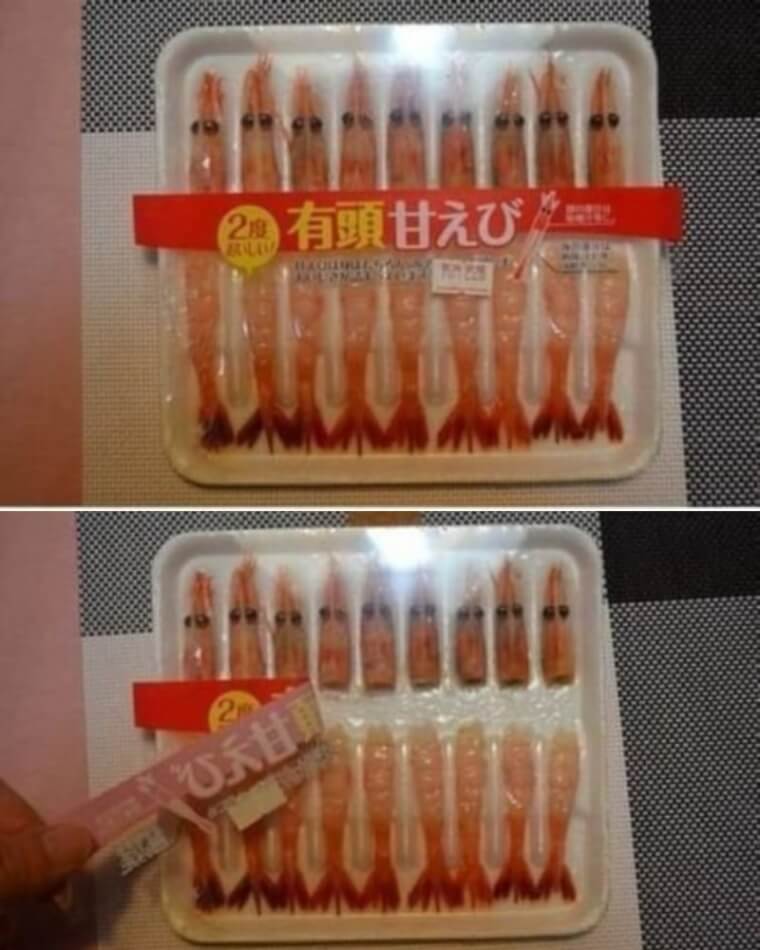 At first, the shrimps look quite long and then you find out that the company was like "no one will mind it." What you can learn from this person's poor experience is to never trust a brand too easily.
38. Looks Like Size Really Doesn't Matter
We still can't understand how big brands can lie and go with misleading packaging knowing very well that someone will figure out their plan to make more money. It makes sense if the brand is not so common, but what about popular brands. Is it just greed or something else?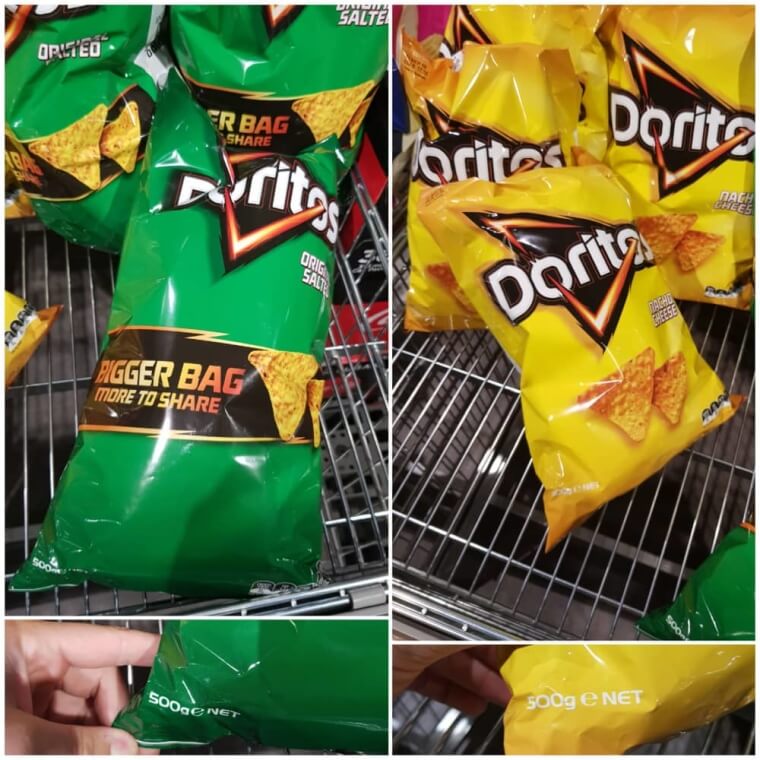 It can make a lot of people angry because this is totally unacceptable. No one will mind if they charge the same for the bigger bag, but that's not how it goes.
39. All Eyes On Me
We really want to know what is so special about googly eyes? Okay, kids love them but what's so special about them.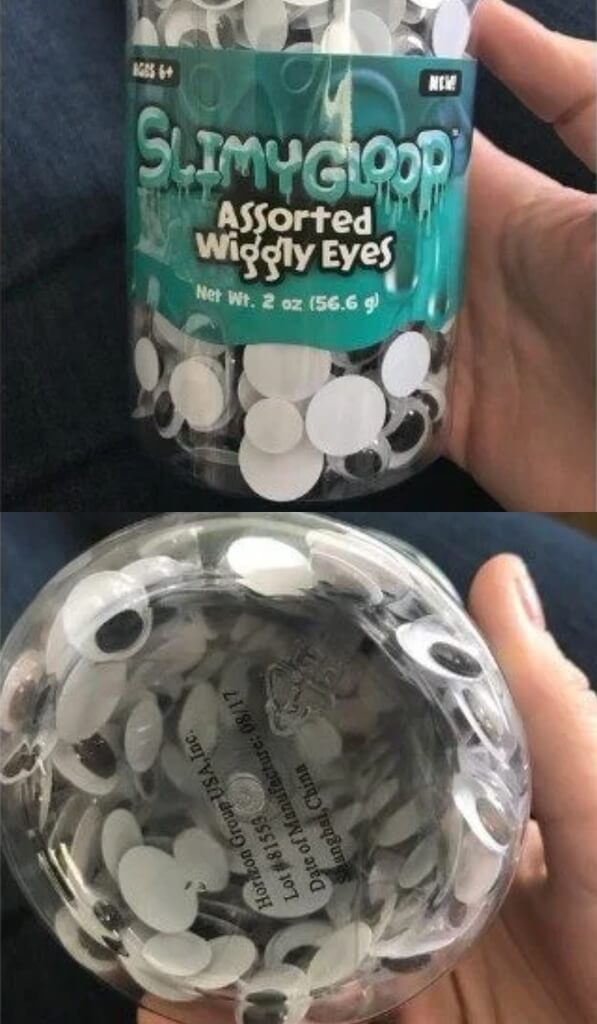 For kids, we can pretend that they are fun, but what about this packaging that is not so amusing? You can see there's a plastic tube lodged in the middle of the jar, so bye-bye to your assumption that there must be a lot of googly eyes inside.
40. A Petty Marketing Tactic
If someone disguises an advertisement as an emergency alert, they need to be fined heavily for it. After all, how can a brand expect people to become their customers with such a petty marketing tactic?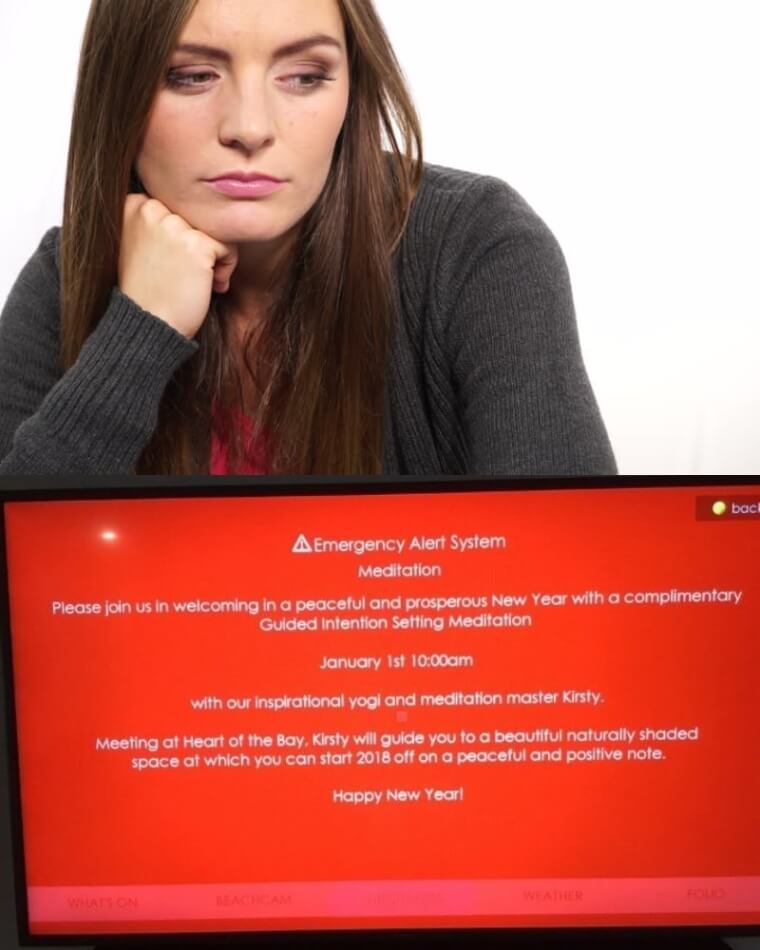 It is great that people are getting smarter and now they don't pay much attention to such tacky ads.